Riviera Beach Police Department (RBPD) Communication Objectives:

The Problems
Provide timely information to police officers in the field and support staff working at the station. The police department was relying on paper signs and posters tacked to billboards or taped to windows, which meant information was not always timely. In addition, there was limited physical space to display urgent messages and alerts alongside routine bulletins and announcements.

Leverage technology for enhanced police officer communication. Improve department efficiency and productivity with an effective police officer communication system.

Optimize message visibility and program participation. With police in the field and support staff located in dispersed locations, the RBPD needed a better way to reach and engage more police officers.

The Solutions
SnapComms Screensaver Tool

Branded "Intel TV", screensaver messages are sent to:

• Laptops inside police vehicles
• Large screen monitors in the patrol briefing room
• Computers in the police station

Currently, Intel TV is used to send important and time-critical messages and alerts as well as to distribute less time-sensitive administrative announcements and legal updates.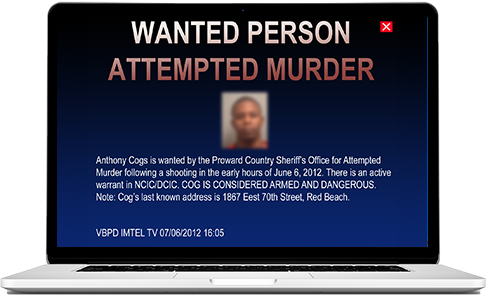 For example:

• Photos of suspects and details of the charge
• Missing children photos and descriptions
• Notices about changes to the law
• Pictures of new illegal street drugs
• Education on the latest street lingo and issues
• Regular pictures of open cases – suspects or criminals
• Picture of graffiti damage to the city park
• Agencies mission statement "Service is Job One"
• Standing orders
• History of the police department
• Intelligence reports
• Recently missing people
• Invite to parties or meetings
• High crime activity maps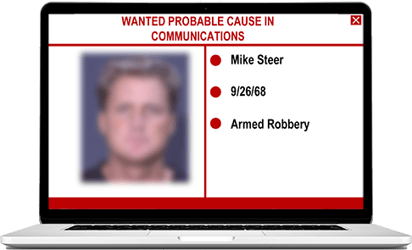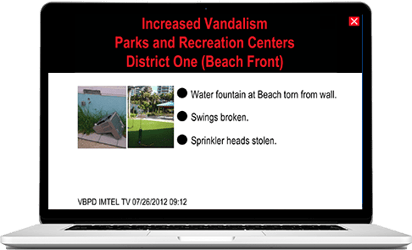 Screensavers raising awareness of wanted suspects Screensaver raising awareness on vandalism
Intel TV is used frequently by the RBPD's Real-Time Crime Center team who create and send messages. The crime center is staffed by police officers who watch surveillance cameras, listen to the police radio dispatch, and run names in the database to understand more about suspects and assist in disseminating the most up-to-date and actionable information.
SnapComms Desktop Quiz Tool

RBPD's Training department uses Desktop Quizzes to help officers receive the training they need to complete and then apply and track the credits they've earned.

"SnapComms has improved our internal communications tremendously, which ultimately helps us serve the public more effectively and efficiently."
Chief Michael Madden, Assistant Police Chief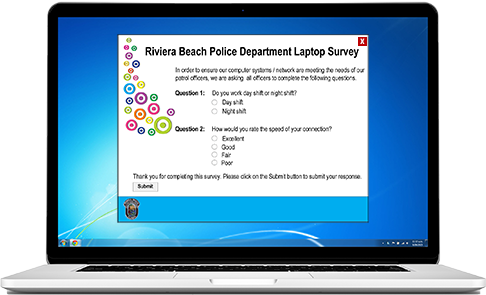 Survey tool example
SnapComms Pop-Up Survey Tool

The RBPD also uses the SnapComms survey tool with great results. Recently, a survey was administered to precisely identify and measure changes to the department wireless internet connections.
Learn more about the Staff Survey Tool:
Conclusions
Before SnapComms
Unhappy with the officer communications system they selected originally, because of its expense and technical limitations, the RBPD turned to SnapComms' Officer Communications System. Using SnapComms' unique toolkits and communications modules, the department has met and in many ways, exceeded their original objectives.


After SnapComms
According to Assistant Police Chief Michael Madden, the program has been an absolute success, literally from "day one" of its implementation. He reports that after the first day of using SnapComms, an officer apprehended a crime suspect on his way to work, based completely on the Screensaver Alert and photo he saw displayed the previous day.



The future
SnapComms iPhone and iPad integration is being rolled out soon within the RBPD. In addition, the SnapComms solution will be extended to include a digital signage display for public communications in the waiting area.

"There are so many good stories of how Intel TV has improved our operations. We regularly get phone calls from officers saying things like 'okay we got him (the suspect or criminal)… you can take that (alert and photo) down now'"
Chief Michael Madden, Assistant Police Chief