SnapComms Improves Message Cut-through by More than 50%
Nearly two thirds of customers who responded to the 2013 customer survey reported an improvement in message cut-through of more than 50%. Of the remainder all except one customer saw message cut-through improve (by between 10% and 50%).
Results from SnapComms 2013 Customer Survey
Q: How effective have the SnapComms tools been in helping you achieve each of your communications objectives?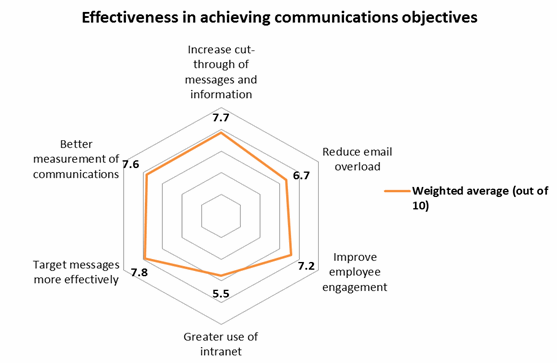 2013 Customer survey results
Impact on the Other Communications Objectives
Customers who responded to the 2013 customer survey also reported improvement against the following Internal Communication objectives:
To make message distribution easier and more efficient:
"Increase ease and efficiency of creating and distributing messages. SnapComms has been extremely effective at this objective versus the previous, cumbersome product that we were trying to use."
To reduce costs:
"Reduce cost of reaching 400 employees in 9 locations and at home. SnapComms has been very effective at providing a low cost method of communication."
To make internal newsletters more manageable to digest:
"Newsletter improved. Drastically. They were looking at using the SnapMag to deliver the internal newsletter in weekly bite size chucks as opposed to monthly and loved results and the feedback was great."
To make the desktop environment more consistent:
"The objective was standardized manageable desktop screen savers. Score 10 for this objective."
Reducing maintenance of email lists:
"Reduced maintenance of notification lists: 10"
Distributing critical information:
"Sharing of law enforcement intelligence"
Cutting through email clutter:
"We required a tool to cut through the email noise in our organization. This does the job."
Other Proven Benefits of SnapComms
In the 2013 survey, customers gave additional examples of how SnapComms has benefitted or added value to their organization:
Communicate urgent/emergency/safety/security information
Immediacy/speed of delivery
Better/improved targeting
Gets information to employees not using/checking email
No longer have to retain email lists
Reduces volume of emails
Message cut-through
Reminders of meetings and events
Keeping people informed
Improved/quicker response times
More direct communications
Measure communications effectiveness
Fun format
Training and learning/employee performance
Good for change management
Higher levels of readership
Can use remotely
Can distribute to multiple sites
Employee interaction and engagement
Additional Comments from the 2013 Customer Survey
"Easy to deploy, robust, does what it says".
"I'm extremely happy with the ease of use and would highly recommend SnapComms to others".
"It's a great tool that's very easy to use."
"Easy to use, it does work, I have not experienced any technical set backs, communicates short messages effectively not adding the the overloaded email inbox, and we like it."
"Extremely effective, easy tracking and reporting of our target users' access to the information. Excellent client technical support in the rare times that we have had technical challenges."
"My main reason for recommending SnapComms is value. SnapComms provides 90% of the functionality of "Full Blown" digital signage systems, but at a fraction of the cost and complexity. We primarily use the screen saver functionality with occasional Alerts. Every user's screen becomes an internal billboard for the others when that user is away from his or her desk. We also use the screensaver functionality in our break rooms and in some customer facing areas, delivering a different set of content to those areas which includes both flash videos as well as videos linked to our intranet site."
"SnapComms is a tremendous asset to our organization; I just have to cajole senior leadership to expand the SnapComms product to the entire organization."
Very happy with product! Very happy with Support! Sales/Support team have been one of the best I have dealt with in my 15yrs.
Calculate the Impact of Ineffective Internal Communications
SnapComms Annual License fees can be as low as $1/user/channel/year for large enterprise. This means that even if the internal communications budget is small, the SnapComms channels may still be affordable.
The SnapComms channels may also help your organization save money on other types of communications and/or increase productivity. So even if you have no spare internal communications budget, there is a good chance that the SnapComms channels can be cost justified.
Use this Cost and Productivity Calculator (excel) to calculate where you can save cost from your internal communications budget and to identify where you can improve productivity and effectiveness within your organization.