Barriers to Internal Social Media Usage
According to Towers Watson research, the main factors which prevent organizations from implementing internal social media solutions are:
Barrier 1: "Limited Knowledge of Social Media"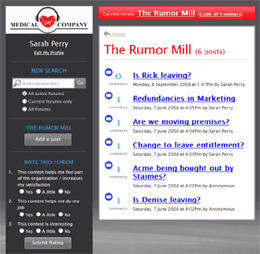 Employee Discussion Forums Managing Internal Rumors
Specifically for employee communication The SnapComms Internal Social Media tools have been designed specifically for employee communication. Features such as; code of conduct options, easy setup, targeting based on existing network structures, machine based targeting, flexible moderation, change notification and reporting are customized specifically for internal use and included as part of the ready-to-go template.
Pilots and 'proof of concept' trials< The SnapComms Internal Social Media tools are low cost and charged on a 'per user' basis. A fully managed, hosted version (as well as an in-house version) is available. Hence it is simple and cost effective to run a pilot or 'proof of concept' employee blog, forum, Q&A or helpdesk prior to committing to a wider social media implementation.
Barrier 2: "Lack of IT Support or Technical Capability"
Employee Forums can be Customized to Reflect Preferences
Low IT resource requirement Once the SnapComms client software has been deployed to staff, you do not need to enlist further help from IT. The SnapComms Internal Social Media tools are designed specifically for business units to use and manage easily and quickly.
Barrier 3: "Limited Staff /Resources to Implement"
Customizable Employee Profiles for Internal Social Media
Easy to setup Templated set up allows administrator(s) to set up new employee blogs, discussion forums and helpdesks within minutes.
Automatic detection of existing Active Directory settings This allows you to easily specify which employee groups have authoring, commenting, and reading rights for each channel.
Easy for busy staff to use The design and layout of employee blog, forum and helpdesk pages are purpose built to be easy to read and easy to scan. New content, specific to each employee, is highlighted to them personally.
Desktop Alert Notification of a Discussion Forum Post
Desktop notifications
For important internal social media channels, such as a CEO blog or a crisis helpdesk, it is possible to automatically push out headlines via a scrolling desktop news ticker to targeted employees or groups as new information is posted.
Barrier 4: "Restrictions Imposed by Our Legal Department"
Reduced risk The SnapComms Internal Social Media channels have been built for secure internal communication. Only people with a unique, organization specific applet residing on their computer can view these channels. And only then, if they have been targeted with view rights. This means that the risk of leaks to the outside world is dramatically reduced.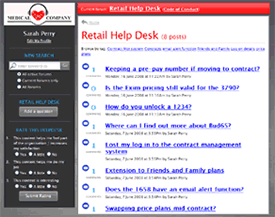 Employee Helpdesk Example
Stop worrying about inappropriate use The SnapComms Internal Social Media channels allow you to specify a 'Code of Conduct' clearly at the top of each page view. You can link to an existing code of conduct on the intranet, use the default provided, or type in a code of conduct specific to each forum, blog or helpdesk.
Keep a close eye on high risk discussions Code of conduct and moderation options mean that it possible to keep a close eye on employee discussions that are considered high risk. A range of moderation levels allow you to monitor and approve posts if required. Moderators can also receive an optional desktop alert when an anonymous post or comment is made on a high risk discussion forum.
Secure discussion groups Access levels can be easily set up by the administrator(s) based on existing Active Directory network structures, machine based targeting and/or newly created targeting groups. You can easily specify which employees have author, comment and view rights. Only employees with view rights can access specified employee blogs and staff discussion forums. This allows you to set up confidential or sensitive discussions forums and workgroups online with full assurance of confidentiality.
Barrier 5: "Lack of CEO or Senior Manager Support"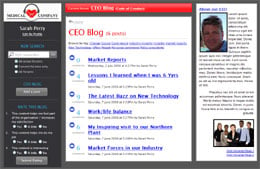 CEO Blog Example
Senior managers may view internal social media as a risky option with little quantifiable value. They may also be concerned about an impact on productivity due to unnecessary distractions and 'time wasting'.
Internal only solution Since the SnapComms Social Media channels are 'internal only', visible only to employees with the Snap client resident on their PC, the level of real and perceived risk is reduced.
Monitor 'time wasting' Standard reporting options show the average time spent by staff and a view of the 'power users'. These reports can help address any senior manager's concerns with regard to time wasting.
Improve productivity The SnapComms Internal Helpdesk and Q&A channels are specifically designed to improve employee productivity. Employees can ask a question in an online helpdesk or Q&A spot and nominated content owners can receive a desktop notification of the question. Once the question has been answered, it sits in a tagged, searchable, evolving repository of knowledge.
Appropriate discussion in an appropriate place Setting up a specific, moderated helpdesk, for example, around an organizational change, can help keep inappropriate content out of other, possibly more public, online discussion forums. (Sometimes people just need somewhere to 'vent').
'Risky' discussions can be focused and secure Risky discussion, where sentiment might be negative, can be targeted securely to only those affected (e.g. by a restructure). This means that negativity does not need to 'infect' the rest of the organization.
Barrier 6: "Lack of Metrics to Measure the Impact"
Measure the ROI of social media Reporting options, specific to internal use of social media, make it easier to measure value and show an ROI.
You can report on the total time individuals spend using the tools, demographics and the social media channels that they find most useful, as well as the more traditional social media traffic statistics.
Online polls can be customized to provide an insight into the perceived value of each channel. This makes it easy to quantify the time spent by staff on internal social media versus the value gained by the business.
Encouraging Participation with Internal Social Media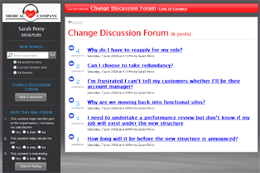 Employee Forum for Change Discussion
One of the key factors associated with any new technology implementation is to encourage behavior change and uptake. Once Internal Social media channels have been implemented, the SnapComms solution has a range of features to maximize uptake:
Automatic authentication Staff do not need to remember and enter user names and passwords: automatic user authentication via the client software keeps your network secure. Staff will not be put off by laborious sign up or log-on procedures.
Promotional tools to drive participation SnapComms' range of internal communications channels can help promote and drive adoption of social media internally. For example, the screensaver messaging tool turns employee screensavers into interactive bill boards. An image is worth a thousand words. For instance, an image of the CEO with a pen can be a powerful and engaging way to notify staff that the CEO has updated his/her blog. Staff can simply click the image to access the blog.
Notification tools A scrolling desktop news feed can provide a notification of the latest updates relevant to an individual, and/or a desktop alert can notify employees of an important update requiring their attention.
Search tools and tagging Help staff find important information fast.
Hosted or in-house versions The SnapComms solution is available as a fully hosted solution or an in-house solution. The in-house solutions can be a good option for IT teams worried about hosting company information outside of the organization.
Related Resources and Tools