Effective Executive Communications:
Face-to-face executive communication is the best way to change employee behavior. However, as an internal communications channel it can be resource intensive and expensive. When we do have face-to-face executive communication it needs to be as effective as possible and maximize the return on the investment.
The Power of Small Groups
Small groups (brown bag lunches, skip level meetings, small group updates, etc.) can provide a format for personalized leadership communication. This can be more effective and appropriate than a large town hall meeting, particularly during times of uncertainty or change.
Maximize Attendance at Town Hall meetings
It can be difficult to manage and maximize employee attendance of executive communication opportunities, particularly if you are offering multiple, smaller group sessions and some staff are a higher priority that others in terms of attendance. Multiple Outlook appointments can be ineffective and confusing and additional resources may be required to manage appointments and send out confirmations.
Customized meeting invites The SnapComms desktop RSVP alert allows you to customize a meeting invite with multiple time slots and venues. This allows you to keep groups small and maximize the chances that staff can attend a leadership communication session.
Invite high priority staff first Targeting features allow you to target high priority staff groups with invites first. Then, once key people have a chance to register for an executive communication, open up the remaining opportunities for other employees.
Ask questions beforehand The RSVP alert tool allows you to include explanatory text and to ask staff to choose the leadership communication session they want to attend. You can also include additional questions such as catering or transport needs or to gather questions/ issues employees would like executives to address.
Outlook integration When employees reply, the desktop RSVP tool provide the option for employees to enter the appointment in their Outlook calendar. Simple reporting tools show the employees registered to attend each session. This helps you to plan logistics (e.g. room sizes and catering) and lets you close off specific time slots as rooms fill.
Extend the Value of Leadership Communications
Collect questions and issues beforehand Use surveys, polls and discussion forums to collect questions and identify key issues prior to a face-to-face executive communication. This helps ensure that the tone and content of the meeting hit the mark and executives are prepared with the information they need to address issues and engage staff. However...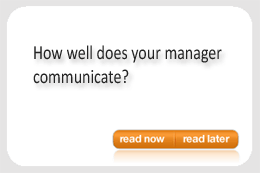 Measure Information Cascade
Don't have all the answers - keep conversations going If executives have all the answers during a town hall meeting or smaller face-to-face session, it can make it look contrived. It can even work in the leader's favor if they don't have all the answers prepared and say, "I don't know. I'll find out and post on the supporting discussion forum within 2 days". It keeps the conversation going.
Executive blogs and staff discussion forums Social media can be a great way support leadership communication, to make senior managers more accessible and create a feeling of openness and transparency.
Encourage feedback Use polls and surveys to allow staff to provide feedback, ask further questions and to measure the effectiveness of the leadership communication session.
Increase Visibility of Executive Communications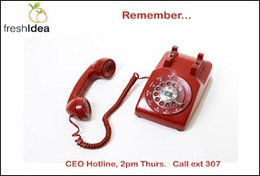 Promote Executive Communication on Screensavers
Screensaver reminders can provide a good way to promote executive communication activities such as a monthly hot line, webinar or town hall meeting. Corporate Screensaver Messaging on employee screensavers can dramatically increase levels of employee participation.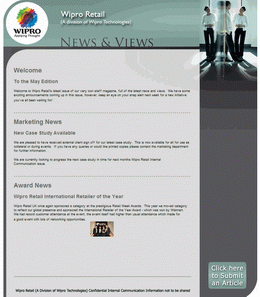 Internal Newsletter Software
User generated newsletters Use an internal newsletter tool to allow employees (including the executive team) to submit short news articles into that internal newsletter.
Desktop scrolling newsfeeds allow the CEO and/or wider leadership team to put to send short scrolling updates and headlines onto employee computers. Click through hyperlinks mean this can be a great way to spark interaction and encourage employees to visit the CEO blog.

Scrolling Desktop Updates from Executives
Related Resources