Tip 2 –Aggregate Mass Emails into a Single Format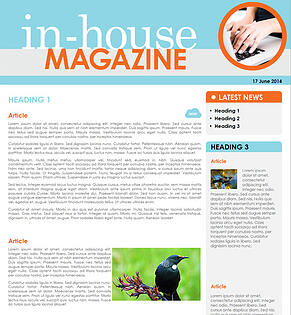 Summarize Internal News
Coordinate the people and business units sending mass internal emails and consolidate them into an electronic newsletter. Keep messages brief and add hyperlinks to relevant supplementary information on the intranet/ SharePoint.
Tip 3 – Visual Communication by Screensaver
Employee Screensavers provide an excellent format to communicate visually with employees in a way that doesn't interrupt them or add to information overload. This is ideal for messages that may not be urgent but are important from an employee 'awareness' perspective. These type of internal communication often end up buried and unread when delivered by mass email or posted only to the intranet. For example: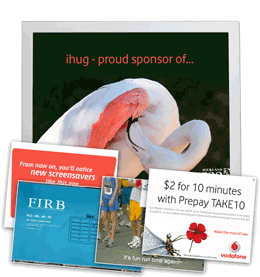 Broadcast Screensaver Messages
New technology implementations
Service change and upgrades
Security policies
Virus and safe computing announcements
Disaster recovery/ business continuity policies
Benefits communication
Dashboard indicators
Support channels available
News and events
Training opportunities
Brand messages
Event updates
Product launches
Sustainability messages
Reinforcing key elements of staff training
Embed hyperlinks into screensaver messages to allow employees to interact or to navigate further information on the intranet or supporting documents.
Tip 4 – Target your Audience and make Messages Relevant
"The average information worker spends 13 hours per week on email at an average cost of US$21K per employee." IDC
Research your audience, segment by needs and interests and use internal communication channels that allow you to target communication to specific employee groups.
Tip 5 – Desktop messaging for urgent and important messages
Internal Network Alert
Cut-through important messages Desktop Alerts are a good format for internal communications that need fast effective cut-through. It is possible to specify desktop message recurrence and escalation options based on the users response to the message.
Can you get your message across in a punchy headline? If you can, think about pushing scrolling headlines onto employee computers. If employees see a headline of interest, they can click hyperlinks for more information.
Tip 6 – Reduce the background noise
Expire out-of-date internal communications from communication channels and make information that is still relevant available via a central searchable repository.
Tip 7 – Train Staff on the Appropriate Use of Email
Desktop Employee Quiz
Train staff of the effective and appropriate use of internal email but remember that in 30 days people typically forget 80% of what they've learned. Reinforce training with Staff Quizzes and follow up communication(s). You can also use internal quizzes to:
Enhance knowledge (e.g. "When you are running a meeting, is it better to… A,B or C")
Influence attitudes with 'scenario' quizzes (e.g. "Under what circumstances is it appropriate to 'cc' a colleague/manager… A,B or C")
Choose a quiz format that allows you to push quizzes directly to the desktop, so they do not add to internal email overload. Quiz recurrence and escalation options, if used, can help drive participation.
Tip 8 – Know what is Hitting the Mark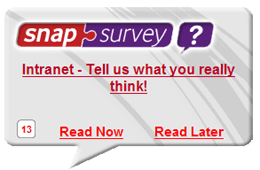 Staff Survey tool
Ensure that internal communication channels provide reporting options which allow you to see exactly what employees are reading and what is being ignored. Refine and improve your internal communications based on the evidence and continue to monitor and improve.
Get feedback Regularly run employee opinion polls and surveys to find out which internal communication are working and which are not. Survey staff to get feedback as to the types of information relevant to them. Use polls to benchmark and set standards (e.g. "How clear and concise are the messages sent out by Marketing, Finance etc?")
Tip 9 – Avoid Running Group Discussions via Email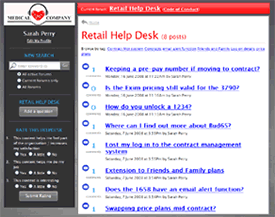 Internal Social Media Channel
Ever received 60 reply all messages to a single unimportant email? Transfer any messages that will require group collaboration into discussion forums. Use a plug and play format that allows you to quickly target access and usage rights to specified employees and groups.
Better Ways to Deliver Internal Communications