What's keeping healthcare managers awake at night? Declining employee engagement, higher cyber security risk, and growing information overload are among the biggest issues facing the industry today.
That's the belief of healthcare professionals the SnapComms team spoke to while attending the Becker's Hospital Review 2019 healthcare conference.
The drive for greater employee engagement reflects a growing recognition of the value offered by high-performing staff. An area of particular focus was employee wellbeing – or "keeping a pulse on your teams", as one speaker remarked.
However, the nature of workplaces today often makes this more difficult to achieve. Organizations with multiple sites and remote teams are a challenge for building positive workplace culture.
"We're seeing a renewed push by healthcare leadership to connect with and motivate their employees", explains Josh Lindesay, SnapComms Sales Manager. "The link between employee engagement and business performance is well documented. Engaged employees are more satisfied, work more efficiently and deliver higher levels of patient care. That explains why new digital communication tools are increasingly being used to help connect managers and staff."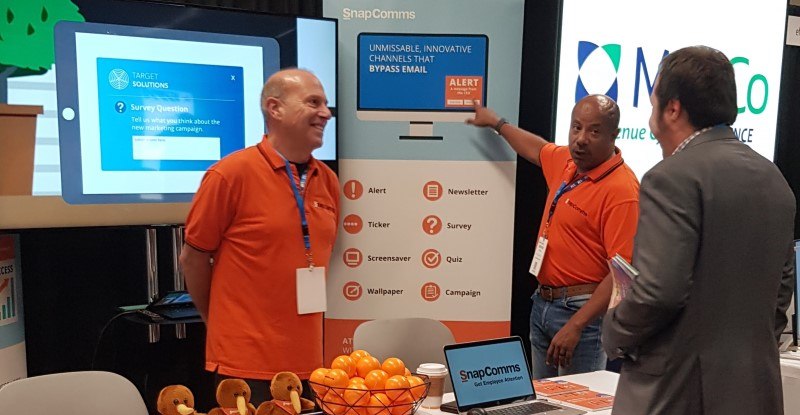 The introduction of technology that enables more streamlined operations has been welcomed. However, this technology comes with a higher risk of costly data breaches. This has caused healthcare IT departments to dedicate more effort to cyber security.
This year has seen a succession of high-profile healthcare data breaches. The largest recent breach was that of a Utah practice, where 320,000 patients had their records hit by a cyber-attack in July. As a result, informing staff of correct behaviors and practices to follow have become critical communication objectives.
Over all the years SnapComms has attended the Becker's conference, information overload is constantly cited as an issue for managers. Now, the distraction of collaboration tools has added to the abundant irrelevance of emails.
"Communication fatigue is a huge issue affecting businesses of all sizes," confirmed Lindesay. "Our own customers tell us that the distraction caused by these tools often far outweighs their value."
Lindesay reaffirms the importance of matching message objectives with channel selection. "It's not necessarily a failing of the channels themselves – it's because they're too often used for purposes for which they weren't intended."
The SnapComms team thanks everyone we spoke with at this year's Becker's healthcare conference. Your expertise and determination to improve patient care inspire us to continue developing tools to improve healthcare communication.