Data privacy and security; streamlining internal processes. Those were two of the key focus areas for healthcare professionals who attended the September 2018 Beckers Hospital Review conference in Chicago.
SnapComms was at the event, learning from leading experts from a range of fields and speaking to healthcare workers 'on the ground'. The most common themes were the risk of cyber security breaches and the opportunity resulting from streamlining internal processes.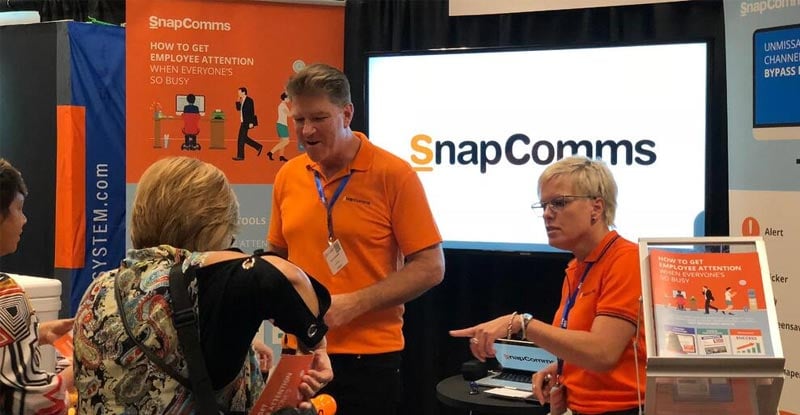 Cyber security is the pressing issue keeping hospital management up at night. It's recognized that hackers exploit two of the most vulnerable parts of the workplace – the staff and their emails.
Malicious links are included in phishing emails, and human fallibility causes staff to click these links out of haste or ignorance. In seconds, data privacy and sensitive patient information is compromised.
Whatever the cause, the response was what relieved or exacerbated the issue. Too often the staff member involved didn't come forward, relying instead on someone else to perform a "diving catch" and avert a disastrous breach.
The recommendation was around the importance of being prepared. Do staff know how to identify a phishing email? How do they respond to an attack? Is the process rehearsed so that it's truly understood? Practicing is the basis of readiness.
Internal communications can support efforts to combat cyber-crime, as outlined in this article on The 123 of Cyber Security for Healthcare Organizations.
Streamlining processes was a priority area for improving operational efficiency and managing costs. In the demanding world of healthcare, overheads are significant and expectations of outcomes are high.
Hospitals and clinics have many moving parts, from medical and administrative staff to patients, contractors and suppliers. Neglecting tasks and inefficient use of time impacts organizational performance and profitability.
In working with healthcare providers tackling this very issue, SnapComms has observed how effective internal communications achieves operational excellence.
CEO of SnapComms, Chris Leonard, was at the Beckers Hospital Review conference and observed how "There's a growing and abiding recognition of the very real outcomes good internal communications delivers. Far from being simply a means of keeping staff up to date with company news, today it's a proven driver of business success. For a unique environment like healthcare, that's essential."
To hear more about current hot topics in healthcare, and how internal communications can offer real solutions, speak to one of the SnapComms team.