'Email overload' topped the list of biggest internal communication headaches according to delegates at last week's CEB International Communications Summit in London – one of the largest gatherings of internal communicators in Europe.
Nearly half (46% per cent) of respondents* said that 'email overload: messages failing to get through' is their biggest challenge.
It's hardly surprising, given the volume of digital noise relentlessly bombarding them, says Sarah Perry, CEO of SnapComms.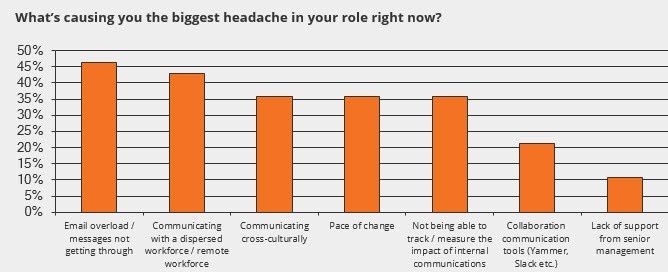 "These results confirm our suspicions that email overload has reached crisis levels.
"Every day, their inboxes are drowning! On average, an individual receives approximately 130 emails a day!
"It's becoming impossible for employees to determine what's worth reading and what's not," explains Perry, "and this presents a serious risk for organizations."
There's increasing concern that important company information – relating to culture, or compliance issues, new processes, or cyber security training for example – are simply not getting through.
"Staff are picking up information piecemeal and on the fly. They're not understanding the full picture."
Perry, as CEO of a major internal communication software company, has a bird's eye view of how internal communicators are tackling the ubiquitous issue around the world. "In the past 12 months, we're seeing a big move to take a 'campaign' approach to internal comms, similar to how the marketing team approaches a new advertising campaign.
"It's about creatively packaging the message, then drip feeding this content using a variety of different formats – such as desktop alerts, scrolling ticker bars, rotating screensavers and videos. These are sequentially delivered straight to an employee's screen, building momentum. As a result they have a high read rate, successfully making it onto the employee's radar."
Perry concludes: "Internal Communicators are having to rethink how to get messages out there. They're competing to get a share of voice, to make an impact, and in many cases, to incite action. A solitary email just doesn't cut it anymore."
*Based on 29 responses to SnapComms' survey "Key IC Priorities and Challenges 2016", CEB, London, 1 – 3 November 2016)


Is email overload a frustration for you too?
Why not download our whitepaper: How to Reduce Email Overload, it's free!