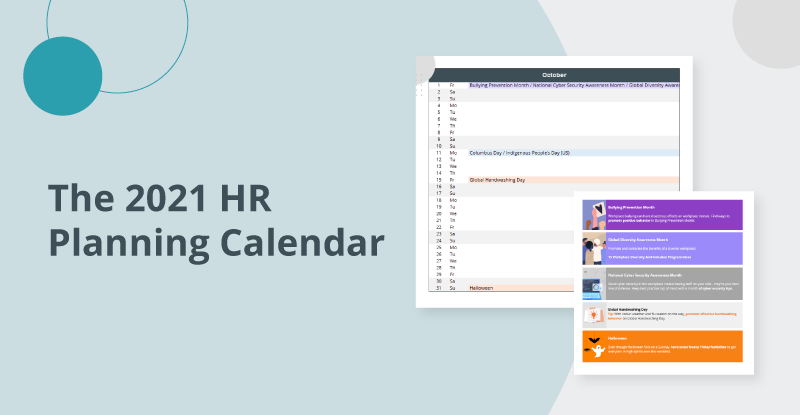 There's a lot to plan for HR Managers as a new year approaches. Keeping employee engagement high while supporting broad business objectives can be challenging.
The key to success is being organized – and the key to being organized is the HR Planning Calendar.
What's inside the HR Calendar?
Every year SnapComms produces a human resources annual planning calendar that includes major events, awareness days, federal holidays, and conferences. Plus tips for how you can bring these to life and get employees involved in your workplace.
Dates such as:
January 18 – Martin Luther King Jr. Day

March 1 – Zero Discrimination Day

March 8 – International Women's Day

May 5 – Cinco de Mayo

June – Pride Month (US)

August 9 – International Day of the Worlds Indigenous People

November 2-5 – International Stress Awareness Week

December 9 – International Anti-Corruption Day
Your communications team can also use this as an internal communication calendar, planning the essential initiatives to keep staff informed and engaged throughout the year.
This is only a start – we encourage you to add key dates, special occasions, employee surveys, initiatives, and events relevant to your organization. These could be specific to where in the world you're based, the diversity of your employees, or the industry sector you operate in.
The more relevant the calendar is to your organization, the more useful it is. Consider your year ahead and what you can prepare in advance (for example Return to work plans).
Plan to succeed in 2021 – download the HR Calendar of activities for 2021 now!

How To Use The HR Calendar
The 2021 HR Calendar template includes dates and key info on some of the major HR and Internal Communications events that should be on your radar. It's designed to benefit you and your business – and is simple to use. Here's how:
Download the calendar using the form below
The first worksheet is your high-level view of the whole year (note: this worksheet is password-protected)
Each monthly worksheet is your detailed events and tips for relevant resources. Make any additions or changes in these worksheets, not the full year overview
Add your events, milestones, or other key timings in the appropriate monthly worksheets – anything added here will pull through to the full year overview
If you need to make a change to the full year worksheet, the password is: 123
Can This Be Used As An Employee Engagement Calendar?
Most Definitely! You'll find helpful tips and events particularly relevant to internal communicators throughout the calendar. This is just the starting point to begin planning a year's worth of engaging events and activities for your people to enjoy.

From workplace parties, team building activities, training events, performance management, recognition, and awards programs there is a variety of entertaining employee engagement activities you can plan with this calendar.
Download The 2021 HR Calendar
Just complete the form below and hit the 'Submit' button. Simple!

Then let us know if you find this calendar useful or have suggestions for things you'd like to see.