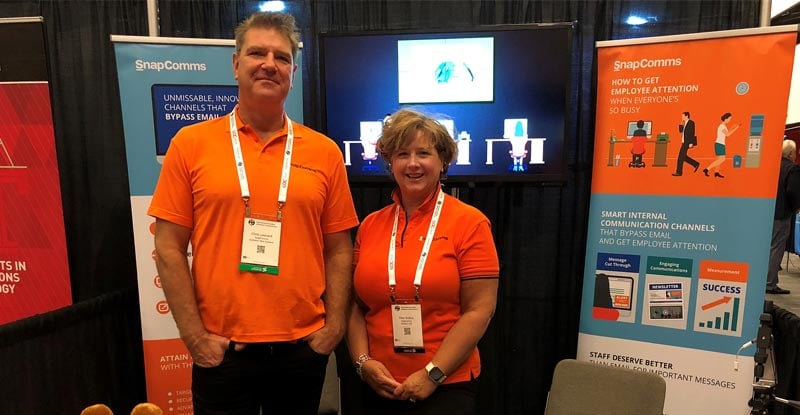 Getting messages across amidst the noise of modern workplaces continues to challenge internal communications managers. That's the opinion of many delegates who attended the 2018 IABC World Conference in Montreal.
SnapComms spoke to experts at the event, and asked their thoughts on the biggest current trends in internal comms, how they ensure cut-through while avoiding information-overload, and how they measure success. They shared their tips and advice with us in the video below.
Technology was a common theme, particularly the importance of using technological advancements to address employee engagement and other pressing issues of today.
Relevancy of message was strongly advocated. "Blasting everyone" with the same message was felt to be counterproductive. Targeting and segmenting staff to speak directly to their needs and concerns was preferred.
The use of multiple communication channels was becoming more prevalent as organizations recognized the value of choosing the right communication channel according to the context of the message.
An often-neglected consideration was the way messages are written. Delegates favored short, sharp and punchy comms. Personalization through the art of corporate storytelling was recommended.
Chris Leonard, CEO of SnapComms, was at IABC 2018, and expanded upon these sentiments. "The consumer world is increasingly impacting on the corporate world, as the media and communication preferences in our personal lives become expectations in our work life.
"'Consumer-grade' is a term we now use a lot to define the quality and experience that employee communications need to have if they are to be successfully adopted by organizations and their employees. The use of visuals, video, interactivity and collaboration has become essential."
To hear more about current hot topics in internal communications, watch the video above or speak to one of the SnapComms team.