I don't pretend to be an expert in human behavioral science. But I like to think that after nine years of growing a business, I've learned a thing or two about the importance of employee engagement.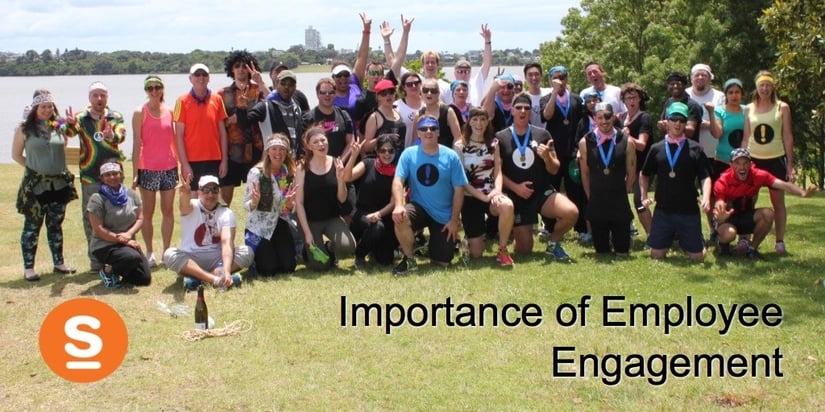 ---
For example, I know that happy and engaged people come up with great ideas. That they'll go the extra mile when needed, and genuinely care about making a difference.
So, for what it's worth, here's my starter for five when it comes to turbo-charging employee engagement:
1. Be BRAVE.
In addition to loving the meaning of the word, BRAVE is also the perfect acronym for employee engagement-driven values: Bold, Resource aware, impact focussed; Action-oriented; Value driven and Evolving. These values are our guiding principles that help staff make smart decisions every day: every idea is sized up according to BRAVE; if it's a goer, then it's all on!
2. Small Stuff Adds Up to BIG Stuff.
Even if you're not a big corporation, and don't have the budget for lavish performance incentive schemes, you should still know how to say "thank-you" and look for any excuse to have fun.
Birthdays, award wins, new starters, employees going the extra mile, St. Patrick's Day – pretty much every week presents opportunities to get together over a slice of cake or a bottle of beer and celebrate good times and generate team bonding.
Having a forum where staff can hear the compliments from their co-workers read out by management - at a monthly BBQ for example, really encourages everyone to be positive, and recognise the little things that everyone does.
It's amazing how many great conversations and ideas are sparked at these humble get-togethers! Colleagues getting to know each other and engage in a more casual way also helps break down silos and get cross-team collaboration and creativity pumping.
3. Wellness at Work.
Wellness initiatives, and the importance of promoting physical well-being, are increasingly important at the workplace.
Some simple, relatively low-cost suggestions companies of most any size can implement include: have fresh fruit delivered to the office each week; make free massages available once a month; and free flu jabs every year.
To help with our emotional well-being, consider offering flexi-hours – probably the most appreciated aspect for busy parents on any team. More offices are allowing pets during regular visitor hours (nothing perks up a rainy Monday like a puppy!) and paid volunteering days each year at a reputable charity of an employee's choice.
4. Communicating with Employees.
I can't imagine anyone who's fond of "death-by-PowerPoint" presentations. At SnapComms, we prefer to keep things short and snappy, just like many of our own tools.
For example, each team meets for a 10-minute stand-up every day. They'll run through how they're feeling, best bit from the day before, any roadblocks and what their focus is for the day. Within minutes, everyone's across each other's projects.
And an old school favorite is this: when we sign up a new customer, a bell chimes leading to much clapping, hollering and whoop-whooping.
Of course, we do more serious stuff too, like structured management meetings and quarterly updates. But we try and make this more dense material easy to digest. For example, we'll launch a new theme at the start of each quarter to align with and reinforce our goals in a fun and inspiring way (e.g., "Bouncing High into 2016" was our trampolining theme for the first quarter)..
5. Learn, Grow, Evolve.
We know that "what got us here, won't get us there." Trust, openness, and flexibility spawn innovation. And while some employee engagement ideas will be awesome, others, well, not so much. Employee engagement is not a box to be checked or a page to be torn from the corporate playbook: it is a living, evolving set of dynamics and principles. Which makes learning, growing, and evolving with your colleagues my most recommended piece of advice when it comes to employee engagement.
Most of us spend more hours during the day at work than with our family or loved ones, so why not engage employees and make work as enjoyable as possible? I've learned that employees will use discretionary effort, and genuinely care about the organization and the role they play if they feel genuinely cared for.
Read our quick 30 tips to increase employee engagement:
---