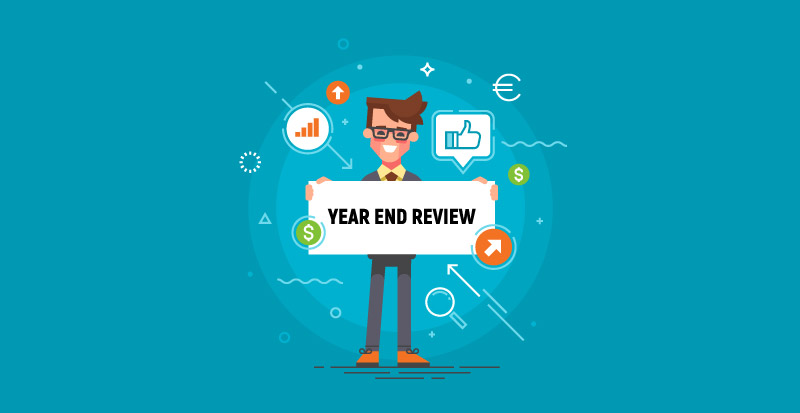 The end of the year is coming. Phew, we've nearly made it! Just some loose ends to tidy up, final goals to smash, and our efforts will be rewarded with results to be proud of. Hopefully followed by a nice long holiday somewhere sun-kissed and exotic.
But it's also a good time to reflect on everything that's happened – the great, the not-so-great, the just plain strange. So before we bid a fond farewell to 2018, here's our internal communications year in review of the trends and hot topics that caught our eyes and imaginations this year.
On our site
It's always interesting to see which SnapComms articles have created the most interest. It's a great barometer for what's uppermost in the minds of internal communicators. The roundup of this year's most popular articles from our blog is no less revealing.
1. Top 18 Internal Communication Tools You Need
Everyone knows there are a lot of different internal communication tools out there. And everyone likes lists. Put them together and you have one helpful cheat sheet for ways you may not have considered to engage your employees. Did we miss any of your favorites?
2. Achieve GDPR Compliance With SnapComms
This was the topic giving communicators sleepless nights in 2018. GDPR changed the game for how businesses communicate with customers, prospects and employees – raising the stakes and adding to compliance. The popularity of this article reflects just how seriously this was taken. But hey, we all survived it – pats on the back all around!
3. Internal Communications Trends 2019
It's crystal ball time! What does the future hold for us in internal communications? We all want to stay ahead of the game, so keeping a finger on the pulse and an eye on the future is a great way to ensure we're ready to maximize any opportunities. These were some of our predictions for 2019.
But did we get it right last year? Take a look at our 2018 internal comms predictions. Did our crystal ball need a polish?
Around the web
Some of our friends in cyberspace have published some interesting articles and handy resources. These are some of our favorites from around the web.
1. All Things IC - Free Internal Comms Plan Template
Rachel Miller is a guru of internal communications, as well as a prolific blogger. Her site features lots of useful information, including this super-useful internal communications template.
2. The Grossman Group - How to Create an Internal Communications Plan in 7 Steps
When businesses want to inject pep into their management practices, David Grossman is who they call. He's much in demand as an expert in leadership and communication, as well as helping businesses strategize effectively. This is why we love the detail and deep thinking behind this article on developing an internal communications strategy.
3. ICology - Icology podcast
Podcasts are an entertaining way to stay informed while multi-tasking on your internal communications planning. Chuck Gose hosts a popular regular podcast featuring insights from practitioners across the world. But if reading is more your style, the Bananatag blog features a wealth of his Chuck Chats interviews.
All over social
From socially-awesome to socially-awkward, you can always rely on social media to entertain and provoke. When these internal communications experts tweet or post, we know it'll be worth reading.
1. IABC (@IABC)
From tweet-sized tips to massive events, the International Association of Business Communicators are leaders in internal communications.
2. Simply Communicate (@simplycomm)
Internal communications and the digital workplace are a marriage made in Heaven. Simply Communicate are very active on social, as well as run some of the UK's biggest real-world events.
3. IC Kollectif
As part of their mission to champion the advancement of internal communications, IC Kollectif produced the comprehensive research report The Next Level. It's worth following them on LinkedIn for latest insights and expertise.
In the headlines
There have been rich pickings for media in 2018, with hot political and cultural topics setting the headlines and forums alight. The ripples of some of these have been felt in the world of internal communications as well.
1. GDPR
While employees weren't the main focus of new GDPR legislation, there were implications for internal communicators in Europe and beyond. Greater emphasis on awareness and recording of staff communication preferences placed more importance on compliance.
2. #metoo
Few topics have ignited in 2018 like the #metoo movement. For internal communications, it's put issues of harassment in the workplace and professional ethics into the spotlight. Employers have had to reconsider how to best engage with their workforce to foster a supportive and sensitive culture.
3. Brexit
Change communications is one of the areas where effective internal communications really shine. When change can disrupt and inspire equally, communicating with staff is essential to minimize the risks. For the UK, Brexit continues to be one of the biggest changes on the roadmap into 2019.
There's no escaping the end of the year. There's a palpable tension to complete projects within a month, there's an office party organized, and are those sleigh bells we can hear?
Take the time to reflect on your 2018 year in review. What is worth doing more of in 2019? What could you improve upon? But most of all, recognize just how much great work you've achieved.
Thanks for sharing 2018 with us. Let's do it all again in 2019!