Running your own business is not for the faint-hearted. Many liken it to riding a roller-coaster, with its dizzy highs and scary lows.
Me personally? I'd go a step further and say business ownership extends beyond the roller-coaster: it's the entire amusement park! You've got to outwit your rivals, just like driving a bumper car; avoid going round in circles, like a carousel; and be brave to try new things, like the Booster.
Scary. Fun. Risky. Thrilling. Bottom-clenching. Even nausea-inducing. But ultimately, they all add up to an incredible, unforgettable experience that I never want to end.
I'm particularly mindful of this right now as we're in planning mode at SnapComms HQ. We're busy lining up our priorities for the next 12 months. This means choosing which projects to back, and which ones to dodge.
All this planning got me thinking about what we, as team, have achieved in the past 12 months.
It blew me away.
In my view, too many business leaders forget to celebrate the highs, the achievements that are the sum of several small steps taken every day. I prefer to acknowledge, "Wow, we did that, that and that!" as opposed to the "We should do that, that and that!"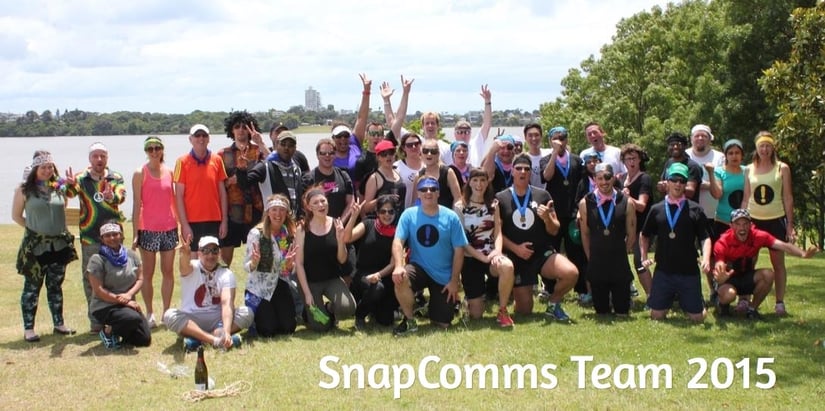 Here are just a few of those highs:
Repeat message scheduling. This is some pretty powerful functionality that allows administrators to repeat messages hourly, daily, weekly, monthly or annually. The benefits? It saves time, aids planning, and improves internal communications efficiency and consistency.

'Keep Notifying When Read'. Perfect for our large hospital customers, this feature is useful for shared computers where messages need to be displayed to multiple staff members.

Sound notifications. Specifically requested by a customer, this innovation allows a customisable sound to play out when an important notification is received. Ideal for busy front-line staff who may not often be in front of a computer.

Security setting upgrades. Extra lockout and password securities introduced, along with work commencing on two factor authentication .

Time zone detection. This makes it easy for internal communication administrators to schedule and send messages across different time zones.

Compliance-specific programs. Software to support educational and awareness campaigns on compliance topics, incorporating a crucial 'validation' item to help drive behavioral change.

Quick Publish. Allows administrators to create a library of pre-prepared instant alerts that others can use to publish urgent and important messages quickly. The Quick Publish feature is designed for a situation where a common issue takes place unexpectedly and a pre-prepared message needs to be sent out quickly and with minimal effort.
All up, there were 23 new releases, 45 new features, plus a raft of other enhancements completed under the hood, all designed to ensure the SnapComms tool is safer, easier and better-performing than before.
Sure there were some lows, even some freefalls. Like the inordinate amount of time and effort naively spent on entering awards, only to concede that in the eyes of award judges, you can't possibly be a good business unless you have a sexy story about "disrupting an industry" together with several million dollars of venture capital funding. (I had been warned). That aside, we have won a few noteable awards including a couple of Westpac Business Awards (Excellence in Exporting and Excellence in Innovation) and the Air NZ Cargo Awards - Endace ICT Exporter of the Year 2015.
And wildly underestimating the amount of time and resource required to launch a new mobile-friendly website.
As for the future, our very own team of fairground fortune-tellers (aka awesome product marketing experts) have exciting plans afoot. Their crystal ball reveals a beautifully-designed next generation interface, a handy one-stop-shop portal for our resellers and improved APIs for even better integration, scalability and abstraction for enterprise users.
I'd better stop there before I give too much away.
Finally, just like the fairground, there are many ways to lose in business, and only a few slim chances to win. I've yet to hook a duck, win the hoopla, or strike a coconut at the fair.
I am, however, proud to say we have more than a million users, across 400+ enterprises in more than 45 countries. None of that was down to luck.
One thing I'm predicting is that this coming year, with our exciting plans for growth, we're in for a thrilling, white-knuckle ride. I think we're going to soar.

---