---
If you're in charge of compliance, you're probably feeling pretty smug right now. It's hard to think of another career where the future looks so bright.
But are you keeping up with the latest trends in compliance communication?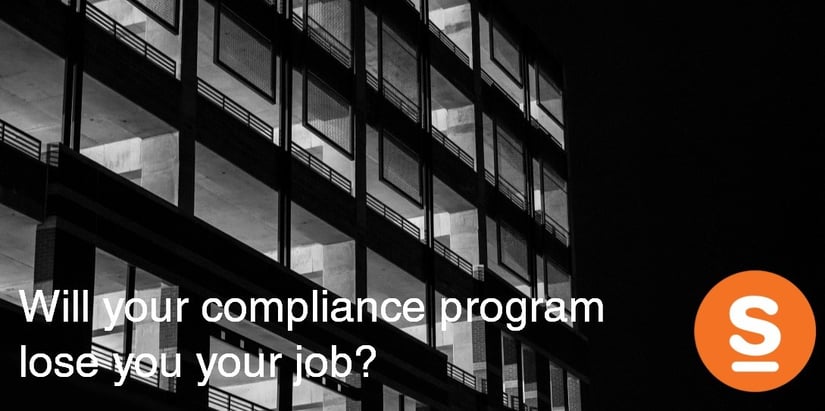 Compliance is getting more attention than ever before. Tick.
Additional financial and human resources are heading your way. Tick.
Job security sorted. Tick.
But wait. There's a niggle. You feel you're being watched. Perhaps by your boss? By senior management? Or worst of all, by federal agencies!
They're starting to ask questions. Tricky ones. Like, what proof have you to show all your hard work is actually making a difference? Are your compliance programs actually effecting behavioural change? Are you using modern communication techniques to get your message across, or relying on the old-fashioned paper-based 'read, agree, sign' format?
There's a communication nightmare happening in many major organizations in the US and Europe. Information overload, infobesity, too many pesky emails – call it what you will – has created so much noise, that critically important messages, such as compliance topics, are getting lost.
No wonder there's an urgent need to think differently about how to engage with staff and influence their behaviour. There's an even greater need to provide validation that staff understand the compliance issues at stake, and when faced with a compliance dilemma, they make the right call.
Compliance and communication experts are introducing specialist compliance software designed to counter these barriers. These tools deliver brief, attention-grabbing, dynamic content. Perfect for micro learning. Perfect for time-short staff. And perfect for demonstrating to senior execs and external agencies that your out-of-the-box thinking is getting results.
For example, pop-up desktop alerts deliver a power punch of content in small doses, directly to employees' computing devices – at the office or working remotely. This form of short, burst drip communications is effective for driving behavioral change, delivering urgent crisis comms, and validation items.
These alerts can be set to either stay on the screen or continue to reappear at scheduled intervals, prompting the employee to act or acknowledge the message. Readership and interaction can be tracked so that each campaign is measurable, particularly valuable for compliance topics and its associated legislation. Other tools, such as quizzes, interactive screensavers, scrolling news feeds and other visual channels can all deliver important messages with maximum impact.
Ignoring new ways to communicate compliance topics could potentially expose your organization to a greater risk of non-compliance. And failure to demonstrate a comprehensive compliance learning program to federal agencies could lead to a nightmare financial penalty.
And a career nightmare for you.
Subscribe for more posts like this, directly to your inbox!
---