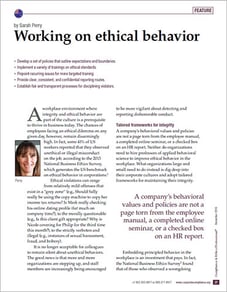 SnapComms' CEO Sarah Perry shares her insights into ethical behavior in the workplace and how to overcome challenges relating to ethics in organizations. She also reveals her top 5 tips on fostering ethical wisdom in the workplace.
Covered in the article:
How to encourage employee intergrity in the workplace
How to be prepared for ethical challenges in the workplace
Communicating your standards and practices to employees
The difference between communicating to Millennials versus Baby Boomers.
To read the full article, click below to download:
Article originally published in SCCE's Compliance and Ethical Professional Magazine December 2016.