CUSTOMER PROFILE
One of New Zealand's leading tertiary education providers with more than 27,000 students, 600 staff and seven campuses.
INTERNAL COMMUNICATIONS SITUATION
This tertiary institute had limited internal communications channels and staff were overloaded with emails. They were looking to update their internal communication systems and to build internal loyalty to the institute's brand.
Internal Communications Tools:

Featuring

• Content expiry

• Content scheduling

• Easy to use templates

• Message click-through

• Message recurrence

• Message targeting
Screensaver for student computers
"The SnapComms internal communications tools are a great way to communicate with staff in an academic environment."
Director of Communications
INTERNAL COMMUNICATION OBJECTIVES
Update internal communications systems. Prior to the use of the SnapComms communications tools, the tertiary institute had limited internal communications channels consisting primarily of an intranet and a weekly e-newsletter. It is a strategic priority for this leading education provider to use the latest technologies and it was therefore looking to update its internal communication systems.
Effective alternatives to email. The staff were receiving too many internal emails meaning that message cut through was poor and the internal communications process was inefficient. They were looking for an effective alternative to email for communicating with staff.
Communicate with a geographically diverse workforce. The institute has 7 campus locations and an employee base consisting of staff in classrooms, at their desks and in the field. An internal communications system was required to reach all employees, regardless of their physical location or nature of work.
Build staff engagement and involvement across the institute. They were looking for an internal communications system to break down silos across the organization and to build the internal brand within the institute.
Increase staff awareness of events and initiatives across the campuses. In order to build engagement, the tertiary institute regularly runs free events and initiatives open to all staff. They needed a way to effectively promote these events and initiatives and to raise the awareness and perception of the 'extras' available to the staff.
Reduce inefficiencies in the internal communications process. As well as finding more efficient alternatives to email communications, they wanted to be able to delegate the administration of internal communications to other departments where appropriate.

The tertiary institute has been able to meet all of its internal communications objectives using the SnapComms internal communications system. Channels such as; screensaver messages, desktop news feeds and pop up staff surveys provide them with an engaging way to reach staff and to ensure message cut through.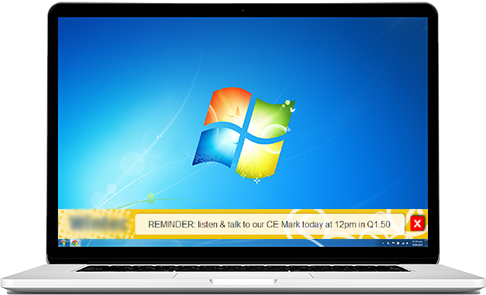 Scrolling Ticker Example
"We've significantly reduced the number of all-staff emails that our people receive by utilizing the SnapComms channels. It's a far more effective alternative to email communications, especially as it allows us to track – in real-time - who has received the messages."
- Director of Communications
---
More examples of SnapComms tools in action:

The institute uses desktop newsfeeds to keep staff informed of events around their campuses. The desktop news feed tool allows internal communications to be targeted and message recurrence options help ensure message cut through.
They use the news feed tool to promote and drive attendance at a range of events including; CEO briefings, social events, wellness seminars and focus groups. They also use desktop news feeds to send out reminders for nominations for staff awards, to run competitions and promote special offers for staff.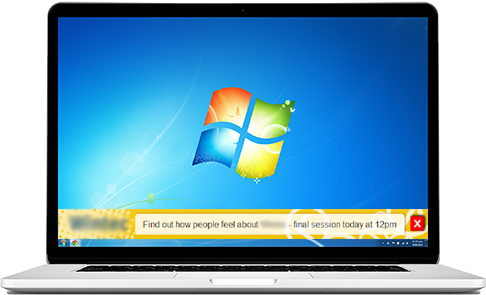 Scrolling news feed example
Interactive Screensaver Messages
Interactive screensavers provide the school with a highly visual way to feature a range of messages and initiatives.
Examples include:
• The annual employee awards
• BBQs, Christmas parties and charity events
• Promoting the brand
• 'What's happening on campus'
• Promoting other communications channels e.g. the magazine and the intranet
• Good news stories, e.g. quality awards and 'What our students are saying'
• Congratulating staff on the graduation of students
• Free events such as; health and parenting seminars
• Free offers such as; newspapers, flu jabs, physiotherapy
• Promoting the launch of new HR system (and offering training)
• Training programs available to staff
• Messages to be conveyed to students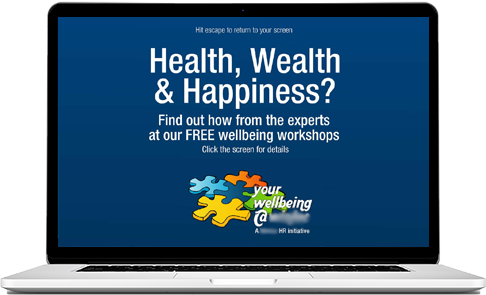 Teritiary Screensaver Example
Schedule your own personlized demo of SnapComms' tools:


Staff Quiz Tool
The pop up staff quiz tool is used to run fun staff quizzes to build engagement and create a sense of belonging. Examples include quizzes to win; a Christmas hamper, theater tickets, and V8 supercar racing tickets. The first quiz the school ran saw 5% of staff respond within a minute, and a ¼ of all staff complete the quiz by the end of the first day.

Staff Survey Tool
The pop up staff survey tool provides the institute with a means to measure internal communications effectiveness and to gather feedback on events. They are also able to use the staff survey tool to have staff nominate their colleagues for employee awards.

Employee Discussion Forum Tool
The employee discussion forum tool allows the Dean to blog on a weekly basis. Blog posts are promoted to staff via desktop news feeds and reminders in the staff e-magazine.

Electronic Staff Magazine

The electronic staff magazine tool allows staff to submit an update or news item into the staff magazine 'On Campus'. It has become an up-to-date 'portal' featuring what's happening anywhere across the campuses and is accessible from the intranet or directly from each employee's desktop.

Desktop Alert Messages

The institute is able to ensure that urgent internal communications cut through in a timely way with the desktop alert tool. It is often used to alert staff to IT issues that may be impacting their ability to access software programmes.

The RSVP desktop alert provides the means for the tertiary institute to promote and gather registrations for various staff events such as; focus groups, BBQs and other social events.

The video desktop alert tool allows them to deliver video messages to staff to create a stronger sense of community, for example; videos from the employee awards night and videos from staff about what they have been up during the year.

Message recurrence options

Message recurrence options allow the internal communications team to set message recurrence options as appropriate for the type of message. For example, a fun staff quiz may prompt the user only twice before reverting to passive opt-in, where as an important systems outage notification will continue to prompt the user every 45 minutes until the message has been read and/or acknowledged.

Delegated administration rights

Delegated administration rights allow staff outside of the internal communications team, for example the IT, HR and the facilities teams, to generate and send content to staff members.

"Thanks to the use of Snap Communication tools, we have increased use of our intranet by more than 40% in the first year."
Director of Communications