Customer Profile
---
Cox Communications is one of the largest cable television, telco and home automation companies in the United States. It has more than 20,000 employees including many mobile staff who need to be in the loop for important company news and communications.
Flexible work options as well as a large mobile workforce provided challenging conditions to communicate to everyone in a timely way. Targeting specific employees, groups and locations also posed some issues for the Comms Team.
Cox identified a need for a cost-effective way to reach its workforce: both globally and for targeted messaging (previously Cox Communications didn't have an effective way to communicate urgent messages).
Internal Communications Objectives:
---
Increase visibility of security awareness messaging for all employees.
More visibility for urgent messages for all staff including mobile staff.
Improve ability to target messages to specific groups based upon business need.
Software Solutions:
---
The software solution from SnapComms includes several tools which display messages directly on PC screens, completely bypassing email:
The interactive screensaver tool displays targeted visual messages to employees in place of a standard screensaver. The tool accommodates video, flash, image, html and text content. Each message can contain multiple embedded hyperlinks directing staff to further information on the network or internet. Messages can be sequenced - great for storytelling.
The desktop news feed tool displays important internal communications and updates to staff via an on-screen scrolling crawl bar. This ticker tool can broadcast existing RSS feeds, and senders can hyperlink headlines to an intranet page or other resource.
The visually-branded pop-up alert tool makes sure employees know immediately about any critical developments or news. Video, text, or other types of content can be delivered. It can be set to override all applications, and appear full screen (for urgent scenarios), or present as a pop up box with 'read now' or 'read later'.
Messages can be set to recur to ensure all staff see the message. Full tracking provides insight into who has or hasn't opened the message.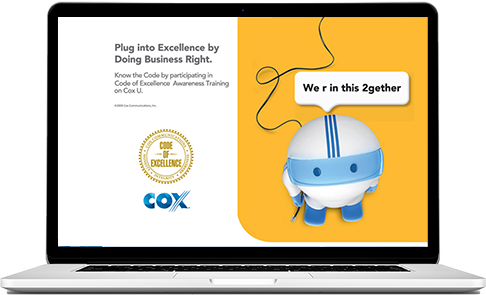 Example of Cox Communication Screensaver
The solution uses existing Active Directory groups for targeting purposes, eliminating the need for new distribution lists to be maintained, and overcoming the original issue of specific targeting.
Authorized senders (administrators) sign into the private Content Manager to create and send messages. The platform monitors delivery and employee responses, providing in depth data on the success of each internal communications campaign.
The ability to fine-tune each administrator's author and access rights make it possible for more than one internal group to use the messaging tools for their own distinct employee groups and communication purposes - a real plus for an organization the size of Cox Communications.
It's been eight years since Cox Communications first started using SnapComms tools, which have now become an integral part of the company's internal communications strategy.
"We value the flexibility of content administration and targeted messaging. We prefer to be a corporate office that partners and collaborates with our field locations."
Rella Stone, Information Security Senior Manager, Cox Communications