SnapComms Picks Up Eight Top G2 Awards in 2020
6 November 2020
AUCKLAND, New Zealand – November 6, 2020
SnapComms is delighted to announce that they have received top awards in eight of G2's performance categories, picking up honors in market leadership, usability and support. The awards announcement is especially pleasing as they're based on genuine user reviews from SnapComms customers.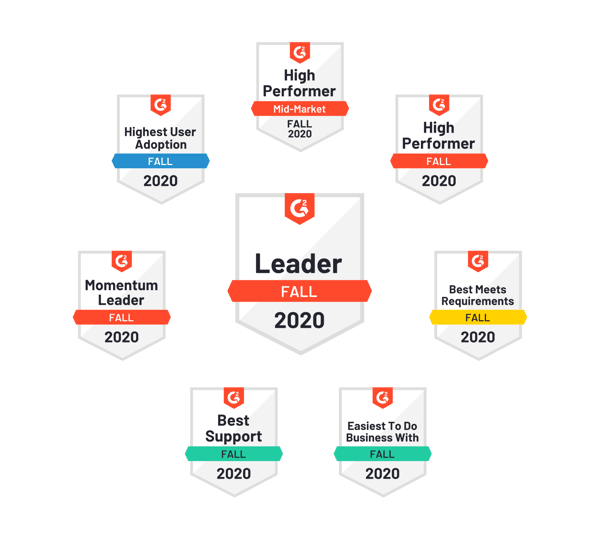 SnapComms has been designated as a Leader, Momentum Leader and High Performer. These awards reflect almost 15 years of experience in the industry, delivering an innovative approach to digital employee communications and earning consistently high customer NPS ratings.
In addition, SnapComms received badges for Highest User Adoption and Best Meets Requirements, recognizing the company's customer-and-innovation-first attitude. Continual product expansions and enhancements are the hallmarks of the SnapComms platform, including robust QA and user testing processes and an emphasis on maintaining regular dialogue with customers to understand and address evolving business communication needs.
SnapComms' high levels of customer advocacy contributed to awards for Best Support and Easiest To Do Business With. SnapComms' free 24/7 technical support, dedicated Customer Service program, and full backing all the way through from trial to implementation and usage, continues to satisfy customers at every level.
G2 is recognized as one of the preeminent software review websites on the internet and is the world's leading business intelligence software review platform. Their awards are founded on more than 1million genuine user reviews of over 95,000 products across 1,700 tech and service categories.
Currently, 80% of SnapComms' reviews on the G2 platform hold 5-star rankings, based solely on customer satisfaction ratings for business technology. Those ratings are from the business professionals, buyers, investors, and industry analysts that make up the one million monthly visitors on the website.
These results capture the innovative approach SnapComms takes to product delivery as well as a core belief in putting customer satisfaction first. The company remains committed to driving continual improvement and delivering exceptional value for customers across the world.
Read more about SnapComms' awards and reviews on the G2 Website.
About SnapComms
SnapComms is an award-winning provider of internal communication software used by 2.5 million employees in 75 countries worldwide.
SnapComms is designed to be equally effective for teams across organizations, from IT and Information Security to HR and Communications. Messages are delivered directly to employee desktop, mobile and digital signage devices, bypassing email to guarantee employee attention without adding to information-overload.
Since its launch in 2007, more than 1 billion messages have been sent through the SnapComms platform.
For more information contact:
Phillip Nunn– General Manager (Business)
Email: philip.nunn@snapcomms.com
Phone: +64 9 950 3360