SnapComms Scoops Accolades In 2021 G2 Awards
AUCKLAND, New Zealand – 20 July, 2021
SnapComms has scooped a host of awards in the annual G2 awards for 2021. The result follows a similar clutch of accolades in last year's 2020 G2 awards.
The awards ranged across many performance categories, including market leadership, usability and support. SnapComms has been recognized as a Leader, Momentum Leader and High Performer in multiple categories, reflecting the company's 15 years of experience in the industry.
The full list of awards for Spring 2021 are:
Best Meets Requirements – Employee Communications
Leader – Employee Communications
Momentum Leader – Employee Engagement
High Performer – Employee Engagement
High Performer – Internal Communications
High Performer Mid Market – Internal Communications
High Performer Mid-Market – Employee Engagement
Highest User Adoption – IT Alerting
Highest User Adoption Mid Market – Employee Engagement
Easiest Admin – IT Alerting
Users Love Us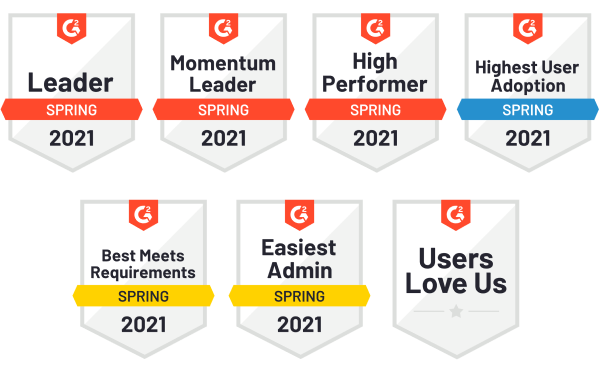 The annual G2 awards are based on genuine user reviews from SnapComms customers, and are an endorsement of the company's dedication to innovation and customer service.
G2 is one of the internet's leading software review websites and the world's preeminent business intelligence software review platform. Their awards are founded on more than 1 million genuine user reviews of over 95,000 products across 1,700 tech and service categories.
Read more about SnapComms' awards and reviews on the G2 Website.
About SnapComms
SnapComms is an award-winning provider of internal communication software used by 2.5 million employees in 75 countries worldwide.
SnapComms is designed to be equally effective for teams across organizations, from IT and Information Security to HR and Communications. Messages are delivered directly to employee desktop, mobile and digital signage devices, bypassing email to guarantee employee attention without adding to information-overload.
SnapComms is an Everbridge Company, providing the only end to end critical event management and employee communication solution in the world. Since its launch in 2007, more than 1 billion messages have been sent through the SnapComms platform.
For more information contact:
Phillip Nunn – General Manager (Business)
Email: philip.nunn@snapcomms.com
Phone: +64 9 950 3360