SnapComms Presenting On Communication Psychology at IABC 2020 Conference
4 June 2020
For the second consecutive year, SnapComms is presenting a session at the annual IABC World Conference, this year held over 14-17 June 2020.
SnapComms General Manager - Business, Philip Nunn, will be presenting a lively session on human psychology and internal communications. The presentation will answer the questions of why employees respond the way they do to company messages, what's in their DNA that drives their actions, what this means for communicators and how insights gleaned can be applied in today's workplaces to improve communication effectiveness.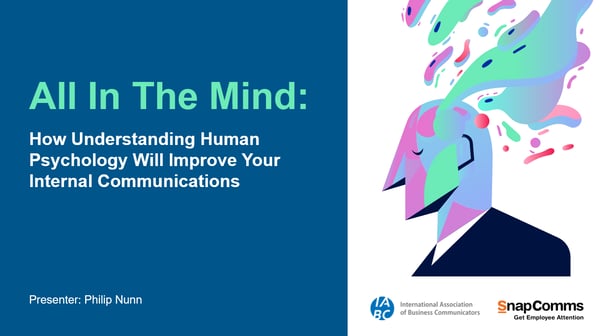 The IABC World Conference is one of the largest internal communication events in the world, bringing together experts and professionals from across the world to advance the development of employee communication practices. This year's 2020 conference is being held entirely virtually, due to restrictions resulting from the global COVID-19 pandemic.
Philip Nunn is an experienced business manager who leads an international team that specialize in helping large organizations meet the challenge of effective employee communication. Philip has a background in product innovation, business development and customer service, as well as a passion for improving employee engagement through understanding what makes people tick.
Read more about our session and register on the IABC website.
A recording of the SnapComms presentation will be available through the SnapComms blog. Communications professionals unable to attend the event can receive a notification of when the recording is available by subscribing to the blog.
For more information contact:
Philip Nunn, General Manager - Business
Email: Philip.Nunn@snapcomms.com
Phone: +64 9 950 3360