SnapComms Raises The Bar For Internal Communications With Product Enhancements in 2019
1 July 2019
2019 is another year of continual improvement for SnapComms. Both the SnapComms App and Content Manager have benefited from a range of refinements. Some big and noticeable, some tiny but mighty.
Now that we're midway through the year, it's a good time to reflect on some of the improvements made – and what makes them so useful.
Here's a wrap-up of some of these, but keep an eye open for even bigger improvements coming very soon. The best is yet to come in 2019.
1. Enhanced search
Search functionality in the Content Manager has been expanded to allow communicators to search for a keyword or phrase anywhere in the message. It could be in the title, subject or body of any published messages.
This means communicators can quickly and easily find specific messages to refer to. For example, all messages sent concerning Compliance can readily be identified by searching for the use of the word "compliance". This makes auditing all messages on a subject simpler and more accurate.
Enhanced search is a big tick for saving time and effort – making internal communicators more efficient.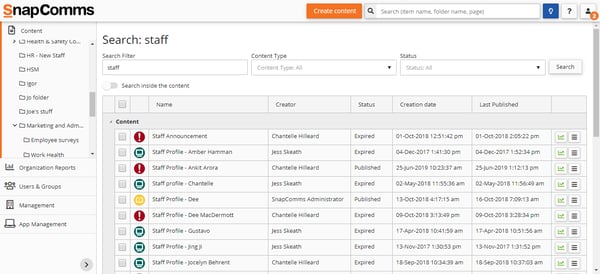 Search within message content for fast access to all communications on a specific subject
2. Mobile preview
Workplaces have become increasingly mobile – and so is SnapComms. Another new feature added allows communicators to preview their message as it will appear on mobile devices.
Before publishing the message, a thumbnail shows the mobile display of the content, alongside the existing previews. Each preview is shown as a slideshow and allows communicators to double check that all content looks as expected – with no unwanted surprises.
Features like this are especially valuable in certain industries or roles where employees are not always at a desk. This could be healthcare workers on wards, field-based sales teams or construction and manufacturing workers on sites.
Mobile preview delivers greater confidence for communicators that messages will look great and be effective, whatever devices they're seen on.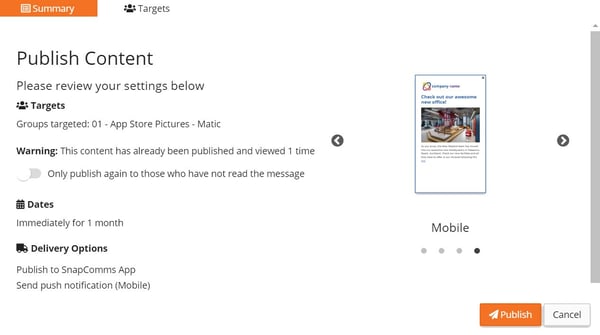 Slideshow-style preview providing assurance of how messages will display on different device types
3. Dynamic design
Design and visual appeal are critical elements of effective messages. That's why two new features have been added to make message design easier.
Communicators can now copy and paste an image directly from external sources like websites. This improves image management by removing the need to have images saved on PC.
Alternatively, images can be dragged and dropped from somewhere else into the image area of the Content Manager. Messages can be given a huge visual lift with a single mouse click.
These process improvements save communicators' time, whichever option they choose to use.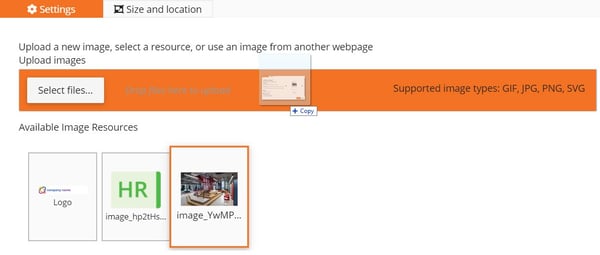 Fast image management through simple drag-and-drop or pasting from external sources
4. Product feedback
Communicators now have a direct line to the SnapComms Product Team. This was introduced through a facility to submit ideas or feature requests. From the Content Manager, submissions can be made by clicking the lightbulb icon on the dashboard.
This important feature allows communicators or administrators to make suggestions, provide feedback or ask for help. Submissions are routed to the appropriate SnapComms team member for the most relevant and useful response.
Unlike other communication tools, SnapComms encourages feedback and makes it easy for customers to engage with the right people.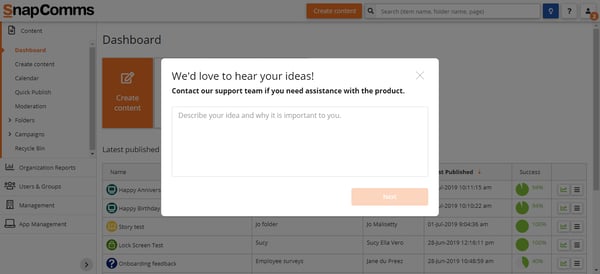 Submit feedback or suggestions directly to the SnapComms Product team
Improvement is the name of the game for SnapComms. Follow us to keep up to date or contact us to hear more from one of our expert team.
For more information contact:
Tyrell Cooney – General Manager, Technology
Email: Tyrell.Cooney@snapcomms.com
Phone: +64 9 950 3360