SnapComms Product Enhancements
January-June 2020
31 July 2020
Despite the entire team working from home for nearly three months to help stop the spread of COVID-19, SnapComms have been busy releasing new features and updates to the SnapComms platform and Content Manager to help customers improve their communications in these challenging times.
Here's a summary of just some of our top enhancements released in the first half of 2020.
1. New Template Library delivers better messages, faster
Designed to overcome common communication challenges, SnapComms Template Library address' organizations' communication needs by providing a set of ready-to-use messages that allow important information to be created and delivered simply, fast and more successfully.
Templates are available for a range of different channels, functional areas and communication needs - all designed to deliver the most effective, engaging messaging.
Each template features company logo, branding and pre-configured content, all wrapped in best practice design. Nearly 40 Templates are available now, with more continuing to be added. Learn more by reading our blog.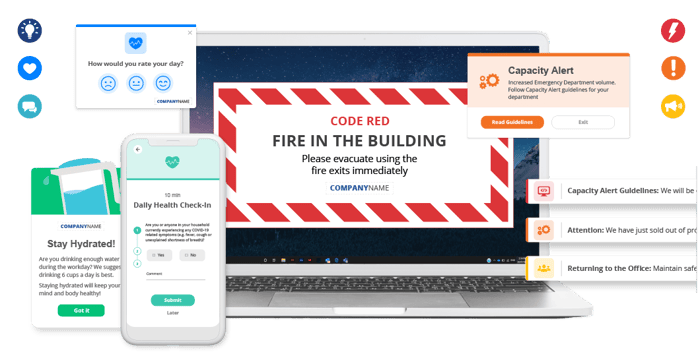 2. Improved features and downloading for the SnapComms mobile app
With the SnapComms mobile app, employees can access and engage with company content anywhere – and now it's faster and easier to get started.
Employees can quickly download the SnapComms App to their mobile devices whether they're on Android or iOS through a unique QR Code. Each employee will be directed appropriately depending on which operating system their device uses – seamless and simple!
The SnapComms App allows your staff to receive communications whilst on the go, making content accessible anytime from their device. They can scroll and 'Like' content in the social media-style newsfeed. All company communications can be accessed through the App, including critical or emergency communications, ensuring your staff are kept up to date, whatever the circumstances.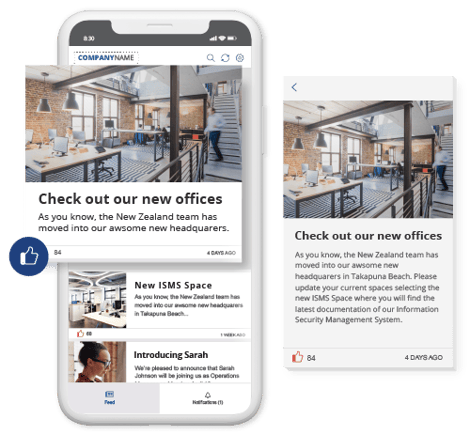 3. Send personalized content with advanced employee targeting
Relevance is key to message effectiveness – the greater the relevance, the greater the readership. That's why Attribute Targeting is so important.
The SnapComms targeting feature has been improved to give communicators more control over setting up and targeting groups of users. Employees can be targeted based on their details, location, use of the SnapComms App and more. Groups can also be defined based on their responses, allowing communicators to streamline the process of sending follow-up messages.
Communicators can more easily create custom content that resonates with employees. For example, creating an Alert targeting employees that live in a part of the country experiencing bad weather, or creating further targeting based on responses to a Survey sent previously.

4. Engaging employees with animation alerts
The COVID-19 pandemic has meant many more staff working remotely than ever before, which makes building staff engagement a challenge for businesses.
But a newly released series of fun and engaging animation alerts takes the hard work out of this for communicators. Simple yet effective animated alerts help improve staff engagement, productivity and health by promoting good workplace or working from home practices.
These animated alerts remind employees of tips and activities to be healthier and productive, such as stretching and staying hydrated, celebrating special occasions and recognizing employee awards.

5. Revamped reporting drives messaging effectiveness
Proving the effectiveness of employee communications has been made easier with the release of the upgraded report center. Improvements to reporting content and structure enabled easier locating of required information for communicators.
Administrators with Users and Groups permissions can also create targeted groups from filtered Success Report results.
SnapComms customers can view the new dashboard overview of reachable users, messages published and views, by logging into the Content Manager.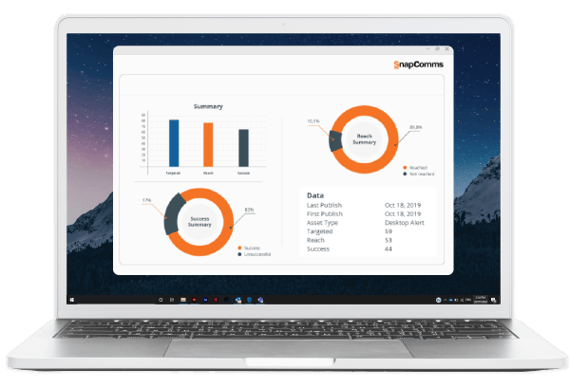 There's more to come from SnapComms in 2020. Follow us to keep up to date or contact us to speak with one of our communication experts.
For more information contact:
Tyrell Cooney – General Manager, Technology
Email: Tyrell.Cooney@snapcomms.com
Phone: +64 9 950 3360