There's often very little warning when adverse weather strikes. When it does, it can cause major disruption to employers and their staff.
Snow, ice, hurricanes, tornadoes and heavy flooding are becoming all-too-regular occurrences that can bring an organization to a crippling standstill.
Getting to and from work can be difficult - even dangerous - for staff; operations and logistics usually take a hit; and in severe cases, infrastructure or building damage means the normal place of work is out-of-bounds.
Employers have a moral obligation to help employees during these times of stress.
Regular, up-to-date communication that is seen and read by all affected staff is critical for minimizing risk and aiding business continuity during a weather crisis.
Follow these steps to help plan internal communications before, during and after an extreme weather event.
Each step features recommended SnapComms channel(s) to ensure a high readership and engagement from staff.
Step 1
Publish an Inclement Weather Policy
Address the main concerns of staff by producing an adverse weather policy. This should outline FAQs such as if remote working permitted; how absence from work will be treated (paid, unpaid or taken as annual leave); correct procedure to notify absence; and if missed hours can be made up at a later time.
This policy must be easily available to employees in advance, and then promoted in the advent of a possible weather event. This will prevent HR teams being inundated during what is already a challenging time. And help avoid any confusion and conflict later.
Recommended SnapComms Tools:
Scrolling Tickers, Screensavers (see example below) and Corporate Wallpaper to inform employees and increase awareness albeit in a non-intrusive way.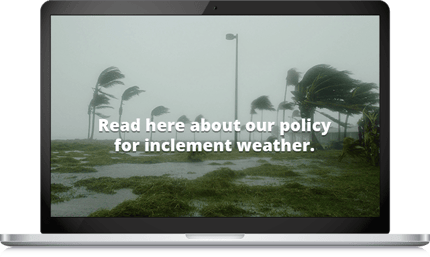 Step 2
Prepare an Emergency Communication Plan
Draft a series of pre-configured messages that are most likely to affect your corner of the world. For example, if your region is prone to tornadoes or flooding, pre-empt the instructions staff will need to heed e.g. "Head to the underground shelter immediately".
Utilize all available internal communication channels to 'flood' your message. SMS, digital signage, social media, and other high cut-through channels will ensure your message gets through. And don't worry if you're repeating the same message over - in fact, message recurrence is recommended. Just make sure staff are seeing the most up-to-date information, and that content is geographically-targeted.
Part of this plan should define the communication tree i.e. who's ultimately responsible for publishing content? Rehearse this process so that in the hour of need, there's no ambiguity.
Recommended SnapComms Tools:
Alerts (including Panic Button notifications), Scrolling Tickers, Screensavers (repurposed as Digital Signage) for fast, effective message cut-through. Utilize the recurrence feature so that messages are continuously republished until read.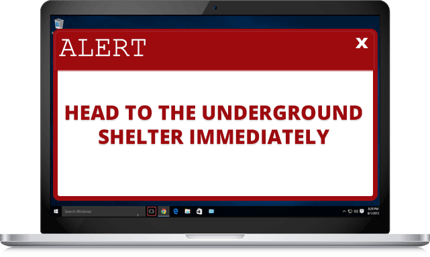 Step 3
Choose the Correct Communication Channel
If speed of message delivery is important then choose an internal communication channel that gets quick cut-through. Tools such as Desktop Alerts and Panic Button Notifications are tailor-made for this type of crisis communications. They override all other applications to appear directly on screen across all PCs and mobile devices, sidestepping the email route completely. (Email will not be timely enough, and gets easily missed.)
This form of top-down communication cascading directly to the workforce provides a reliable, single source of information that employees can trust.
Content must provide explicit instructions, and if required, include links to more detailed information.
Quick reply mechanisms that enable staff to confirm receipt of message, and a tick box response such as "I'm safe" allows emergency teams to track employee welfare and divert help as needed.
Recommended SnapComms Tools:
Alerts (including Panic Button notifications) with links to internal sites - such as your corporate Intranet, and external domains - such as civil defence and weather sites; Scrolling Tickers, Screensavers, Quiz and Survey channels. Special features such as message recurrence, end-user targeting and real-time reporting will ensure optimal reach.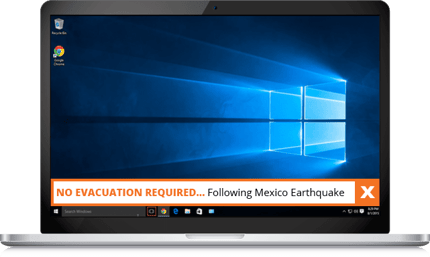 Step 4
Post Event Communications
A post-mortem of the communication strategy is important to identify what worked well/needs improving. Get staff feedback using quiz and survey tools. You may discover the frequency of communications needs to be increased, or that one format has a much higher read rate over other channels.
Plan seasonal communications to staff such as "get your car winter-ready". Gentle awareness reminders like this are best delivered through passive channels such as screensavers and even tickers.
Recommended SnapComms Tools:
Quiz and Survey channels for capturing staff ideas and feedback. For ongoing awareness and training, build an internal comms campaign using a combination of Scrolling Tickers, Corporate Wallpaper and Screensavers and Digital Newsletters.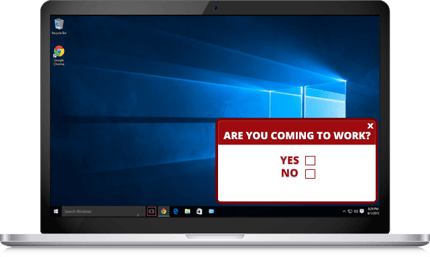 ---
Read Here How Our Customers Use Snapcomms Channels To Communicate During A Severe Weather Event