A new year is underway. Twelve months to account for. Dozens of initiatives to run. Hundreds, even thousands, of staff to inspire and engage. One HR Plan to manage it all. And six things that HR Plan needs.
Businesses will demand more and more of Human Resources teams this year. It's a big challenge – and opportunity – for HR Managers.
Strategic priorities such as change management require dedicated focus (56% of HR leaders say change management will be a top priority, according to Gartner). But core elements like employee engagement can't be neglected. Managing the needs of the business as well as those of staff will call for careful balancing.
To juggle these conflicting demands, HR managers need a plan. One that effectively charts the course for the year ahead.
An effective plan makes it easier for organizations to recruit, retain and reinforce the strong workforce needed to achieve strategic goals.
How to Create an Effective HR Strategic Plan

There are three key stages to successfully preparing, creating and executing your HR strategy: Plan, Implement, Track. Each stage includes information to gather or things to prepare from initial scoping through launching to staff to assessing performance.
While they can seem overwhelming at first, they are important to ensure your plan achieves its objectives. A summary of these are shown here - and included in the downloadable planning checklist below.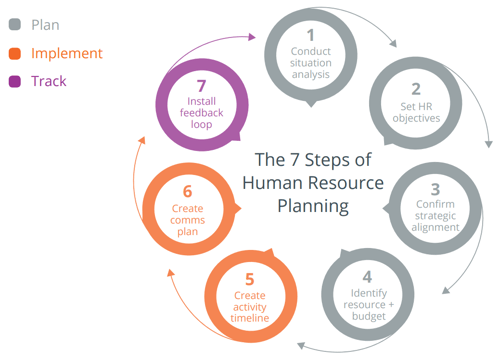 1. Plan
Situation analysis – defining the current state of the business and the desired future state
HR objectives – confirming key Human Resources priorities with SMART goals
Strategic alignment – ensuring HR objectives support overall company goals
Resource requirements – summarizing what is available now and what is required to deliver to HR objectives (this could be people, capabilities, systems or support)
Budget requirements – establishing funding requirements for additional resources in line with objectives


2. Implement
Timeline of activities – specifying the timeframe for goal achievements and setting major milestones to be met along the way
Communication plan – defining key messages to be delivered, audiences to be targeted and channels to be employed
Content creation – identifying any new process, policies or training materials required
Plan B – confirming a contingency in the event of poor results or change in circumstances


3. Track
Feedback mechanisms – introducing a way to track campaign performance, gauge employee sentiment and identify focus areas for improvement
Regular reporting – setting a schedule to provide performance updates for staff and management
Download HR Strategic Plan Templates

With so much for Human Resources Managers to consider when creating their plans, we've prepared some free downloadable templates to help. Access these through the form below and share them with your HR team. You'll receive:
Strategy guide

- Details on the 6 things your plan needs to succeed this year
Planning checklist

- Make sure your plan covers everything it needs to (including a plan B)
Activity schedule template

- Track all your goals and initiatives in this editable project management tool that works alongside the annual HR calendar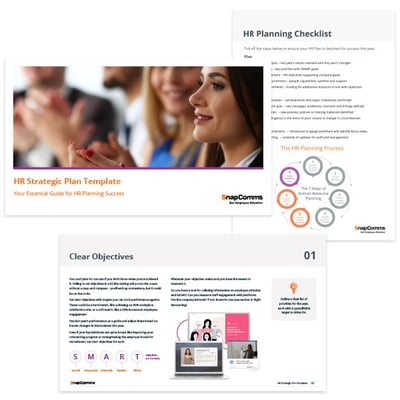 To get your free copy of each of these valuable resources, simply complete this form.