1. Choose the Right Channel
There are many new and exciting ways for organizations to build engagement with employees, beyond the old classics of email and intranet. These include high impact, unmissable formats such as desktop alerts, chatty collaboration platforms and video, right through to more passive styles such as screensavers and digital signage.
The skill lies in knowing which channel is right for the task. Building engagement can be a slow-burn using channels from across the communication spectrum.
Communication tools that offer a richer, engaging and interactive experience, that bring corporate culture and story-telling to life, is how to win hearts and minds.
2. Promote Employer Brand
Internal brand messages often get lost if they are buried in email or on the intranet. Bring brand messages to life with interactive, visually engaging communications channels such as messages on screensavers. Involve staff in creating brand values using quick and simple staff survey tools and plug and play discussion forums. Find out what staff know and think using fun staff quizzes.
3. Engage with Visuals and Infographics
77% of humans respond best to visual stimuli than text. Leverage this trait and broacast your core vision and values messages using interactive visual screensavers. A simple but highly effective comms tool, screensavers are one of the most under-used channels yet have an incredibly high impact. Use story-telling techniques, infographics or sequenced slideshares to convey your corporate narrative. This passive but powerful medium is perfect for reinforcing key messages.
4. Direct-to-screen Videos
The growing popularity of video is in part because they're so easy to create (thank-you smartphones); have far greater appeal to younger cohorts (thank-you YouTube); and can be viewed anytime, anywhere (thank-you high speed connectivity).
The challenge is to ensure staff actually watch the video. Use a Desktop Video Alert to prompt staff to view the video. This notifiication format delivers the video directly to employees' computers, bypassing email completely. Unmissable.
Involve Employees - Invite Their Input
5. Involve Employees
Not everyone is comfortable expressing their opinions in front of others. Use the desktop Staff Quiz tool to involve people. Invite them to name new ways of working (e.g. new systems, projects) or suggest improvements. Offer prizes for the best ideas (and recognize them using targeted corporate screensavers and articles in your newsletter or intranet).
6. Small Groups
Smaller, face-to-face executive communications offer a personalized and engaging forum for leadership communication. Multiple time slots and venues can also help maximize the chances that employees can attend executive briefing sessions. But the challenge is ensuring staff register and subsequently attend these sessions. SnapComms RSVP Desktop Alert is an staff invitation tool that makes it easy to target appointments and manage multiple variables such as venues, times slots and personalized requirements such a transport or catering. The RSVP tool integrates with Outlook.
7. Celebrate Best Practice
Lead by example is a proven technique to model organizational values. Endorse those employees who have demonstrated great attitudes, ethics and alignment with the vision. Short videos, newsletter articles, screensaver messages are all ideal channels for showcasing this behavior.
8. Reinforce Understanding, Develop Local Context
Use the pop-up Staff Quiz to ask scenario questions to reinforce understanding and local context. For example, "When I see a colleague working in an unsafe way, I would: A, B, C, or D or all of the above?" or "In XXX situation, how would you apply our company values?" Offer prizes to encourage staff to take part. Include humorous or trick questions and answers that make the quiz fun.
9. Employee Helpdesks
Implement confidential feedback channels that empower staff to ask questions about any aspect of the business and their role within it. This tactic often uncovers some hidden engagement issues, that an organization had no idea existed.
10. Influencers to Spread the Word
These influential individuals can play a major role in persuading the cynics of the company. Raise the profile and reach of these individuals further through the use of blogs, regular updates, and newsletter interviews 'from their perspective'.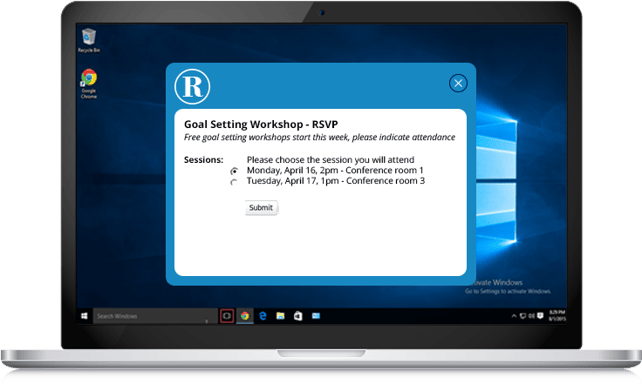 RSVP Desktop Alert Invite
15. Promote Employee Development Programs
The best development programs in the world can be overlooked if staff do not know about them. Ensure all employees are aware of the development programs available to them by promoting these courses using corporate screensavers, staff e-magazines and more. Desktop alerts and RSVP invites can help ensure maximum value is derived from events.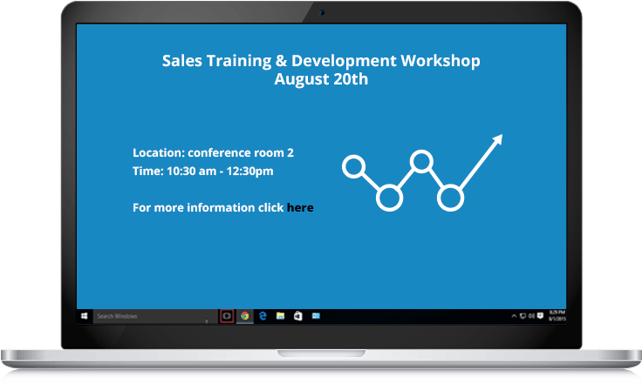 Deploy Screensavers to Deliver Messages
16. Expand Awareness
Make sure employees understand how their unit contributes to the overall success of the organization. Expand their awareness beyond their own performance and extend it out into their team.
17. Actively promote organizational effectiveness, reputation and ethics
Use interactive corporate screensavers, scrolling desktop tickers and staff magazine to raise employee awareness. Employees want to feel good about their leaders, where they work, the products they sell and the reputation of their company. Hence these types of engagement communications can be valuable.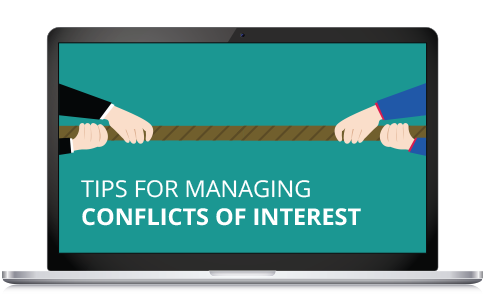 Corporate Screensaver Messaging
18. Promote Value
Corporate Screensavers can be a very fast and engaging method to promote 'free goodies' to staff. Anything from staff parties, discounted gym memberships to health checks, fun runs and fresh fruit can be promoted easily and effectively on corporate screensavers. Raising awareness of additional staff benefits can help employees feel valued and engaged.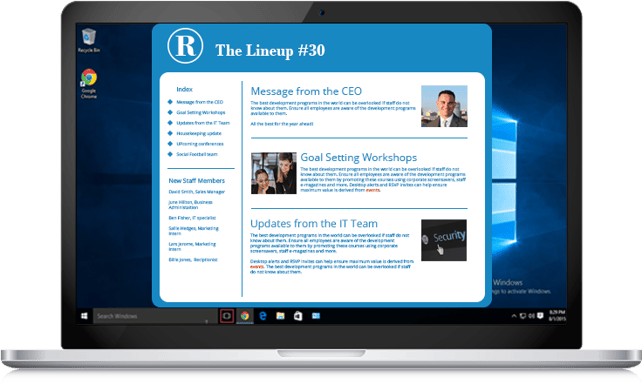 Employee Articles in the Newsletter
19. Department Highlights
Often people don't see where they fit into the bigger picture or why a specific department is working so hard on a particular initiative. Sessions such as Lunch -and-Learns are great ways to update colleagues about key projects, in informal settings. Promote these sessions and provide updates via screensaver messages and scrolling tickers.
20. Let Managers Walk The Talk
Direct line managers hold the greatest influence over how their team engages. Hold managers and supervisors accountable for their engagement, survey results and communications effectiveness. Measure their effectiveness and provide tools to support them.
21. Tell Managers First
SnapComms targeting and scheduling features let you update managers before their teams receive information. This can be invaluable if an unexpected event occurs that may affect engagement, and managers need to be forewarned. Advance notice allows managers to plan how and when their team hears the news, and gives time for managers to prepare answers for any questions unique to their team.
22. Measurement
Use a Desktop Staff Survey to measure information cascade across the organization. Help managers see the importance of effective communication in order to increase engagement.