IMPROVE SAFETY IN YOUR WORKPLACE USING EFFECTIVE COMMUNICATION
Safety communication to employees is regarded as one of the most challenging topics to get employee attention. It is not known for being a riveting read!
But done well, the gains are immense: People's lives are saved, workplace accidents are prevented, and related illness or compensation pay-outs dramatically reduced.
Research shows that for every dollar invested in workplace safety, three dollars are saved. The question is not whether employee safety communication should be done, but rather how should it be done.
New legislation from OSHA means greater pressure for organizations to think differently with regards to communicating safety to all staff.
The good news is there are now highly effective methods to get safety messages through to every employee, regardless of whether they're sitting at a desk, or sitting behind a fork-lift truck.
To build a culture of safety requires a steady communication program designed to educate and remind staff to be vigilant and cautious at work.
TIPS FOR SUCCESSFUL INTERNAL COMMUNICATIONS
---
SURVEY STAFF TO UNDERSTAND THEIR CURRENT SAFETY PERCEPTIONS
Your first task is to get staff opinions, and encourage their input. Create a short, confidential staff survey. Include questions around:
- how safe staff feel at work;
- how easy is it for them to report an unsafe working practice;
- how prepared do they feel the organization is should an emergency strike.
Ask them to suggest safer ways of working, and so on. These responses can be benchmarked over time and hopefully show continued progress once a communications program is underway.
Get maximum impact on for your safety messages with these internal communication channels
COMMUNICATION SAFETY TOPICS PRIORITY
Focus on topics that deserve immediation attention. Your accident log-book should shed light here. Some topics will require behavioral change by employees. Examples include: How to lift heavy objects without causing back injury; the importance of hand-hygiene; or regulations for wearing high-vis clothing. Corporate Screensavers, Corporate Desktop Wallpaper and Internal Newsletters are perfect tools to create awareness and reinforce the desired behavior.
Other messages may be urgent i.e. an unexpected event (such as a toxic spill, weather warning, or fire). Panic Buttons or Desktop Alerts are ideal channels to get a message out quick.
PLAN YOUR TOPICS ACROSS THE YEAR
It's a good idea to create a calendarized plan listing every health and safety topic you wish to communicate, along with planned safety drills. In this plan, also include the channels and assets required to get each message through. Create a list of hypothetical workplace scenarios, the desired outcome, and the preferences in the way staff want to receive your content, and align that to the ideal channel as previously mentioned.
GO BEYOND EMAIL FOR SAFETY COMMUNICATION
In many ways, the channel you use is just as important as the message. If no-one sees your message, it's a wasted exercise.
Mass emails to 'all staff' no longer have the impact they once had. Similarly, lengthy, text-heavy pages on your company's intranet site are unlikely to get the required attention. That's why short-burst messages, drip-fed and repeated over time are one of the best ways to get a message through in today's overloaded world. Tools such as Tickers and Alerts are great for this type of fast, efficient messaging.
TARGET TO SUIT EMPLOYEES' CIRCUMSTANCES
Staff have limited time and capacity to read and absorb new information. Only send them content that's relevant. It's no use publishing a chemical hazard warning to a team of office-based employees not in the vicinity.
Segmentation improves readership and response, and can be done within SnapComms platform by creating custom groups. You may want to categorize employees according to their channel preferences i.e. remote workers may be best served with SMS; Call-center agents may be more responsive to scrolling desktop tickers; Shop floor workers may prefer digital signage.
An effective catch-all for non-urgent safety messages is to produce a monthly newsletter. This leaves breathing space for critical communications to get the attention they deserve.
Set up targeted lists for each team so that no time is wasted if an urgent notification needs to be pushed out.
LEARN FROM MISTAKES
If an incident does occur, find out why as soon as possible. Talk with affected workers and determine what could be done to avoid a repeat occurrence. Some people might prefer to remain anonymous with their feedback, so offer confidential mechanisms to capture their version of events. Most importantly, start an internal communications campaign addressing the issue. Be open and honest about what happened, and how it's being solved to avoid a recurrence.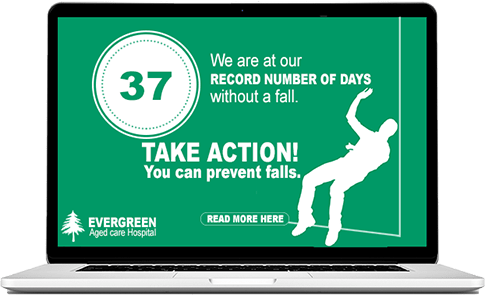 Screensaver messaging for behavior change
CAMPAIGN APPROACH TO CHANGE BEHAVIOR
A SnapComms campaign includes a steady stream of messages which are drip-fed via a range of internal communication channels. These could include screensavers, videos, desktop alerts and tickers. When used together – and preferably accompanied with face-to-face training - these channels increase understanding, build a story and create momentum.
For safety policies that require proof of employees' co-operation, a commitment piece stating "I comply" or "I agree" can be included within the campaign program.
Watch our webinar on how short-burst messages using different tools can get every employee on board with a new safety policy.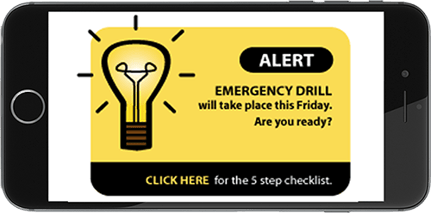 BOOST ATTENDANCE TO SAFETY TRAINING
Encouraging employees to attend training sessions can be half the battle. If it is not mandated, the no-show rate can be high.
The SnapComms RSVP tool can drive attendance for safety training sessions. It allows you to send a pop-up message direct to employees' screens, bypassing email. This message can be set to recur until the employee has responded and confirmed their attendance.
As the event nears, other SnapComms tools can be used to build excitement i.e. reminder notifications and countdown-style messages. Digital signage, scrolling Desktop Tickers and screensavers are great for this. Post training, a short pop up Video Alert recapping the main learning points should be sent. This serves as a useful reminder, and can also be viewed by those unable to attend the training.
THE DEVIL IS IN THE DETAIL
Not all communication channels are created equal. In the SnapComms suite, each tool has different attributes, and designed to meet specific needs. For example, full-screen desktop alerts are hard to beat for urgent notifications; whereas an entertaining video with engaging presenters is effective for explaining a new safety process.
Corporate wallpaper and screensavers are low profile, but incredibly high performing, especially for safety content. A message published on a Corporate Wallpaper (the display which appears when a computer is first switched on) provides the perfect, timely reminder about health and safety at the start of each working day. See the full product portfolio here.
See SnapComms in action: