APPLICATION
---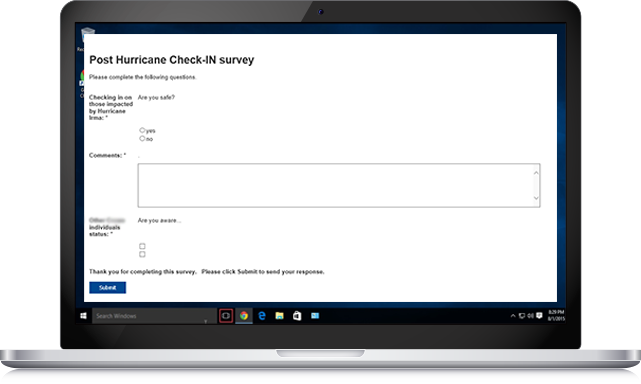 In normal circumstances, the Alerts are used for important internal messages. These range from network to power outages, general HR reminders and important company news.
But in exceptional circumstances - such as the recent grade 5 Hurricane Irma – SnapComms was used as the primary communication source.
"During this time, SnapComms was our primary communication channel for liaising with hundreds of personnel," explains the spokesperson.
"We sent many Irma-related Alerts, updating staff as events unfolded. These covered the latest weather reports, office closures, and other key information.
"Using the Survey tool, we sent multiple quick-response safety checks and wellness-related surveys. These entailed a multi-choice version asking, "Are you safe?" and a free-form survey for comments regarding colleagues' status i.e. if they knew of an employee needed help."
The reporting capability allowed the internal response team to filter survey responses, and identify if anyone needed assistance.
"The urgent nature of these channels prompted immediate response from employees. We quickly ascertained the safety of all our employees, and maintained contact during a stressful period."
RESULTS
---
"Staff were overwhelmingly appreciative about our outreach. They were grateful for our check in and subsequent follow up, and that we directly connected with them in a way that was quick to view and easy for staff to reply," explains the spokesperson.
Thankfully, all employees remained safe during the storm. The internal response team now has a set of pre-configured messages in place ready to send to staff in the event of an emergency or to give updates and/or confirm safety.
Company name withheld for confidentiality purposes.