Digital brand management tools such as screensaver messages, brand tutorials, desktop newsfeeds and staff quizzes help this travel services provider share its new vision consistently and guide ongoing brand management and foster Internal brand engagement as the business evolves.
Customer Profile
This company is a leading technology provider to the global travel and tourism industry, which processes more than $120 billion of estimated travel spend annually by connecting travel buyers and suppliers. The international company and Asia's leading provider of travel solutions and services - has signed a contract with SnapComms to use the SnapComms's internal communications tools to foster brand engagement amongst its employees.
Business Situation
This service provider's software and distribution solutions are used by hundreds of airlines and thousands of hotel properties to manage critical operations, they serve customers in more than 160 countries around the world and have 60 offices around the world.
Internal Communications Objectives
As part of internal brand building, they were looking for an effective communications channel, other than the usual below-the-line activities, to drive long-term brand involvement and communications across the company. They wanted to maximize the role of the workforce in creating and managing brand value. Digital brand management tools such as screensaver messages, brand tutorials, desktop newsfeeds and staff quizzes help the company share its new vision consistently and guide ongoing brand management as the business evolves.
"Brands can't and shouldn't exist in just logo, ads or collateral. In order for employees to embrace the brand, they need to live
in the hearts and minds of those who work with them. Only then, the brand can become genuine and create positive experiences."
- Director of Corporate & Marketing Communications

Together with this new communications channel, the company has aligned its internal brand campaign via brand excellence practices. Koh reiterates,
"The SnapComms internal communications tools will allow us to educate employees around key brand messages and values,
using not only a push strategy to facilitate brand dialogue, but also executing the program in a sustained manner."

SnapComms internal communications tools used:

•Screensaver Messages are leveraged with internal brand teasers deployed during the pre-launch and launch of the campaign. The screensaver messages contain count-down clocks, images, text, flash animation and video content to build momentum towards the launch of the campaign. Embedded hyperlinks allow staff to interact with specific messages and/or follow links to more information on the intranet or network.

• Staff Magazine Tool is used to publish weekly internal brand tutorials to educate employees on the new brand
messages and values.

• Scrolling News Feeds, which are executed on the employees' desktop as "tickers", help to remind staff of the weekly internal brand tutorials as well as any brand "Alerts". Furthermore, they are deployed on an ongoing weekly basis to motivate staff on Abacus' brand culture and values.

• Staff Quizzes are used to "test" for understanding of key brand messages and lessons shared through the weekly brand tutorials.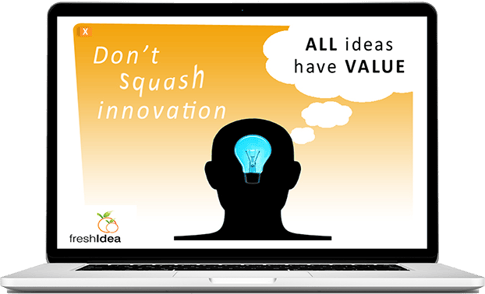 internal branding screensaver
The company appointed Gosh Advertising as the brand communication agency to develop the strategic positioning of the brand and to help to define the values and personality that would launch the newly created campaign.
Kelvin Tan, General Manager of Gosh Advertising, says, "[The company] chose to partner with SnapComms because it has innovative internal communications tools that are easy-to-use and SnapComms offer excellent customer support."

He continues, "The SnapComms tools also provide a range of ways to encourage and motivate staff to actively participate with the brand, and allow us to go beyond just internal communications – it allows us to inspire the confidence of its stakeholders too."
Delivering the project from brief to rollout within three months, Gosh Advertising, in partnership with SnapComms, has been able to leverage on this digital communications platform to demonstrate that brands are capable of creating added value for each individual employee.


Read more case studies: