Customer Profile
A telecommunications service provider. Since it's beginnings in 1994, this company has become one of New Zealand's most loved telecommunications providers with around 200 employees. They provide internet, home phone and calling services.
Business Situation
In May 2006, the New Zealand Government unbundled the local loop meaning that a range of business opportunities opened up to the telelcommunications service provider. A period of dramatic business growth followed.
Increased staff numbers and product offerings meant that it was important to find tools and techniques to ensure staff continued to be well informed and passionate about working for the company.
Internal Communications Situation
This company has a particularly young work force and a high percentage of call centre staff and shift workers. It has nearly doubled in size in the last year. All of these factors presented a number of internal communications challenges.
They wanted to find a communications solution that would appeal to it's young workforce who were used to dynamic, entertaining and attention grabbing technologies. The SnapComms solution offered the right combination of 'fizz' combined with pure and simple business value.
Internal Communications objectives


They have a particularly young work force and a high percentage of call centre staff. The company has nearly doubled in size in the last year. All of these factors presented a number of internal communications challenges:

Communicating with shift workers. A high percentage of shift workers meant that it was difficult to gather staff into one place for business updates and news.
High turnover of call center staff. As is common for call centers, staff turnover rates were higher than in other parts of the organization. It was important to find ways to bring new employees up to speed quickly and to build engagement in order to reduce staff turnover rates.

Young demographic. The average age of employees is 20 years old. Communications needed to appeal to a demographic used to engaging, entertaining and compelling communication formats. A cultural survey highlighted a need to make people feel more valued. Their cultural survey, although generally good, highlighted a need to help its people recognise the benefits of working for the company and to feel a valued part of the business. Learn more about communicating with millennials.

Email overload. People were being bombarded with emails. Between 50 and 100 per day were commonplace for call centre staff.

'Static' intranet. The intranet was seen as 'static' and not updated often, hence usage rates and effectiveness were low.

As well as addressing the above issues, they had the following additional Internal Communications objectives:

Increase staff involvement. The company was looking for ways to help it's staff feel more involved and to allow them to participate more in the business.
Find new ways to make working for the company fun. They have a young, fun brand and it was important to reflect this in the culture of the company.
Measuring communications effectiveness. It was difficult and time consuming to measure communications effectiveness. The service provider was looking for a quick, user friendly tool to allow them to measure communications effectiveness on a regular basis.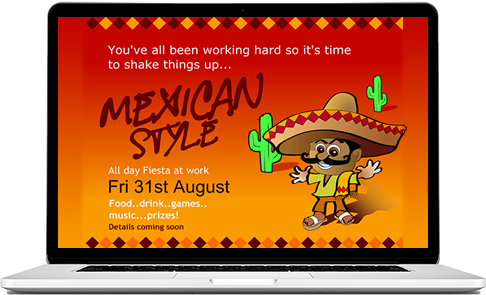 Desktop Corporate Screensaver Example

How they met their objectives
They implemented the SnapComms toolset consisting of:
| | |
| --- | --- |
| | Screensaver images and animation to convey messages |
| | Interactive quizzes pushed to the desktop |
| | Interactive surveys pushed to the desktop |
| | Desktop new alerts |
| | Scrolling news feeds on the desktop |
| | Interactive magazines allowing user generated content |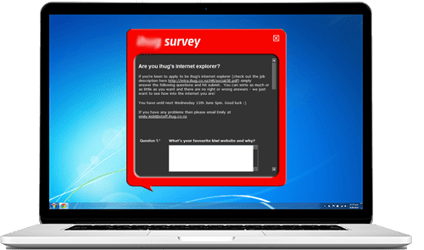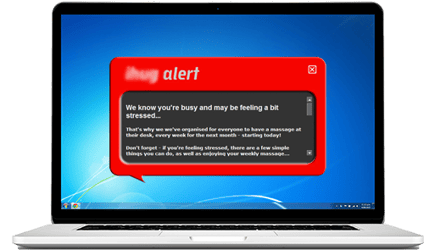 Staff Survey Example Pop-up Desktop Alert Example
All of the SnapComms tools are administered by the company via the SnapComms 'Content Manager'. This is a web based management interface that facilitates the creation, targeting and publishing of messages to desired employee groups.
"It's affordable, quick and simple to use, and the team at SnapComms have worked hard to customise the tools to suit us."
Annabel Gould, Communications manager
Get your own success story, try SnapComms for yourself:

Applications examples
Screensaver images and animation to convey messages
Animated screensavers were used to keep staff informed in a dynamic non-intrusive way. Examples include; new product and plan updates and promoting the company's new knowledge base. A 'Help our customers today' promotion run on screensavers has also helped to focus staff on maintaining excellent customer service.
In addition, screensavers are used extensively to promote 'free goodies' available to all staff such as; health checks, flu jabs, massages, fresh fruit, mobiles and broadband. Raising awareness of these additional staff benefits has helped employees feel valued.
Fun events run for staff are also promoted via screen savers, such as; movie and quiz nights, 'Mexican Day', staff parties, staff awards nights, free breakfast, lunch or coffee days and so on.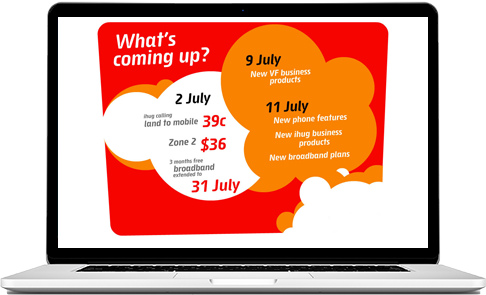 Corporate Screensaver example
"We can't imagine a workplace without SnapComms tools now!"
Annabel Gould, Communications manager
Interactive quizzes
SnapComms Quiz tool was used extensively both for fun quizzes to build engagement and to reinforce key training and values. Examples include:
Submit best cost saving tip and win….
Name the new baby Giraffe at Auckland Zoo (sponsored by the company)
Fun quiz on ways to reduce stress
Desktop alerts
SnapComms Alerts are used whenever it want to achieve high message cut through with staff. Examples of messages sent by alert include; updating staff on key sales milestones, delivery of thank yous and offers of free lunch to staff who have been working really hard. Alerts have also been used to deliver the results of staff surveys.
Desktop Ticker – Scrolling news feeds
The ticker has been used to notify staff of email outages and to provide status updates. It has also been used for general business news updates, to promote special staff offers, and to promote training available. As with all the SnapComms tools, staff can click through to more information if they see an item of interest and want to know more.
Staff Survey – Gathering feedback and measuring effectiveness
The survey tool has proved to be a valuable tool allowing the company to easily and quickly gather feedback from it's staff and measure effectiveness in a number of areas including it's induction program and it's communications effectiveness.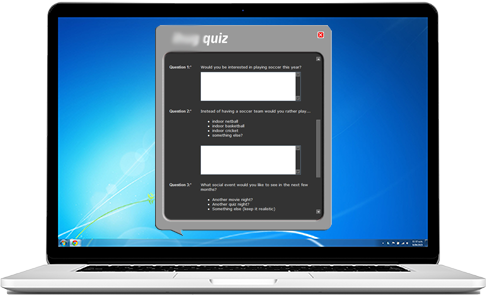 Staff Survey Example
Conclusions
The SnapComms solution has helped this internal communications service provider achieve all of its communication's objectives. The company now has a range of communications tools to communicate effectively with all staff, and they have been able to measure and improve the effectiveness of induction programs in order to bring new call centre staff up to speed more quickly.
The SnapComms tools to communicate the benefits of working for the company to employees in dynamic, interactive and highly visible ways, helping to build engagement and reduce turnover rates.
Animated screen savers have helped to give the offices a more vibrant dynamic feel and it has been possible to involve staff more in the day to day running of the business using the Quiz and Survey tools.
Click through capability from the SnapComms tools has helped leverage the value of the intranet and the reliance on emails for internal communications has reduced, which has helped to free up staff and reduce email overload.
Register your interest for a personalized demo today:

"The SnapComms tools are fantastic for any company where staff are getting
bogged down by too many emails".
Annabel Gould, Communications manager