Customer Profile
New Zealand's largest free-to-air broadcaster and is also the nation's only public television broadcaster. It operates four channels; TV ONE and TV 2, and two digital- channels, TV 6 and TV 7. It also has an online presence and offers TV on demand on their website. Increased competition from new media sources such as PC and mobile devices mean that it is important for the broadcaster to increase business efficiencies and to drive business innovation.

Internal Communications Situation
Reduced resources and downsizing of the Internal Communications team meant that Internal Communications channels needed to be quick, and easy to use. Measuring the effectiveness of the channels was also important.
OBJECTIVES
| | | |
| --- | --- | --- |
| Improve cut-through | | Build Morale |

Ensure important Internal Communications achieved cut-through in a climate of overload.
In order to keep employees informed and operationally effective, TVNZ was looking for engaging ways
to repeat important messages in order to ensure message cut-through was achieved.

Reduce email overload. Prior to the use of the SnapComms Internal Communications channels, an
average of 25 'mass email updates' were being sent separately to staff each week. The interruption
caused by these messages arriving separately was impacting productivity and causing email overload.

"The screensaver tool makes it easy to create engaging screensaver messages."
- Internal Communications Manager
Interactive Screensaver Messages
Screensaver messages are now used to build morale in appropriate ways, for example:

• Profiling new TV shows and live events
• Promoting staff social functions
• Publicizing good news stories e.g. viewing figures versus competing programs
• Promotion of the staff Christmas party
• Publicizing initiatives that staff can participate in such as; Save the Kiwi (T-shirt design competition to win participation in a kiwi release program) and SPCA event (puppy and kitten visit to broadcaster and fundraising activity)

Screensaver messages are also used to increase message cut-though, for example:

• House keeping reminders – e.g. reminding staff to wear their security passes
• Renaming of a business unit
• Countdown reminders for performance reviews
• Encouraging staff to share ideas around specific initiatives


Pop up staff surveys pushed to the desktop
The SnapComms survey tool is used to support HR communications, for example :

• To measure and improve the effectiveness of a Business Leadership Program
• To measure the implementation of a new performance framework (by polling managers regarding their progress against milestones)
• To conduct confidential exit interviews
• To collect ideas and assess feelings prior to team planning sessions
• Measure and benchmark the performance of internal teams as perceived by staff
• Temperature checks to assess feelings and gather feedback on key issues

The survey tool is also used to measure Internal Communications:

• To measure effectiveness and gather feedback on Internal Communications events (e.g. road shows, breakfast meetings and departmental briefings)
• To measure understanding and attitudes and to keep lines of communications open following a communications initiative for example, 'Response to Recession' departmental briefings by the CEO.

User targeting and automated recurrence options allow the NZ TV broadcaster to ensure high survey participation rates and to sample staff to gather representative feedback.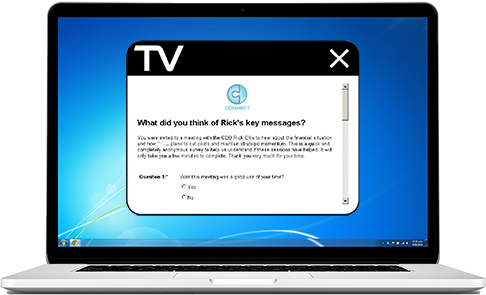 Staff survey example


Staff Newsletter – User generated electronic staff magazine
The broadcasting company is able to aggregate many of it's mass email updates into a single update using the newsletter, thereby reducing email overload. The staff newsletter format allows any employee to submit their own message or news item, which has also helped involve and engage staff.
Other example newsletter content:
• Staff offers e.g. audience calls for new shows and special offers on merchandise
• Staff competitions, e.g. NZ music month
• Promoting external websites for new TV shows
• Articles explaining how the company has responded to media coverage
• News items that would previously have been 'cluttering up' the intranet.

The HR team has also used the internal newsletter and staff quiz tools to develop an Induction Magazine with embedded quizzes for staff to complete.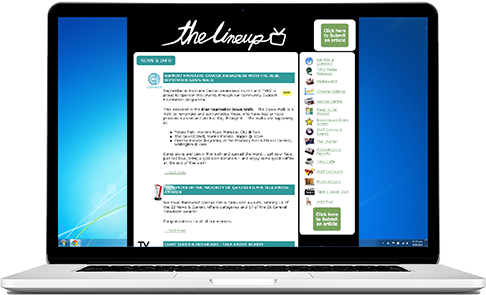 Internal newsletter

Staff Quiz – Interactive staff quizzes pushed to the desktop

They use SnapComms' Staff Quiz tool to reinforce training and build knowledge.

Examples include:

• Heath and Safety Quiz
• Security Quiz
• Induction Quizzes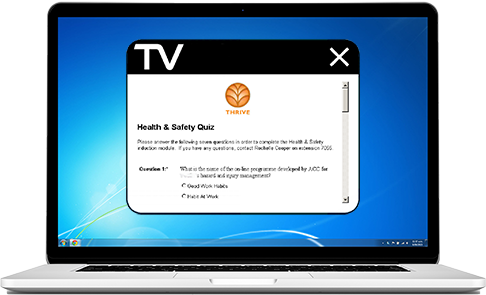 Health and safety staff quiz example


"SnapComms' tools have made it possible for me to communicate with our staff in creative,
engaging and energetic ways. It's had a very positive impact on our culture."
- Internal Communications Manager
Register your interest for a personalized demo today: