APPLICATION
---
Typical messages range from new processes regarding customer points system, updates on resort renovations, marketing campaigns, culture-related content, and more.
Val Marquez, a Project Manager within Christie's Owner Support team, is one of six staff responsible for publishing these messages to the wider team. She's fine-tuned how and when to use each channel. For example, different colored Alert templates are selected based on message type i.e. red = urgent / read now; blue = important, but can read later; custom-branded = general information (see example below).
The scrolling ticker bars are used to keep staff informed of ongoing situations, such as caller queues and status updates, while quizzes and surveys solicit opinions.
"This could be ideas for a new product name, collating specific responses (such as 'celebration lunch options'), or for general feedback," explains Marquez.
Useful features such as message recurrence, audience segmentation and quick publish make life much easier for Marquez and the team.
Important messages can be targeted to specific individuals, and repeated until all recipients have seen it and/or acted upon it, while quick publish allows a series of messages to be prepared in advance of an anticipated event i.e. power failure, email outage, or severe weather warning – and then, as and when needed, published in a single click.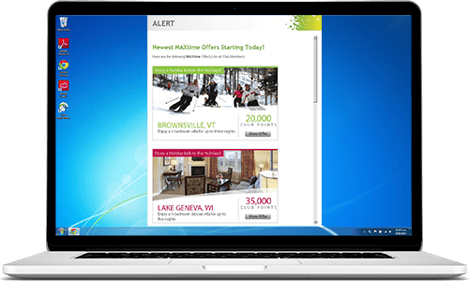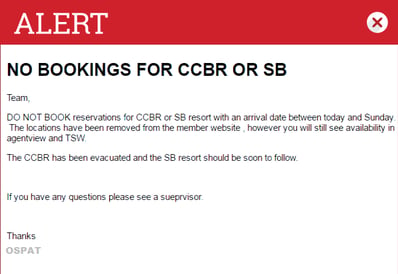 Examples of SnapComms' tools in action at the Holiday Inn Club Vacations