Award-Winning Kiwi Software Company Acquired By Global Critical Event Technology Leader
AUCKLAND, New Zealand – November 16, 2020
Auckland-based internal communications software company SnapComms has been acquired by Everbridge, a US-based global leader in critical event management technology.
In acquiring SnapComms, Everbridge and their worldwide client network have access to the complete spectrum of employee communications and messaging solutions. The core Everbridge critical event management system is now complemented with SnapComms' suite of high-priority alerts, scrolling tickers, digital signage and questionnaires, to inform and engage employees during both planned and unplanned events.
Many Kiwi consumers may not be familiar with the business-to-business products owned by Everbridge, but they will be familiar with the outputs. The Everbridge platform provides emergency warnings and alerts on a country-wide scale for mobile populations in New Zealand, Australia and abroad.
During the pandemics, disasters and climate crises of modern times, the importance of robust, reliable communications has never been greater. Now with the addition of SnapComms' capabilities, Everbridge are even better equipped to provide such essential services.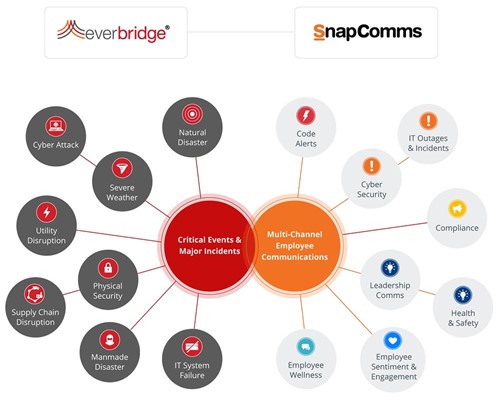 The acquisition comes at a time of significant growth for SnapComms, with expansions to the scale of business operations and sustained increases in revenue over recent years.
"This is an exciting opportunity for SnapComms to contribute positively to the lives of people on a truly global scale", says Chris Leonard, Chief Executive Officer at SnapComms. "Everbridge has been instrumental in keeping people and businesses safe during the COVID-19 crisis, and now with the combined resources of Everbridge and SnapComms, organizations have the ultimate platform for informing and engaging staff when every second counts and every employee matters."
Leonard attributes some of the success of SnapComms to the strength of the New Zealand tech industry. "Being recognized for the value of our product by a technology giant like Everbridge is a huge endorsement of Kiwi innovation and a reflection of the strength of the whole industry competing on the world stage."
Launched in 2007 to help organizations improve their employee communications, SnapComms quickly became a market leader, earning several awards along the way, including Deloitte Fast 50, Fast 500 international company and ICT Exporter of the Year.
Everbridge, Inc. (NASDAQ: EVBG) is a global software company that provides enterprise software applications that automate and accelerate organizations' operational response to critical events in order to keep people safe and businesses running. The company's platform sent over 3.5 billion messages in 2019 and offers the ability to reach over 550 million people in more than 200 countries and territories.
About SnapComms
SnapComms is an award-winning provider of internal communication software used by 2.5 million employees in 75 countries worldwide.
SnapComms is designed to be equally effective for teams across organizations, from IT and Information Security to HR and Communications. Messages are delivered directly to employee desktop, mobile and digital signage devices, bypassing email to guarantee employee attention without adding to information-overload.
Since its launch in 2007, more than 1 billion messages have been sent through the SnapComms platform.
For more information contact:
Phillip Nunn – General Manager (Business)
Email: philip.nunn@snapcomms.com
Phone: +64 9 950 3360