Communication issues with Shift Workers:
Shift workers are often forgotten about as we don't see them during a normal working day meaning their needs are often overlooked and appropriate channels are rarely put in place to assure their needs are met. This can create a lot of issues for shift workers that aren't seen or understood by most staff members and often lead to disengaged employees and high staff turnover rates. SnapComms aims to identify and address the obstacles faced by shift workers and provide solutions and tactics to mitigate these pain points.
Communication with managers
Lack of communication with managers has been identified as one of the main obstacle to communicating with shift workers effectively. Less than half of shift workers felt their managers communicate well with them which is mainly because most of the time shift workers are working, top management, administration and HR are not. This makes shift workers feel like they can't share their opinion, or if they do it won't get past their supervisor because they don't have good communication with top management. Shift staff feel like they lack information and opportunities because communication doesn't get passed down the chain. Similarly, they feel that they miss out on communication regarding job performance and opportunities which leads to lower levels of satisfaction and organizational loyalty.
Bottlenecks
There are a lot of causes for bottlenecks in organizations, a major one is communication issues. Night shift workers experience enhanced bottlenecks because often processes and decisions are impaired by time of day. Many decisions need to be run past top management and other departments that only work during the day.
Productivity
Shift staff have access to fewer staff resources compared to day staff, including physical resources and communication channels such as knowledgeable staff members and that are accessible to regular staff. There are less support services available to shift workers because of the hours they work, this can have a negative effect on their productivity and leads to disengagement and isolation.
Shiftworker Involvement
Because shift workers aren't around when most staff are, it's easy for them to feel 'cut off' from the rest of the staff and organization. Shift workers miss out on company culture and a lot of the staff engagement and team building exercises that happen during the day. Day time staff members may dread staff meetings and training courses but for night staff, it's a lot worse not going to these events. Shift staff get left out of the loop from important updates which leads to lowered organizational loyalty and higher staff turnover in shift workers.
Communicating with Shift Workers: How to improve your communication
Once you have identified the issues affecting your shift workers, it's easy to start communicating more effectively with shift workers by implementing a plan using the tools and tactics outlined in this page.
Involvement
HR managers should get into the habit of thinking about shift workers when planning staff events, meetings and trainings. Events and celebrations should be planned well ahead of time so that night staff can come along or if they can't make it they can be recorded and communicated to all staff.
SnapComms' video alert tool is a great way to send communicate staff trainings and Senior management messages and announcements. SnapComms' staff training quizzes help reinforce training messages and provide an interactive way for shift staff to be involved in staff training and compare their scores to other staff and areas of the organization.
Staff meetings can be recorded so shift workers don't miss out on any important communication and feel more involved in the company. Video messages from senior management and the CEO can help increase engagement and feelings of involvement and therefore organizational loyalty. Training courses should be made available for evening and night shift workers, whether this be offering training courses at different time or in other formats such as audio, slideshows or videos. This will help make sure they aren't missing out on any resources that will help them do their job better.
Shift workers can be involved in company changes by contributing their opinions in staff surveys and polls. Having staff surveys that night shift workers can be involved in will help them feel more involved in the company and show them that their opinions count.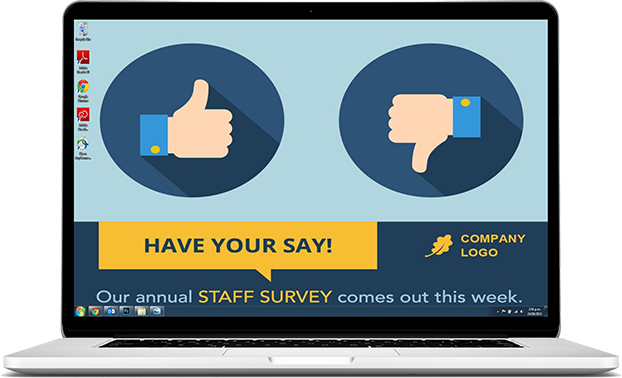 Communication
Create more methods of communicating with shift workers to reduce their isolation - interactive staff communication. Such as an intranet or web based chat to allow communication between other staff members. Where possible, roster managers on shifts that overlap with non-day workers so they can catch up with managers and discuss any bottlenecks or issues they are facing. At the beginning of shifts, night staff should be notified of any updates, reminders and provided with any new resources they need to do their job.
SnapComms desktop alert tool brings up any notifications when users log into their account, these notifications will only go away once they have been read by the user, this data is sent back to admins who can use this to monitor staff awareness regarding important updates.
Another idea suggested to start communicating with shift workers better is having a newsletter especially for shift workers, articles sharing food tips, how to adjust to shift work, sleep strategies, information on caffeine, shift work jokes, and important company updates and changes that affect shift workers. These internal newsletters help shift workers feel involved, provides valuable resources relevant to them, and keeps them engaged as well as providing another channel for communication.