THINKING AHEAD - CRISIS TRAINING IN ADVANCE
Research shows that short, bite-size content repeated in a variety of formats ensures new behavior and learning move from the short-term memory into the long-term memory.

Continued education and message reinforcement can be done via a drip-fed campaign comprising a sequence of messages and interactive content delivered and repeated over a variety of channels. Read our Tips for Communicating with Staff During a Crisis.
CHOOSE THE RIGHT TOOLS FOR THE TASK
It is essential to understand the strengths and weaknesses of different channels: some channels are perfect for building general awareness and to reinforce key messages. These are typically known as passive channels such as screensavers, corporate wallpaper and digital signage.

Others are effective for when you need the immediate attention of employees or have important information that must be read. For example, if an emergency is unfolding, more intrusive channels such as full-screen Desktop Alerts and Panic Button notifications are highly effective.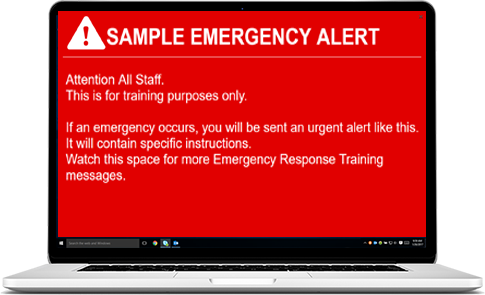 Emergency Alert example: advance training helps staff react appropriately in a crisis
MATCHING MESSAGE WITH MEDIUM
Start an employee preparedness campaign with reassurance messages. Emphasize that an attack is extremely unlikely, however as a responsible employer, it would be negligent to assume your organization is 100% immune.

Visual tools such as screensavers, wallpaper and video alerts are ideal for introducing this type of campaign: each tool can incorporate prominent branding to kick-start a campaign.

These channels are also effective carriers for communicating key training messages such as: knowing the signs of suspicious behavior - and how to report it; evacuation procedures and assembly points; different ways to respond if a shooter is inside vs outside a building, and more.

Desktop Tickers – also known as scrolling newsfeeds – are considered passive and intrusive. For example, they are great for reminding staff to attend a training session (the reminder message subtly scrolls across the bottom of their screen, a visible prompt that does not require the employee exiting out of his/her application). But they're also unmissable, so are perfect for providing important status updates – critical during an unfolding situation.

Emergency response training content can be consolidated and neatly packaged into a well-designed internal newsletter. This communication format is more effective than a collection of random, intermittent emails that are likely to disappear within an employee's bloated inbox. Video, quiz, survey, imagery and so much more can all be bundled into this highly engaging mechanism, complete with your own branding.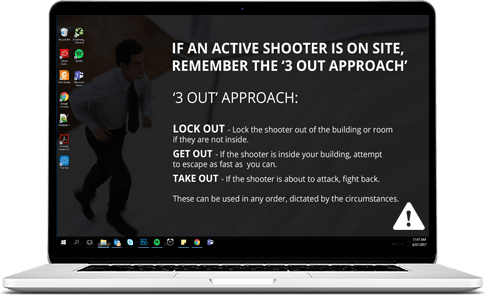 Emergency Preparedeness: Unmissable Corporate Wallpaper to educate staff if faced with an active shooter
TACTICS TO LEVERAGE TRAINING
Encourage high attendance to emergency training and workshop sessions by using thepop-up RSVP desktop invitation tool. This appears directly onto an employee's screen, and can be customized to offer different session times, and capture questions ahead of a lesson.
Following training sessions, staff can be tested on their knowledge using the SnapComms staff quiz tool. For example, you may want to check staff know where the nearest assembly point is, or what constitutes suspicious behavior, or under what circumstances should they run or hide. You can also use SnapComms staff survey tool to provide feedback and opinions on the training sessions.
Training content can be consolidated and presented within an internal staff newsletter, that can be published and repeated as required.
PRE-CONFIGURED EMERGENCY CONTENT
When an emergency is unravelling, every second counts. Pre-configured communications can help here. Identify your most likely emergency scenarios and create content to suit.
SnapComms Panic Button feature allows you to prepare a series of messages in advance that can be quickly adapted and published in just a few clicks. This saves valuable seconds at a time of high stress. It also reduces the risk of mistakes being made, or incorrect information being broadcast.
DURING AN EMERGENCY
The priority now is to ensure accurate information and instructions are disseminated to staff as quickly as possible – this is the role of SnapComms Panic Button. It is designed to override all applications. It sends a full-screen emergency alert direct to employees' PCs, mobile devices and large, communal-area display screens.

Channel-flooding – the ability to communicate with employees via multiple devices and methodologies – is widely accepted as the most effective strategy to reach employees when a crisis strikes. SnapComms software allows multiple channels – such as desktop alerts, screensavers, mobile, SMS and digital signage – to flood devices quickly and reliably.
SEND WORD BACK
Accounting for who's safe and who isn't is critical in an emergency scenario. The SnapComms platform enables staff to send word back i.e. "I'm safe" – via the SnapComms survey tool. A pre-configured survey – such as "Are you safe – Yes / No" can provide your emergency response unit with immediate answers.

Using pre-defined targeting criteria – such as an Active Directory – SnapComms can accommodate geo-location targeting so that the right message is sent to the right employee. This is particularly effective for communicating with the appointed Emergency Response Team, and groups of people trapped in defined physical locations.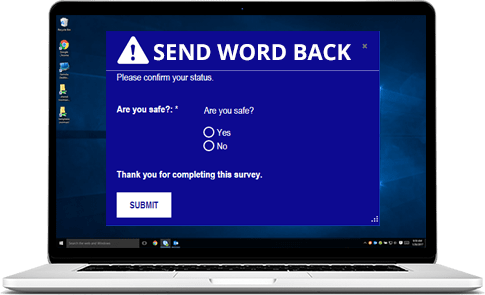 During an emergency; use SnapComms Staff Survey Tool to confirm whether staff are safe
SINGLE SOURCE TO CREATE, PUBLISH AND REPORT
Using SnapComms software, communicators can create, publish and report across every stage of your emergency response planning. It enables you to:
- Create cohesively-branded training campaigns using the full communication spectrum of tools;
- See who is (and isn't) engaging with your training content;
- Familiarize staff with the proposed communication format in preparedness for an incident;
- Identify knowledge gaps (through use of quiz and survey tools);
- Request staff to validate their training e.g. "I comply";
- Urgently publish pre-configured emergency alerts during a crisis, and flood all channels;
- Request staff to 'send word back' i.e. are they safe/unsafe?
- Target specific groups with content and status updates (ideal for your emergency response team or senior leadership team);
- Provide ongoing reassurance to staff, articulating 'the way forward' via appropriate channels in the aftermath of an incident.
GETTING BACK TO BUSINESS
Once the unfortunate incident is over, the organization transitions into a phase of recovery and business continuity. The focus is on restoring operations, to keep the organization viable. Re-engaging with staff is a priority.
Be sensitive to employees' wellbeing. Ensure counselling support services are well publicized. Elicit staff feedback on how the situation was handled, and what could have been done better. When appropriate, encourage a return to 'business as usual' atmosphere.


EMERGENCY PREPAREDNESS - ACT NOW!
As the risk of terrorist and active shooter attacks continue to escalate, employers can no longer simply hope 'it won't happen here'. There is a moral and legislative responsibility to keep employees protected and safe (See OSHA's Active Shooter – How to Respond Booklet).

On average, the direct cost of such an incident can range from $800k - $2M USD in litigation and insurance pay-outs. The indirect costs can be double this amount, by the time negative publicity, staff attrition, low morale and rebuilding the corporate culture is taken into account.

Preparing and activating an emergency response plan is one side of the coin. The other side is making sure employees know how to react to minimize widespread panic is vital. This is where SnapComms can help. We have significant domain knowledge in the field of internal communications, including urgent and emergency communications. We provide a full suite of employee communication tools that enable organizations to communicate effectively before, during and after an incident.
Our proven background in internal communications enables us to play a critical role in your employee preparedness training strategy.

Interested in learning more about how our Panic Button emergency notification system works? See below.