GET COMPANY-WIDE COMPLIANCE FOR YOUR INTERNAL POLICY
Internal Policies and Procedures are an essential aspect of running a business. Primarily they provide a framework to help employees fulfil their role safely and within the expectations of their employer. Company policies cover everything from reporting an absence, employee confidentiality, social media practices, health and safety, and more. For most organizations, the challenge is not deciding what the policies should be. Moreover, it's about how to implement them. The end goal is for every employee to understand each policy, and specifically, how they relate to them.
Effective internal communications will ensure your policies are embedded throughout your organization – and not just filed away, never to be seen again. create a safe and welcoming environment for everyone.
HOW TO HELP STAFF UNDERSTAND COMPANY POLICIES
Tips for Successful Internal Communications
---
ONGOING CAMPAIGN-STYLE COMMUNICATIONS
Sending a single email in the hope that all staff will read and accept your new policy is not enough these days. Most staff will either (a) unwittingly miss the message, or (b) skim read it but forget to apply the policy to their situation.
On average, it takes a person seven 'opportunities to see' before they grasp new information. To achieve best results for policy communications, take a campaign-style approach to content, offering multiple opportunities to see. SnapComms tools enable you to create a mix of assets that reinforce your message and appeal to all learning styles.
SMALL STEPS TO START BEHAVIOR CHANGE
A simple tactic could be to encourage staff to question their own actions. For example, a series of screensavers with questions such as: "Is this legal?", "Does this follow company policy guidelines?", "Is this moral or ethical?", "How would my manager feel if he/she knew?" could rouse an initial awareness. Then, link on the screensaver to a relevant Intranet page can prompt further understanding and consciousness of an issue.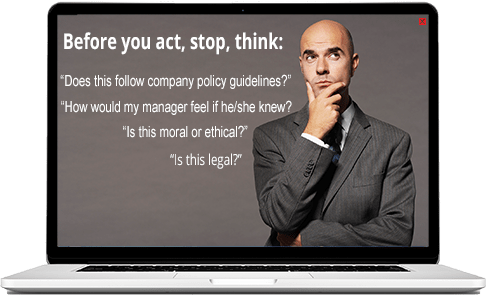 Change behavior and reinforce policies with visual communication
STREAMING INFORMATION AND EMPLOYEE VERIFICATION
A campaign includes a steady stream of messages which are drip-fed via a range of IC channels, such as screensavers, videos, desktop alerts and tickers. When used in conjunction, these channels increase understanding, build a story, create momentum and ultimately drive behavioral change.
For policies that require proof of employees' cooperation, a commitment piece stating "I comply" or "I agree" can be included within the campaign.
Watch our webinar on how short-burst messages using different tools can get every employee on board with a new policy.
INCREASE ATTENDANCE TO POLICY TRAINING EVENTS
Getting staff to come along to training sessions can be half the battle. If it is not mandated, the no-show rate is high.
The SnapComms RSVP tool can drive attendance for policy training sessions. It allows you to send a pop-up message direct to employees' screens, bypassing email. This message can be set to recur until the employee has responded and confirmed their attendance.
As the event nears, other SnapComms tools can be used to build excitement i.e. reminder notifications and countdown-style messages. Digital signage, scrolling news feeds and screensavers are great for this.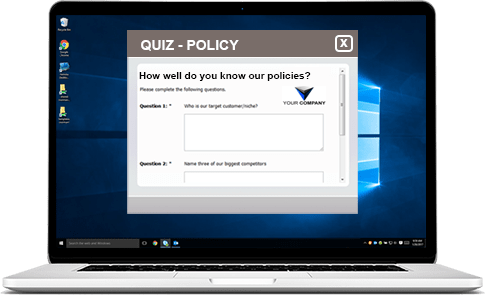 Use staff quizzes to reinforce knowledge
REINFORCE POLICY
Quizzes and Surveys are an effective way to reinforce training on new policies and procedures in the workplace. After a training workshop, send attendees a knowledge quiz to check their understanding, and identify any gaps.
Create internal digital signage for large screens (such as in your cafeteria) to keep key messages firmly in mind.
CREATIVE AND ENGAGING COMMUNICATIONS
Topics relating to policy are sometimes regarded as dry and mundane. The task of transforming such messages into interesting and memorable content can be challenging. But watch how one airline successfully reinvented a dull pre-flight safety briefing – possibly the most boring of all communications – into a highly entertaining piece of content that's not just watched, but loved and shared socially by millions!
Consider whether your policy messages would be better delivered via a visual format, such as a pop-up video alert or a series of sequential corporate screensavers. These are effective ways to get attention, highlight the policies and make staff aware of what happens if they breach that policy.
RESPECTFUL TONE AND LANGUAGE
One of the biggest criticisms of 'top down' policy communications relates to 'sergeant-major' style messaging.
Overbearing communications that are condescending or accusatory – such as a blatant list of do's and don'ts – are not popular.
Be mindful too that policies are often laden with legalese, so wherever possible, keep language light and easy to understand.
GAUGE AWARENESS. GATHER FEEDBACK
Staff feedback about how policies affect their day-to-day work is vital (some policies can backfire, making it hard for staff to do their jobs effectively). Conduct regular staff surveys with questions such as: "Which rule or policy is preventing you from delivering great customer service / meeting your objectives?" This will reveal any policy areas that may need adapting.
Survey staff to find out their current understanding of various policies. Identify the gaps and focus your IC efforts there.
A desktop survey is an effective way for staff to give such feedback. Desktop pop-up surveys have built-in recurrence options, gently reminding staff to respond.
CREATE 'WHAT IF' SCENARIOS
An effective training technique is to ask employees to consider what could happen if an internal policy didn't exist. For example, what could happen if there were no guidelines about Internet Usage Policy? Screensavers are great for building an engaging story.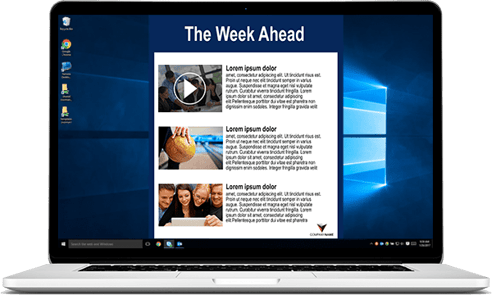 Use a staff newsletter to highlight policies
SHOW AND TELL IN NEWSLETTERS
Use internal newsletters to promote policies. If there's a specific policy that requires highlighting, dedicate an entire issue, combining employee stories; explainer videos; snap poll and more.
PROOF AND ACKNOWLEDGEMENT
In many cases, there is a legal requirement for an organization to have a clear set of documented guidelines. This also extends to providing proof that an employee has agreed to your policies and procedures.