Desktop Alert Messages for Staff
Measurable - You can report on who has or has not opened the full message contained in a desktop alert and clicked on any related hyperlinks. This is a useful feature if you have to show staff compliance around any internal policies or legal regulations.
Flexible - Desktop alerts include 'read now' or 'read later' options, as well as the option to display the full message. This is a useful option for emergency alert notifications. You can preset the size, position and prominence of the desktop alert window for each message.
Location Independent - Desktop alerts reach all staff, regardless of their location or network. Target alert messages to entire locations, individuals, groups, roles, remote and mobile workers.
Desktop Alert System for Communications Compliance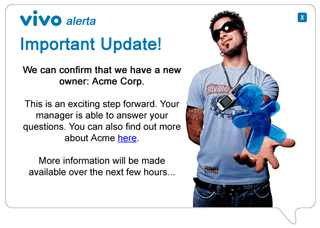 RSVP Staff Invitation system The SnapComms Desktop Alert system is ideal for important Human Resources updates, Health and Safety notifications or internal communications that have legislative requirements.
Message acknowledgement buttons - can be included in desktop alert notifications. Full reporting is available on acknowledgement responses.
Recurrence feature - Desktop alert messages will continue to repeat (based on administrator specified settings) until the message has been acknowledged by the employee or it meets expiry criteria.
Emergency Alerting
The SnapComms Desktop Alert system includes additional options for urgent and emergency alert functionality:
Urgent alerting - urgent desktop alerts will appear over the top of screensavers and other full-screen applications (including PowerPoint in slide view mode).
Emergency alerting – provides the same features as urgent alerting with the additional features:
the desktop alert message covers the entire screen.
the desktop alert system overrides any active snooze functionality.
the desktop alert message also appears on the user login screen.
Emergency desktop alerts also provide an option for no 'close message' button designed into the desktop alert template. This means that the alert notification will stay on screen and the screen will remain locked until the administrator disables the emergency alert.
Related Resources and Tools