Desktop Quiz - Staff Quiz Tool
Promote Employee Quiz Participation with Prizes
Build capability
Good product, service and/or process knowledge are critical to sales effectiveness, good customer service and productivity. Effective induction and training programs are only part of the answer. In thirty days people typically forget 80% of what they have learned if it is not reinforced. Back up training and internal communications with a short, engaging staff quiz.
Reinforce learning
When the staff member submits an answer, an optional personal pop-up display shows their individual score and the correct answers. This is a good way to reinforce important information.
Staff Feedback Quiz Example
High quiz participation rates
The SnapComms Staff Quiz tool bypasses email and is delivered directly to targeted employees' computer screens. Recurrence options can be specified to ensure employees who have yet to complete the desktop quiz are reminded to do so.
Employee training tool
Silent Staff Quizzes can be activated by hyperlink allowing you to embed links to important information updates and training programs. Full reporting allows you to see which employees have completed the quiz and to monitor their results.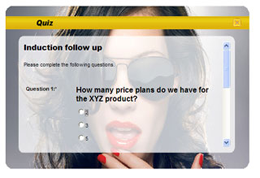 Desktop Quizzes to Test and Reinforce Staff Knowledge
Build engagement
Use desktop quizzes to increase employee skills and knowledge and keep them motivated and engaged. Some humorous options and an inexpensive prize always go down well.
Flush out under-performers
In uncertain times, ineffective employees may stay with an organization to 'stay safe' financially which can cause an organization to stagnate. The Desktop Staff Quiz tool allows you to identify and manage under-performers..
Desktop Staff Quiz Options
Themed Theme quizzes with logos or images.
Answer display option Display of the correct answer and score upon quiz completion.
Silent, opt in alternatives 'Silent quizzes' that staff can opt into through a hyperlink.
Reporting Fully automated, real time reporting for staff quizzes.
Auto reminders Built in to ensure high staff quiz participation.
Recurrence Staff Quizzes will continue to repeat (based on administrator specified settings) until the quiz has been acknowledged or it meets expiry criteria.
Deliver quizzes to mobile devices Reach and engage mobile employees whereever they are.
Targeting Target desktop quizzes to specific staff groups based on existing Active Directory network structures, machine based targeting or create new targeting groups to suit the purpose.
Related Resources and Tools