Desktop Wallpaper Messaging tool
Ambient advertising. The SnapComms Desktop Wallpaper Messaging tool allows you to publish messages onto targeted employee desktop backgrounds. Desktop wallpaper messages will remain unchanged for as long as they have been set (employees will have no access to change the deployed wallpaper) ensuring message cut-through .
Outage Notification on Desktop Wallpaper
Sequence messages. Multiple desktop wallpaper messages can be pre-scheduled for publish or immediately updated for any target group whenever required.
Expire messages. When a published company desktop wallpaper meets its specified expiry date, if no other wallpaper messages have been published, the desktop background will revert to the original wallpaper.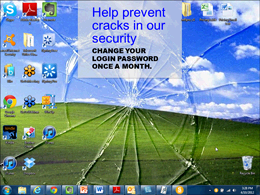 Desktop Wallpaper Policy Example
Seamless message delivery.
When new wallpaper messages are published they will automatically appear on employees' desktop background without causing any disruption.
Easy to manage and deploy. Desktop wallpaper messages can be administered with ease by the internal comms team/ IT team/ marketing team/ whoever is in charge of communications or desktop wallpaper policy within the organization.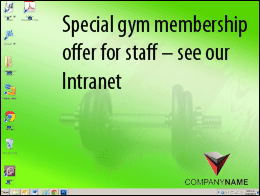 Publish Messages onto Desktop Wallpaper
Communicate with remote employees. Messages on company desktop wallpaper are a great way to put important messages in front of remote employees - think of it as a series of posters by their desk!
Security policy reminders. Company desktop wallpaper is an ideal place for important security policy reminders and messages.
Breaking News on Desktop Wallpaper
Upgrade notifications. Publish upgrade notifications and reminders to company desktop wallpaper.
Wellness reminders. The effectiveness of worksite wellness campaigns can be dramatically improved with effective communication. Desktop wallpaper messages are an ideal medium to remind staff of wellness initiatives.
Breaking news. Targeted Desktop wallpaper messages can be an effective communications channel when important news needs to reach employees without disrupting their work.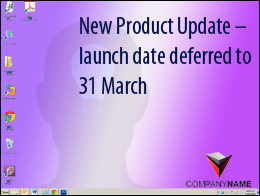 Communicating Product Updates by Desktop Wallpaper
Dashboards and progress against goals. Remind employee of important goals and policies. Publish reminders and dashboard indicators to targeted employees to maintain focus.
Product updates. Important internal marketing messages can put in front of employees using desktop wallpaper messaging.