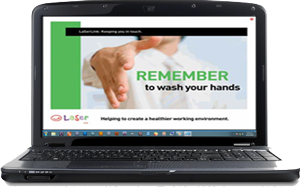 Hand Hygiene Awareness Programs
SnapComms is a workplace solution comprised of a visually vibrant suite of interactive employee communication tools that creatively convey messages directly to healthcare employee workstation computer screens.
Watch Examples of Hand Hygiene Content
Featuring:
Interactive Screensaver Messages that can be customized to promote hand hygiene awareness.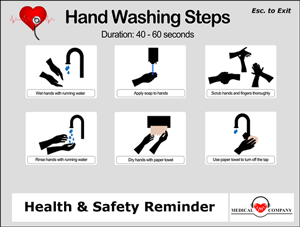 Screensaver messages can also include messages about:
• Hand hygiene policy and adherence reminders
• Additional resources with click-through hyperlinks
• The institution's commitment to safe hand hygiene
• Hand Hygiene Champions' recognition
• Reasons hand hygiene is important, etc.
Desktop Scrolling News Feeds that deliver the latest hand hygiene messages and include key messages from CEOs or other institutional influencers.

SnapComms' desktop employee quiz tools enable healthcare providers to easily push questionnaires, tests, and various other messages to staff computers. Hand hygiene education quizzes, for example, can display instantly in an appealing format with increased participation and "pass" rates being driven through automatic pop up reminders.
Unlike static messaging systems such as corporate email, internal communication software like SnapComms is more compelling, dynamic, and interactive and therefore, gets much better cut through. For optimal hand hygiene awareness success, multiple communication channels should be deployed and integrated, including:
SnapComms' desktop survey tools
With SnapComms, collecting initial benchmark data is easy with the desktop survey tool. The desktop survey tool allows administrators to push hand hygiene desktop surveys to target groups. Pop up notifications can be customized and / or time delayed to help increase participation rates and more accurate benchmark results.
Desktop surveys for hand hygiene promotion could hypothetically and anonymously:
Act as a confidential whistle blowing channel for healthcare providers who notice poor compliance from colleagues
Identifying barriers to hand hygiene compliance
Ask healthcare workers about their current hand hygiene practices and the barriers they encounter to hand hygiene compliance
Ask staff about the number of visible clean gloves and alcohol-based hand rub dispensers within their healthcare setting (multi-select options can be offered)
With SnapComms' multi-channel approach to internal communications, important messaging and educational campaigns, such as hand hygiene awareness, can be:
Planned more creatively
Deployed dynamically, effectively, and affordably and
Measured accurately in real time and with ease.