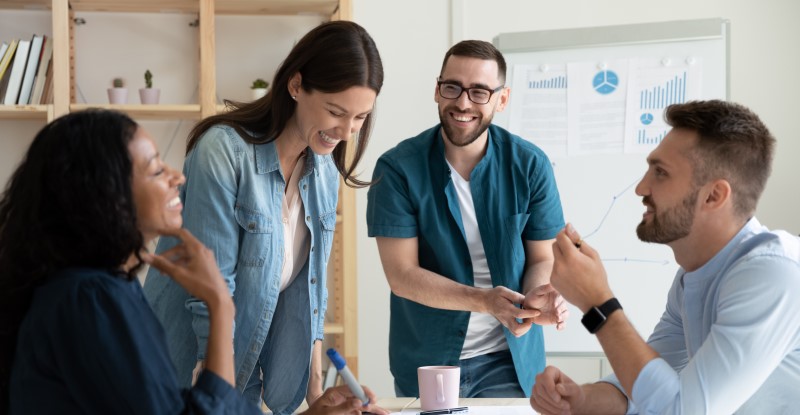 Stress, burnout and the blurring of home and work lives have pushed employee wellbeing towards the top of the corporate agenda.
While the worst of the pandemic is behind us, COVID continues to influence employees.
For many employees, the return to centralized workplaces or hybrid working has brought this to the fore. The flexibility staff enjoyed while working remotely may now be compromised. The working environment they return to may look very different to the one they left when the pandemic struck.
That's why 68% of senior HR leaders rate employee wellbeing and mental health as a top priority.
Worryingly, employee perception of employers' attitudes towards wellbeing has plummeted since 2020. Now, Gallup report that fewer than one in four U.S. employees feel strongly that their organization cares about their wellbeing.
It's time to make this a priority. Here's what you need to know about how to improve employee wellbeing in your business.
Contents:
1. What is Employee Wellbeing?
2. Why is Employee Wellbeing Important?
3. What are the Challenges to Employee Wellbeing?
4. How to Make an Effective Wellbeing Program
5. Download: Employee Wellness Guide
What is Employee Wellbeing?
Employee wellbeing is the state of overall health which determines an employee's happiness, engagement and productivity at work. Traditionally seen as made up principally by physical health and mental wellbeing, today this is recognized as being more multifaceted.
Future Workplace posited Seven Pillars of Employee Wellbeing: physical, career, financial, social, community, emotional and purpose. The quality of each of these influences an employee's holistic wellbeing.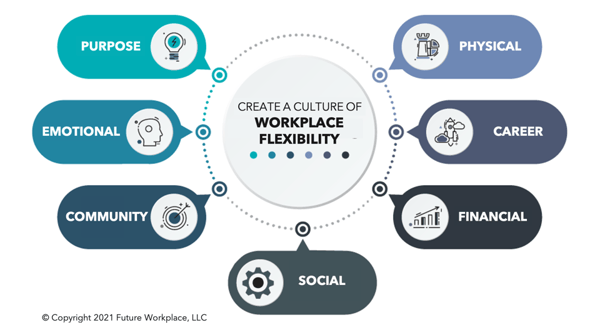 Source: Future Workplace
This reflects what we know about employee experience (EX) and how this directly impacts wellbeing. SnapComms research in 2021 revealed how employees need to have a range of functional and emotional needs met for them to have positive EX.
We developed the Employee Pyramid of Needs to illustrate all the components HR Managers need to consider when focusing on employee wellbeing and EX. Employees must have fundamental needs met (for example, job stability and security) before higher-level needs can be achieved (such as esteem and delight).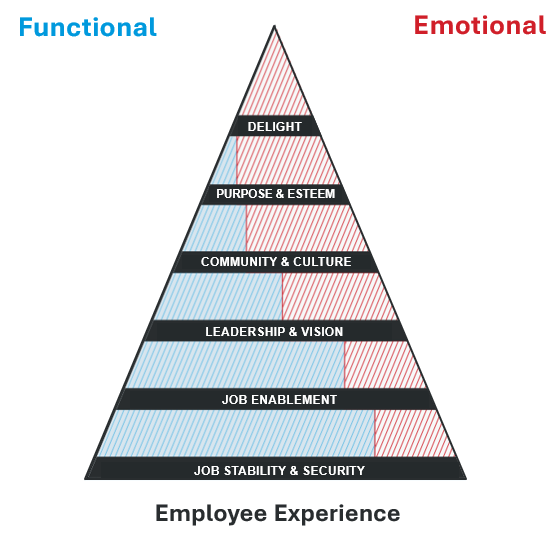 Why is Employee Wellbeing Important?
Strong employee wellbeing is important because it's directly linked to performance – both personal and organizational. Happy, healthy employees are productive ones. When wellbeing is low, their ability – and willingness – to do their jobs well is compromised.
Anxiety or stress may distract them from their duties. The lack of support or community may disengage them from company purpose. Bodily ailments may physically inhibit them.
Employers have a duty of care to support employees and ensure they're in a positive physical and mental state to perform their jobs.
Research has shown that stronger employee wellbeing results in higher job satisfaction, productivity, loyalty and retention. Higher workplace wellbeing drives profitability.
What are the Challenges to Employee Wellbeing?
While many employers are taking actions to address health and wellbeing, the success of workplace wellness programs has been challenged by a number of factors.

Source: State of HR Report 2021
1. Employee burnout
Staff have been operating under stressful working conditions for so long that employee burnout is skyrocketing. Changes to business operations or enforced staff layoffs have placed those remaining under greater pressure. Managing childcare, home schooling or caring for other family members has stretched endurance levels.
2. COVID risk
Physical health is still at risk while COVID remains in the community and new strains continue to emerge. Infections can be quick to spread through workplaces, putting operations at risk. Many staff will fear returning to the office for this reason.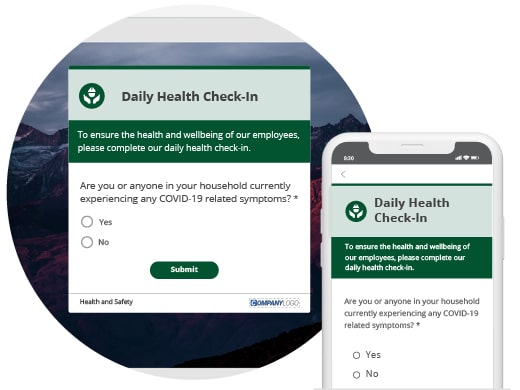 3. Remote working
Prolonged remote working brings its own challenges. Staff who work from home permanently can feel less connected to the organization and less committed to its purpose. Reduced social interactions make employees feel siloed and removed from the collegial support structure of peers.
4. Employee Turnover
Staff attrition rates are spiking at all levels of business in the Great Resignation. Reassessing their lives, and encouraged by a strong job market, workers are leaving their jobs in droves. Improving workplace wellbeing is made harder in the face of constant staff turnover.

How to Make an Effective Wellbeing Program
There are many employee wellbeing initiatives that employers can introduce to improve their workplace. These include training in resiliency and stress management, health insurance, access to wellness apps, mental health days, standing desks and virtual therapy sessions.
It's worth the investment. Employees who take advantage of these programs enjoy 23% higher levels of mental health and 17% higher levels of physical health, according to a report by Gartner.
To introduce an effective wellbeing program in your organization, follow these six steps.
1. Survey
Understand the issues and concerns your employees have by collecting their comments through an online staff survey.
Ask them to rate their current wellbeing at work on a 5 point scale. Provide a list of potential benefits for them to select those which most appeal. Include a free text field for them to submit suggestions or requests. Make the survey anonymized in case staff don't want their responses identified.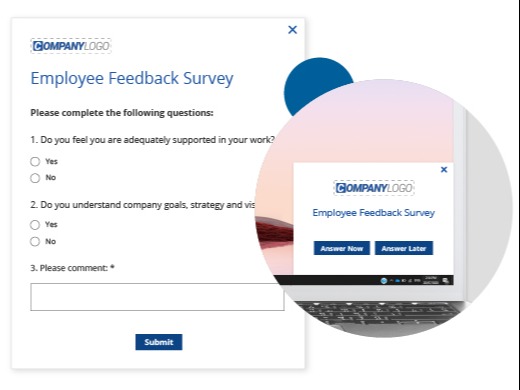 2. Define Goals
Use the insights gained from this to benchmark where your employees are now and set goals for improvement.
Topline results will provide a good pulse check across your organization. But drill down into the data for more specific insights, if possible. Is wellbeing lower for staff in certain roles, departments or locations? What are the most common complaints for staff in these areas? Getting granular will allow you to identify specific issues and set more targeted goals.
3. Create a plan
Detail initiatives to address issues in the workplace and improve overall wellbeing levels.
Your survey results may have called out exactly what employees want – in which case, all you need to do is accommodate them. If not, you'll need to examine each issue and consider what will best address it.
This may be a tangible benefit, such as gym access to improve physical fitness. Or it may be an intangible benefit, like greater job flexibility to manage work life balance.
First get leadership approval to proceed, then engage any external vendors required. Create documentation summarizing what's on offer and confirm how employees are able to access them.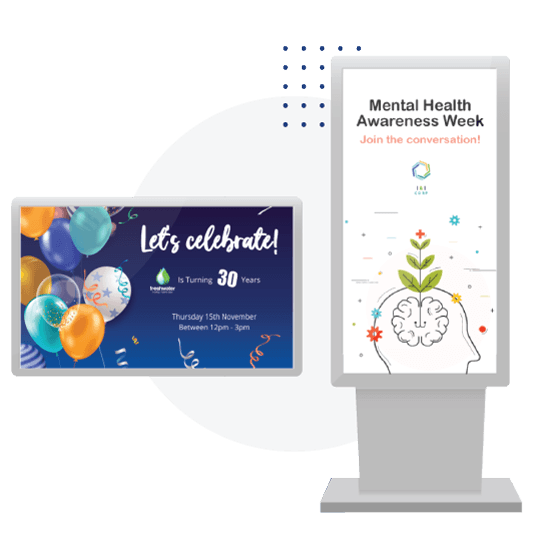 4. Launch
Get your program out there in a way that captures employees' attention and gets them excited.
Create a buzz with a social event which celebrates the power of good health and showcases what your new wellbeing program offers. Involve partners like local gyms and fresh food outlets. Invite health experts to speak at special lunch & learn sessions. Give away some branded merch like water bottles or fun stress toys to make it even more memorable.
5. Promote
Maintain high awareness of your program by continued promotion following the initial launch.
Increase employee engagement by promoting employee benefits available through eye-catching screensaver messages on every desktop screen or digital signage displays in your office. Think of these like advertisements for your wellbeing program – make them visual, snappy and enticing.
6. Follow up
Measure the results of your program so you know what's been well received and what you can improve.
Review your initiatives to see if they've achieved your goals. Which benefits have been taken up the most? Which are less appealing? Do employees know what's available and where to find out more information? Involve employees in the process of refining your program, such as with small focus groups with staff from across the organization.
An investment in employee wellbeing is an investment in the future of your business. New challenges will continue to arise but make it your mission to help employees thrive. That way they'll be happier and more productive, and you'll keep them longer.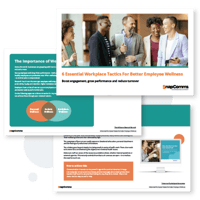 Download: Employee Wellness Guide
Get the guide for six tactics to improve employee wellness and how to achieve these through your communications.