Tell StoriesInclude articles in the internal newsletter or on the intranet to show how employees are modeling new values or putting in place new strategies. If possible, allow them to submit their stories directly.
Digital signage on screensaversPictures paint a thousand words. Use interactive screensaver messages for change communications and to portray a positive picture of where the organization and its products are headed. Broadcast them around your organization to capture employee's imagination in an appealing, visual way.
Scenario quizzesHelp employees visualize the change working for them. Ask scenario questions. For example, "The new XYZ technology will help me do A, B, C, or D or all of the above?" Offer prizes to encourage staff to take part. Include humorous or trick questions and answers to lighten the tone and make the staff quiz fun.
Tip 8 - Make it Easy for Managers to Communicate Change Effectively
Provide advance notification Update managers before their teams receive certain types of new information. This gives them time to plan how they will react when their teams hear news, and to be prepared to answer their possible questions..
Scrolling desktop ticker Set managers or their PAs up as news feed administrators and let them target and send their teams scrolling desktop updates. This is a good way to make sure that teams see information that is directly relevant to them as soon as it becomes available.
Video updatesCreate internal video updates relevant to specific employee groups. Work with managers to make messages as relevant as possible to the different groups. Use reporting options to see which employees have watched the video.
Tip 9 - Focus on Employee Engagement During Change
Involve staff Use Staff surveys to involve employees and find out their views. Consider letting employees respond anonymously for maximum candor. Every problem uncovered is a problem that you can address.
Celebrate new beginnings Allow employees to contribute their own articles to the internal newsletter or intranet. Encourage them to tell their own stories about how the changes are working for them.
Repeat key messages. Repeat your main messages in a range of ways to ensure that they don't become boring or are seen as 'wall paper'.
Inject fun and involve people Use a Staff quiz to ask employees to name new ways of working (e.g. new systems, projects) or suggest improvements. Offer prizes for the best ideas and recognize them using Screensaver Messages and articles in the internal newsletter.
Tip 10 - Measure Results and Celebrate Successes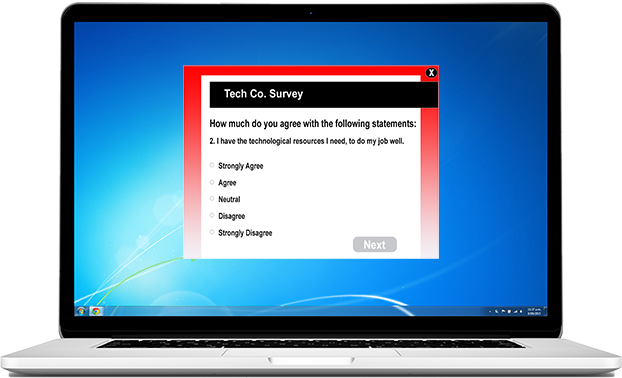 Benchmark and track trends

Survey staff to assess what's working, measure attitudes, understanding and to track trends.

Profile success stories Use an internal newsletter as an engaging way to document success. Encourage employees to submit articles that talk about what they have achieved (e.g. simpler ways of working, important milestones met).
Highlight and celebrate success

Screensaver messaging provides a visual, engaging way to highlight and celebrate success during the change. Target Screensaver Messages to specific employee groups to celebrate companywide successes as well as small local wins.