A good internal communications campaign is worth its weight in gold for businesses. It drives an informed, engaged and motivated workforce.
But only if sound planning is done first - otherwise your campaign may never get off the ground.
An effective internal communication campaign delivers three key benefits to organizations: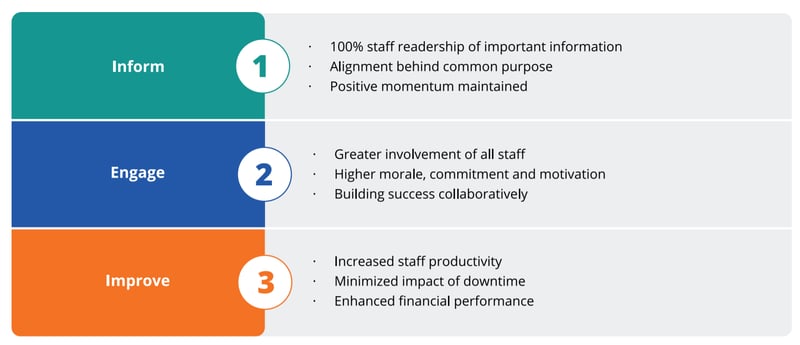 Some of the clearest indicators of the value of internal communications are the organizational improvements you'll see when resolving current deficiencies and seizing neglected opportunities.
We've summarized the process for internal communications planning into four simple steps, plus provided a couple of planning templates you can use to identify issues to be addressed and define audiences who will benefit.
1. Identifying Issues
Issues are at the core of most internal communications campaigns - a problem to be solved or a challenge to overcome. This is especially true in today's world of fast-moving workplace change. Businesses must be aware, agile and responsive to keep up.
Consider the table below. How many of the issues outlined currently afflict your organization? How significant is the impact of each? What value to your organization would resolving each offer?
Identifying the issues you face, and assessing the impact and value of each, is a valuable first step in campaign planning. The higher the current impact and potential value, the greater the improvement that effective internal communications can deliver.

Have you asked yourself these 10 questions before you have begun planning your next internal communications campaign.
2. Defining Audiences
Across an organization, a range of different audiences will be involved with internal communications. Some will rely upon it to disseminate essential information; some will depend upon it to keep them informed about everything which matters in the workplace; others will welcome it for inspiration and light-hearted engagement.
Each audience will have different perspectives and objectives. Effective messaging can resonate with these different perspectives, offering meaningful value across the organization.
Consider the following table for the audiences relevant to your organization. Putting yourself in the shoes of your audiences will help you to better understand their needs and then deliver to them through targeted, relevant message solutions.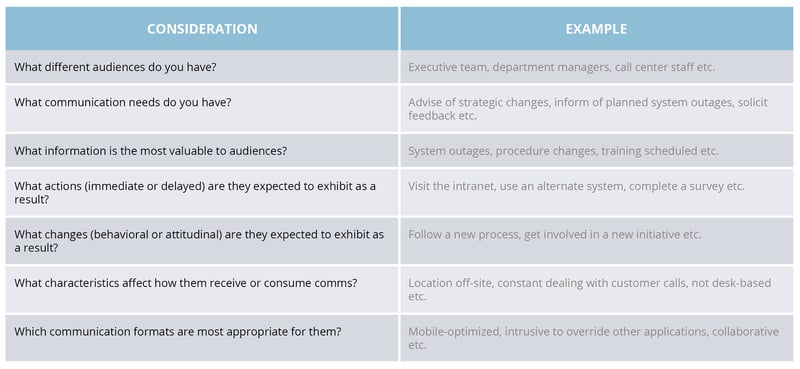 3. Selecting Channels
Many organizations are guilty of still using yesterday's channels to solve today's challenges, much less thinking ahead to tomorrow's. A new model of communications is required – one that resonates with the preferences of employees.
In general, attention spans are shorter and employees are accustomed to short bursts of information. Employees have become expert in skimming and scanning content.
Snackable, bite-size messages with visual elements achieve higher cut-through than long form, static content. Think of videos you've seen in your Facebook feed – how often do you watch past the first minute or two?
There needs to be a combination of 'in-your-face' (disruptive) as well as background (absorbed) information. Don't forget that you're likely catering for multiple generations within your workforce, so a combination of different formats are required.
The key is balance, variety, accessibility and repetition.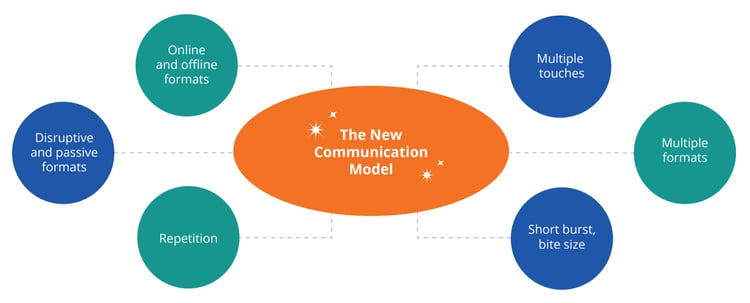 Multiple touches – Reaching audiences at different times, in different environments
Multiple formats – Combining text, imagery or video engages audiences more
Short burst, bite size – Quick to read, understand and act upon
Repetition – Recall improves as message exposure increases
Disruptive and passive formats – High-visibility notification and discreet reinforcement
Online and offline formats – Broad distribution for maximum readership

4. Measuring Outcomes
It's been shown that a company's financial performance rises and falls, in part, with the quality of its employee communication.
In addressing workplace communication needs, measurement is essential. Systems must be in place to track and understand how achievement is progressing against your objectives. What's working well and what isn't? Delve into the data to identify improvements that can be made immediately.
Whatever your success metric, make sure you have the means to measure it. Do your communications channels accurately track message readership? Do you have a tool for collating and reporting on employee attitudes and beliefs? Can you measure staff engagement with platforms like the company intranet?
Some of the reporting you need may already be available within the tools, but sometimes you will have specific information needs that will require bespoke report creation. Make sure to lock-in any support that you need from any other departments, such as your IT software administrator, ahead of time.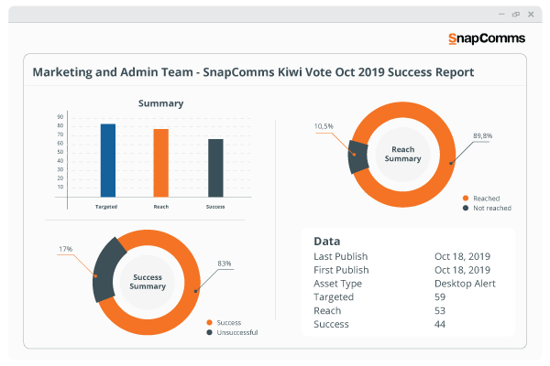 Successful internal communication campaigns are a proven driver of productivity and financial profitability. Starting your campaign planning the right way ensures you're more likely to receive the backing you need. It can also be used to inform the business case for investing in a new internal communications platform to achieve your goals.
---
Want to see successful internal communications in practice?

SnapComms is the global leader in business-to-employee communications. Our award-winning platform is used by millions of employees in 75 countries across the world. Contact us to find out more or explore our products.