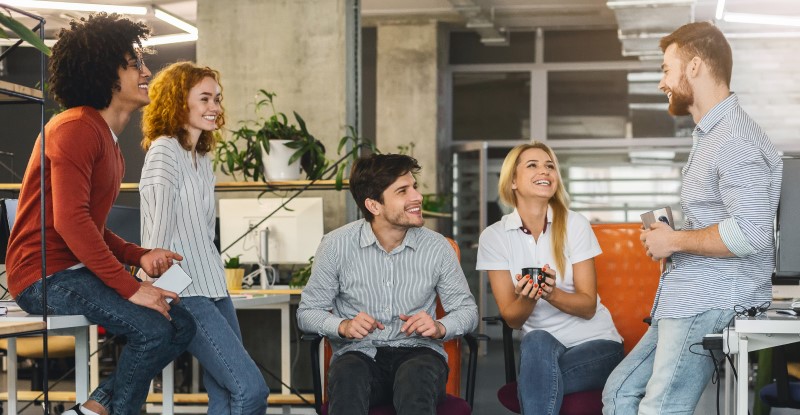 Improving employee engagement is no easy feat. It's a constant effort to connect with employees as the world and the workplace changes.
The benefits are well known. Highly engaged employees are more likely to work harder, perform better and stay longer.
But that's harder to achieve in today's environment of organizational change, hybrid working and the great resignation. Gallup's most recent State of the Global Workplace report reveals that 60% of workers are emotionally detached from their jobs.
For Human Resources Managers, this must be a priority area for 2023. Get your teams humming this year with 20 simple but effective employee engagement activities which you can use right now in your organization.
Contents:
1. Top 5 ideas
Top 5 Ideas
1. Offer growth
Employees who have a direction to grow in and the right fertile conditions will flourish into some of the most engaged employees you'll ever see. Employees are 10 times more likely to look for a new job when they feel their skills are being wasted in their current role.
Develop tailored development plans and provide necessary resourcing, such as training courses or mentoring. A series of coaching or mentoring sessions with an independent communication expert can transform a talented group of individuals into a high-performing team.
2. Feedback culture
Make sure there are ample opportunities for employees to provide feedback and know they are safe and encouraged to do so. Online employee survey tools make collecting data and exporting insights easy. Use consistent questions so you can benchmark trends, with occasional new questions to keep it relevant to what's currently happening in the organization.
But don't wait too long to respond to feedback - the longer you leave it, the more at risk you are of creating disengaged employees.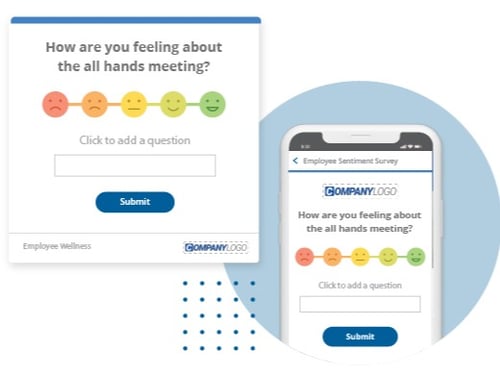 3. Purpose driven
Having a purpose and mission is all well and good, but employees need to know how their efforts and activities support this. Empower your managers and leaders to connect with their employees to help them see how they contribute to the success of the organization. Be purpose led in a meaningful way - everyone should know their purpose and connection.
4. Know your people
Conversations between leaders and their people on a formal and informal level create meaningful connections. Ensure there are opportunities for both types of conversations, such as townhalls, Q&A sessions, one-on-ones, and teambuilding events. When you understand your people, you can support them to be their best.
5. Recognition
Employees thrive on recognition of their work. Whether managers and leaders thanking their people and highlighting their success, dedicated Slack or Teams channels for shouting out achievements, or digital newsletters there are many ways for you to celebrate your people and their efforts.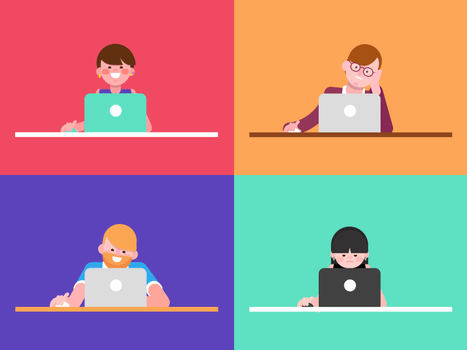 Throughout the Year
6. Sentiment surveys
These surveys are designed to gauge how employees feel about their job across factors like company culture, job satisfaction and employee happiness. Short pulse surveys should be run 3-4 times per year, alongside a single annual sentiment survey. The annual survey should be your core benchmarking survey to track engagement progress throughout the year.
Try these 40 employee engagement survey questions to get you started.
7. Employee communications software
Use the best channels to inform and engage your employees. More touchpoints means more feedback and greater awareness. There are many new and exciting ways for organizations to build engagement with employees, beyond the old classics of email and intranet. These include high impact, unmissable formats such as desktop alerts, video and digital signage.
The skill lies in knowing which channel is right for the task. Building engagement can be a slow burn, but using channels that offer a rich, engaging and interactive experience are the ones that will win the hearts and minds of staff.
8. Achievements
Continual reinforcement of what's been achieved is a powerful motivator. Celebrating wins is an effective way of fostering positive mental mindsets as we progress towards our goals. Your digital display screens or computer screensavers are ideal channels for sharing uplifting visual examples.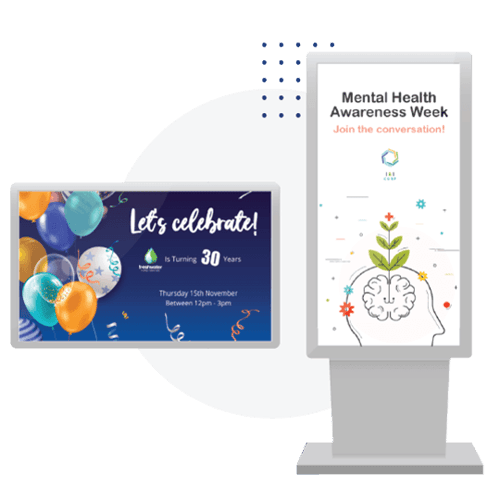 9. Inclusive strategizing
Include employees in building strategies to reach company KPIs. You'll get a much more diverse view on how to achieve goals and employees will feel more empowered being a part of the process.
Invite them to name new ways of working (e.g. new systems, projects) or suggest improvements. Offer prizes for the best ideas, and recognize them using corporate screensavers and articles in your newsletter or intranet.
10. Collaboration
Introduce channels or forums to break down silos and encourage collaboration between employees. These could be face-to-face or digital. These tools are particularly useful in organizations where staff work from different locations.
Just be aware that, while useful for employee-to-employee communications, they are not as effective for important business-to-employee communication as the volume of messages means that information is likely to be missed.
11. Customize your comms
The more personal and relevant you make your internal comms the more likely your employees will engage better. Be mindful of the communication preferences your employees may have.
For example, younger staff may prefer bite-size content, delivered in short, regular bursts. Some functions or teams may require a longer communications campaign, particularly if they've been through a lot of change.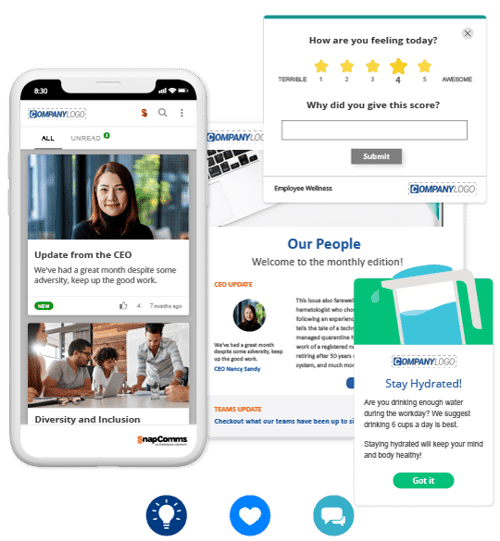 12. Employee advocacy
A positive, credible internal brand inspires employees to form a stronger emotional connection with the organization, its mission and their role. Employees want to feel good about their leaders, where they work, the products they sell, and the reputation of their company.
But the best programs in the world can be overlooked if staff don't know about them. Use internal marketing tactics to actively promote organizational effectiveness, reputation, and ethics.
13. Employee Value Proposition (EVP)
Your EVP is the unique set of benefits employees receive in recognition of their performance. These range from incentives, perks and support, to discounts, exclusive offers and more, and are a key ingredient in helping leaders deliver an appealing working experience.
There are many ways you can improve EVP, including understanding influences, surveying and benchmarking.
14. Opportunities
Dedicate a section in your corporate newsletter for personal development and current vacancies. Workshops, training opportunities, and staff support schemes can all be featured in the newsletter, and on interactive screensavers.
Remember that to be effective, professional development must be supported by a company-wide culture of learning.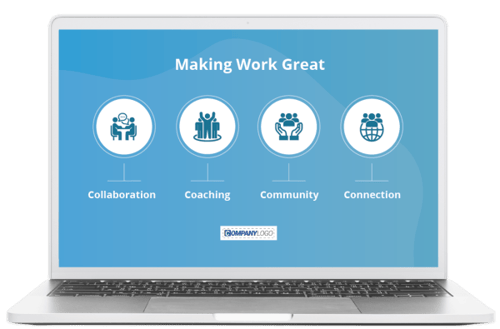 15. Company values
A company's core values are their guiding principles which influence the way they work, make decisions and progress towards goals. These values form a crucial role in how employees feel about working at the organization.
Use dedicated communication tactics, inspired by best practice examples, to promote your core values to staff.
16. Soft skills
Good leaders today need a different skillset than in the past. Traditional 'soft skills', like communication, empathy and active listening, are now essential skills.
Not all managers are comfortable communicating effectively with their employees. Introduce coaching sessions to overcome any areas of weakness and ensure your managers set a shining example to everyone else.
17. Health and wellbeing
Strong employee wellbeing is directly linked to performance – both personal and organizational. Happy, healthy employees are productive ones. Employers have a duty of care to support employees and ensure they're in a positive physical and mental state to perform their jobs.
Create an employee wellbeing program including things such as include training in resiliency and stress management, health insurance, access to wellness apps, mental health days, standing desks and virtual therapy sessions.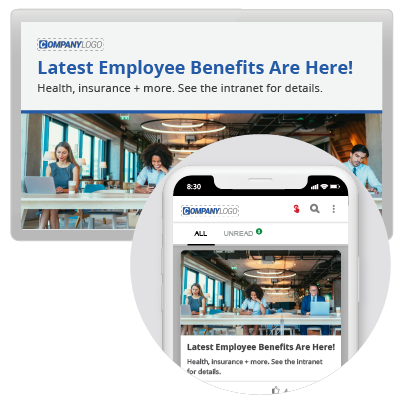 Team Building
18. Volunteering
Voluntary work, donations to charities, philanthropic initiatives - these have all become increasingly important to staff, as they expect their employer to have a social conscience. Corporate acts of kindness go a long way to build engagement among employees - just remember to promote these good deeds to staff.
19. Employee resource groups (ERGs)
Implement confidential feedback channels that empower staff to ask questions about any aspect of the business and their role within it. This tactic often uncovers some hidden engagement issues, that an organization had no idea existed.
20. Events
Organize fun events that allow your hard-working employees to socialize and celebrate milestones and successes over the year. Support an employee-led social club to encourage employees to connect outside of work time, which helps foster stronger relationships back in the office.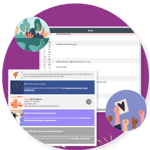 There are many opportunities throughout the year to hold successful events. Plan and keep track of them all with the super-helpful, fully-editable SnapComms HR Calendar. Download your free copy using the form below.