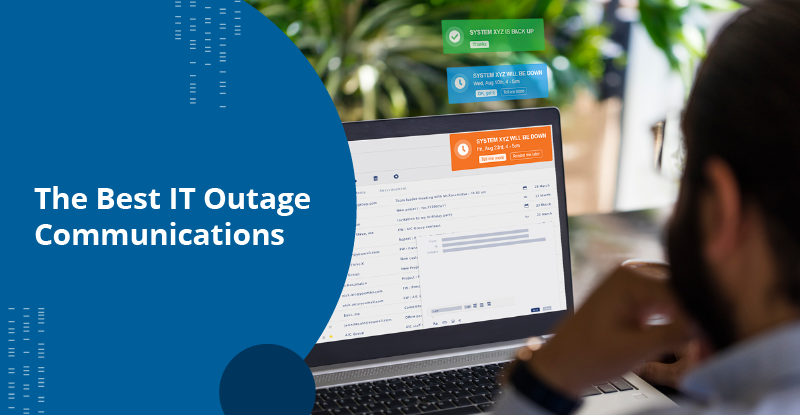 Updated November 23, 2021
When planning an IT outage or experiencing an unplanned outage, it's important to communicate well with all employees affected.
Hardware failures, corrupted software, malicious hacks, or even just human error – IT outages are an inevitable fact of life. In a report from Forrester Consulting, respondents found that "planned downtime costs their organization $1.5 million in their previous quarter and $5.6 million in their previous year."
Unplanned outages come out of nowhere, putting both your business and operations at risk as well as costing time and money.
Raising awareness around outages will save the IT team time and effort in responding to multiple service requests. This is more efficient for everyone – and allows the IT team to focus on the work they need to do.
To make this even easier, and increase the effectiveness of your communications, here are ready-to-use IT outage notification message templates are available right now for your IT team to use - just select, edit and send.
In this guide you'll learn:
How to write an outage notification (examples and templates)

Best practices for handling incident communications

How to prepare in advance for outages planned and unplanned
Create your IT outage communication plan: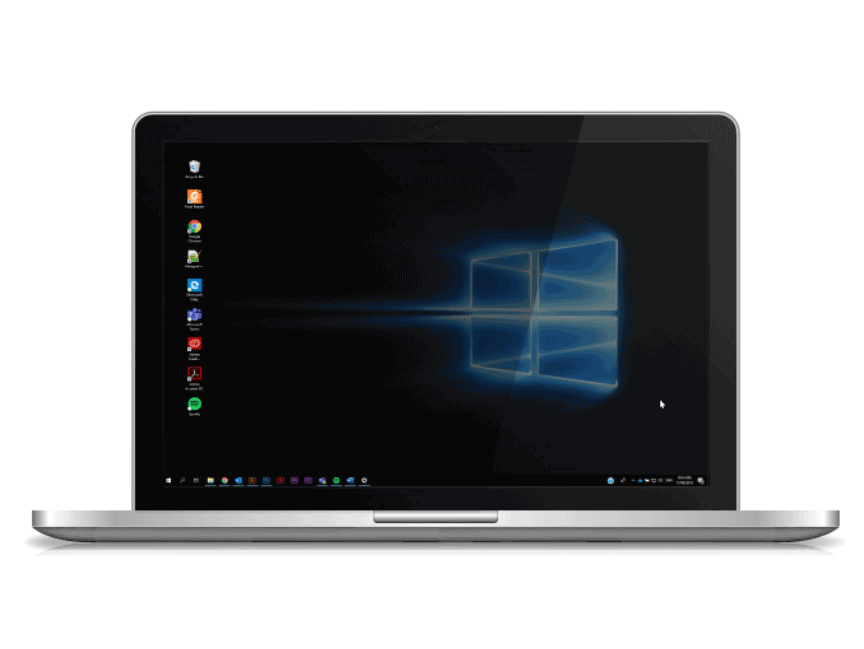 1. Planned outage notification template
For planned outages, effective communication will give staff time to prepare in advance. If employees understand the reason for the outage, you're more likely to get their support and cooperation.
Send multiple reminders to staff in the days coming up to a planned outage to ensure staff are prepared. Include:
A brief, non-technical explanation of the proposed IT event/outage/upgrade – including the services involved

An explanation of why it's being undertaken – what's the benefit?

The start and end time that services will be affected

Next steps once the outage is complete

Contact details of at least one person
EXAMPLE:
Summary
What? [BRIEF DESCRIPTION OF THE WORK BEING DONE]
When? [DATE, TIME AND TIMEZONE]
Who? Anyone who uses [SERVICE OR SYSTEM] in [OFFICE OR LOCATION]
Details
Please be aware that on [DATE] the [OFFICE OR LOCATION] IT Team will conduct a scheduled outage on IT systems and services. Certain IT services hosted in [OFFICE OR LOCATION] will be affected. The outage is expected to last from [START TIME AND TIMEZONE] until [END TIME AND TIMEZONE]. The IT Team will advise when all services are restored.
Services impacted: [LIST OF SERVICES]
What is not impacted? [LIST OF SERVICES]
Impact: Any emails sent to [OFFICE OR LOCATION] staff during this scheduled outage window will be queued and delivered once service has been resumed.
Questions? For more information, please contact the IT Service Desk by emailing [EMAIL ADDRESS] or phoning [NUMBER].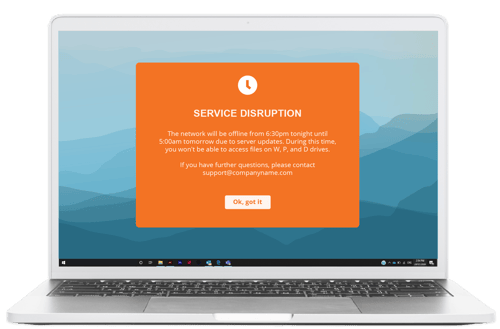 2. Unplanned outage notification template
For unplanned outages, timing is everything. Staff need outage alerts as soon as possible to avoid frustration and an influx of Helpdesk calls.
Inform them of alternative systems to use during the outage period so that they can keep working. Include:
Which services are affected – including whether the service is slow, intermittently down or totally down

A brief, non-technical explanation of what has happened (if known)

Next steps in diagnosing and fixing the cause

Anticipated timeframes for resolution (if known)

Contact details of at least one person
EXAMPLE:
Issue with [SERVICE]
[SERVICE OR SYSTEM] has been experiencing problems since [START TIME, TIMEZONE AND DATE]. Users in [OFFICE OR LOCATION] are currently unable to access [SERVICE OR SYSTEM].
The IT Team is working to resolve this issue. An update will be sent at [TIME AND TIMEZONE].
For more information, contact the IT Service Desk by emailing [EMAIL ADDRESS] or phoning [NUMBER].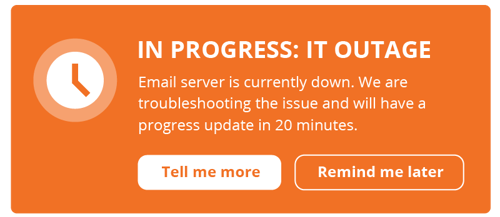 3. Ready-to-use IT outage notifications
SnapComms offers alternative methods to get employee attention for important messages. We've developed ready-to-use notification templates for IT teams to just edit and send.
Alert templates get immediate employee attention for unplanned outages, cyber-attacks or any other type of urgent IT message. Delivered directly to employee screens, these Alerts bypass email so they get seen and get read, without adding to email-overload.
Desktop Tickers provide helpful status updates at a glance. Scrolling newsfeed-style messages appear at the bottom of employee screens, delivering timely information without disrupting busy staff.
Templates for Alerts and Tickers combine best practice design with pre-written content to make delivering successful messages fast, simple and efficient. Use these templates as a guide for your IT outage notifications.



---
Try our pre-configured IT outage notifications for yourself with a free 30-day trial of SnapComms.
---
4. Incident communication best practices
How you handle an unplanned outage is crucial in mitigating its effects. Alerting users to an incident of an outage or degraded service is vital. The good news is that it's easier if you're prepared.
Mapping out a strategy doesn't have to be difficult or complicated. We've put together this handy guide to make sure you can tackle your incident communications like a pro.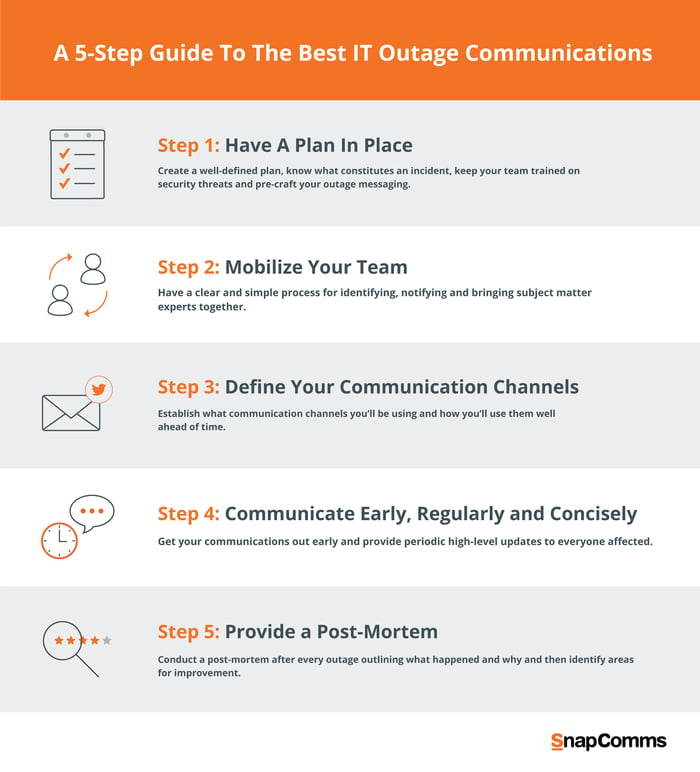 5. Create an IT outage communication plan
When an IT outage strikes, having a well-defined plan in place for system outages drives operational efficiency, improves recovery time, reduces cost, and alleviates panic. That means if something does go wrong, you know what to do, who to call, and where to start.


Your plan should include:
Defining an incident
Know what constitutes an incident and what doesn't. Establish clear thresholds for incident severity, with measurable metrics. For example: a service is down or unavailable that halts business operations and no procedural workaround exists would be considered critical severity to the business.
Training your team
Keep the team up to date on the latest threats and cyber security techniques, implement regular/annual training from system vendors and define backup systems in advance.

Training the wider team in security awareness using Quizzes can also help reduce the number of high-risk security incidents that occur.


Practicing your plan
Working through worst-case scenarios means you can revisit and improve your current strategy and identify places for improvement.
Pre-crafting messaging
Crafting the perfect communication takes time that you might not have. Having pre-configured outage notification templates ready to go saves time and effort. You can then easily edit specific details closer to the time.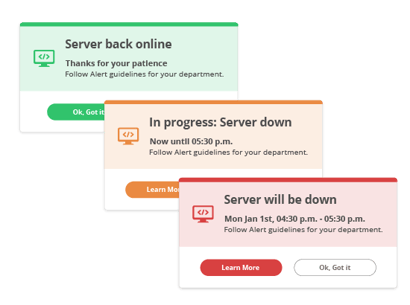 6. Mobilize your incident response team
Have a clear and simple process for identifying, notifying, and bringing together subject matter experts. Identify who is responsible for which tasks, what they'll be doing, and the process you'll use to track and measure their response.
Usually, this person is a member of the IT or DevOps team. They have the most authority and responsibility seeing the incident through from beginning to end, managing resources, and setting up the communications and documentation, during and after resolution.
They'll be responsible for translating technical jargon into information customers and internal stakeholders can understand and making sure they're sent through the right communication channels. For smaller incidents, the Incident Commander subsumes this role.

A defined service outage notification strategy streamlines workflow, minimizes impact, and contributes to a faster resolution.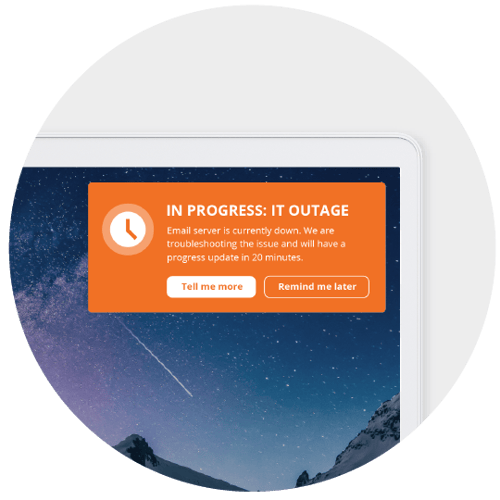 7. Define your communication channels and messages
Establish what channels you'll be using for outage messages and how you'll use them well ahead of time.
When communicating internally, it's important to carefully select your channels. Tool toggling wastes time, creates opportunities to miss important information, and makes it difficult to manage and track responsibilities.
Here are some good general IT communication tips:
Achieve instant cut-through for critical messages using Desktop Alerts, sent directly to employee desktops and mobile screens.

Create a status page to act as a central resource for updates. Establishing a single source of truth means everyone knows where to go for verifiable and accurate information.

Go mobile – smartphones are essential for getting information out to employees not based at desks. An employee communication app can make sure you target the right people at the right time and keep track of who's viewed your communications.

Provide updates through scrolling on-screen Tickers, keeping speculation at bay, and minimizing disruptive helpdesk calls.

Avoid mistakes like relying too heavily on email, neglecting end-user experience, or having inconsistent messaging formats.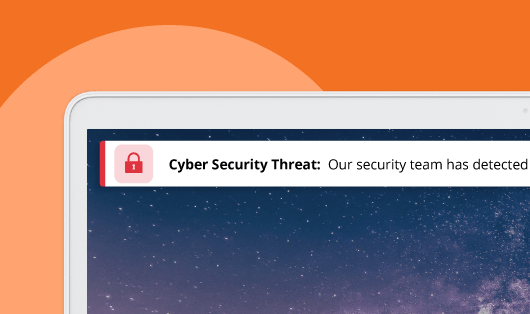 8. Send outage notifications early, regularly, and concisely
Now your response team knows what to do and what's going on, it's time to talk to everyone else affected when an outage occurs. What you say and how you say it plays a huge role in how it's received.
Start early
Employees need information fast to stay productive. Proactive communication allows you to control the narrative around the incident. Acknowledge the issue, summarize its impact and then promise additional updates.
Communicate regularly
Issue regular updates to the incident response team, stakeholders, customer service support teams, and your end-users. Use message targeting and scheduling to ensure your communications reach the right audiences.
Recurrence options should be used to guarantee 100% readership by repeatedly displaying messages until employees read them.
Regular communication reinforces trust and alleviates panic. People assume the worst when they're kept in the dark, so saying there's nothing to report is better than saying nothing at all.
Be concise
Provide short, snappy, high-level updates. Making sure this information is clear, concise, and accurate will help those affected carry on efficiently. End users don't need all the details – they just need to know what's happened, what's been done, the duration, and how it affects them.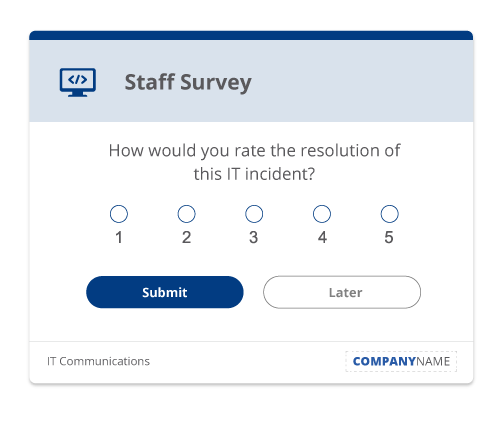 9. Conduct an incident post-mortem
While they can be a source of frustration and disruption, incidents are also a useful learning opportunity for IT teams.
After every IT outage, conduct an incident post-mortem. It gives everyone an idea of what happened, how it happened, and why – turning a problem into progress. This helps cut down future resolution time, uncovers opportunities for improvement, and lessens repeat incidents.
Introduce staff surveys to invite feedback from your response team, end-users, and stakeholders across the business. This is a great way to build trust and confidence with everyone affected.
For more tips on IT communications and how to handle an outage, speak with one of our communications experts or trial SnapComms free in your organization.