Be Seen. Be Read. Be Connected.
---
Reduce Email Overload. Research shows that it takes 64 seconds for staff to refocus and get back into the work they were doing before an email interruption. Sending out 'All Staff' group emails (such as for IT outages, general news and administration, marketing and HR updates etc.) can have a detrimental effect on staff productivity, workloads and stress levels.
Minimize "All Staff" emails. It is possible to completely eliminate the need for 'All Staff' emails by directing all these messages into an automatically generated Staff Newsletter. Due to section categories and a scannable summary format, reading the Newsletter consumes 80% less time than opening and reading the equivalent separate 'All Staff' emails. Contributors, who can be staff and communications team alike, can still quickly and easily write their own messages which are then automatically populated into an engaging Newsletter format with centralized editorial controls.
Bypass Email! - Email is not required to deliver any of the SnapComms internal communications solution.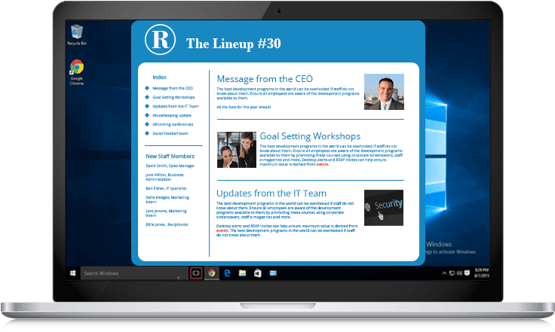 Internal Newsletter Software
Improve Understanding
---
Increase readership, understanding and acceptance of important messages, and establish priority channels to ease staff email burden:
Leverage existing resources. It is possible to leverage the power of existing information sources, such as the intranet, by sign posting new or relevant content to specific target audiences. Updates can be pushed out to targeted staff groups as scrolling headlines on the desktop, pop-up alert messages, staff newsletters and/or sequencing interactive screensavers.
Desktop alerts, which deliver pop up visual messages onto computers and mobile devices, can ensure fast and reliable cut-through of urgent/important business updates.
Screensavers can be turned into sequencing digital signage to raise staff awareness of business initiatives, updates, events etc.
Video messages can also be delivered as desktop alerts to increase the visibility of senior managers and to maximize employee understanding of business strategy.
Staff Surveys - the SnapComms staff survey tool can be pushed onto staff computer screens and mobile devices to measure understanding of business strategy and to gather employee feedback.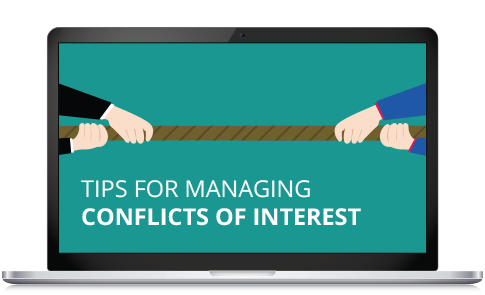 Screensaver Messaging
Improve Executive Communication The SnapComms solution provides a variety of ways to reinforce and support executive internal communications by improving attendance at events and involving employees and reinforcing information following executive communication.
Improving Manager Cascade SnapComms provides a range of ways to measure and improve cascade of internal communications via managers to ensure important information reaches all employees with the right context.
Integrating a Dispersed Workforce The SnapComms internal communication solution is not limited by geographic location. As long as employees have intermittent internet access and a computer or mobile device, messages can be easily targeted to a geographically dispersed workforce. The SnapComms internal communication channels can help ensure message consistency and give every employee a 'voice' regardless of their physical location..
Contact center staff, who may not have regular email access, can be kept informed in a dynamic yet non-intrusive way via scrolling text on their computer screens. Time spent in team meetings (non call time) can be reduced by providing news and information updates via the news ticker channel or via an electronic staff magazine that aggregates messages from all over the business into a single scanable format.
Message targeting options The SnapComms internal communications solution is not limited by geographic or network location.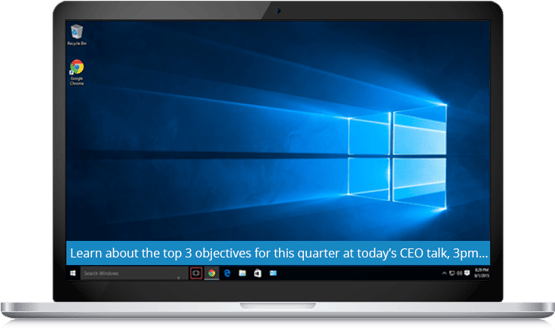 Deliver updates on scrolling tickers - Embedded hyperlinks serve to direct staff to the specific information sources they require.
Ensure compliance with Company Regulations and Standards.
Important compliance information can be overtly pushed out to targeted staff groups in a range of formats. SnapComms Compliance Software allows message repetition, validation elements and comprehensive reporting ensure and demonstrate compliance across the organization.
Driving culture and behavior change
SnapComms' Campaign Planning and Tracking tool allows you to schedule and deliver a campaign of interactive content over time and track and adapt its impact based on employee interaction. Contact us for a demonstration of this new tool.
NB: The SnapComms internal communications solution provides click-through capability with full reporting on hyperlinks followed by each employee.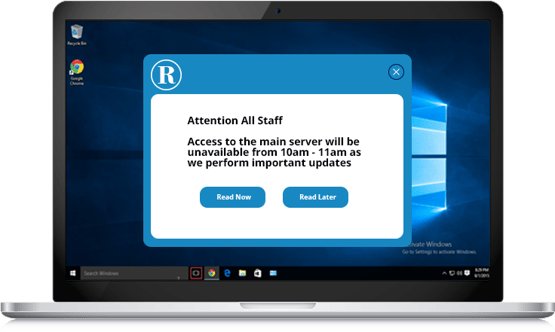 Desktop Alert Notifications
Increasing Staff Retention Levels
The SnapComms internal communications solution provides an effective means to 'listen' to staff, to involve them (an important driver of engagement) and to gather their feedback. The SnapComms channels can help ensure message consistency and give every employee a 'voice' regardless of their physical location.
Staff survey tool delivers surveys directly to computers and mobile devices and bypasses email altogether. Surveys and opinion polls can cover everything from the effectiveness of business operations and processes, to capturing employee's views and customer perceptions. High participation can be ensured when the survey notification is repeated for uncompleted surveys. (Message repetition is a configurable option with the SnapComms solution).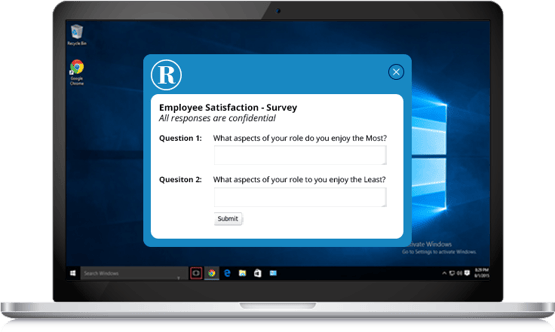 Desktop Survey Tool
SnapComms Staff Newsletter tool can provide an effective medium for advising staff of the actions being taken in response to their feedback. A section in the magazine titled 'Acting on Your Feedback' can contain short features over viewing the measures that are being taken based upon staff feedback. Closing the loop on staff feed back can help build employee commitment and engagement.
Measuring Effectiveness Surveys can be used to track the performance of different operational areas within the business. (For example: internal communications effectiveness or the perceived performance of other business units or support services). The ideas and suggestions received can have a dramatic and positive impact on the business.
Find out the real cost of your communications: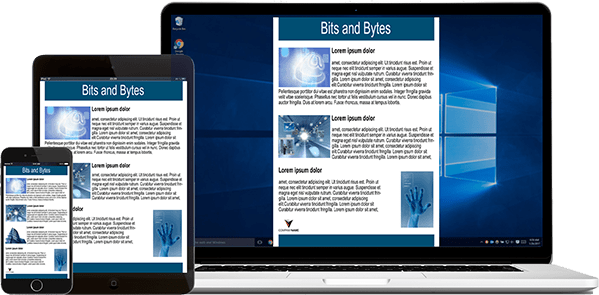 Internal Newsletter Example