13 Tips for Effective IT Communication

Most enterprise IT teams share this aim: To deliver on business requirements and add value to the business.

Effective two-way communication plays an important part in meeting these aims. However, many IT teams are often too busy to communicate effectively.
So how can IT teams improve communication with the wider business?


"If they see an alert they know it is worth reading."
Eli Fernández, IT Service Management Lead
Tip 1: Use Desktop Messaging for Time-Critical Communications
Unplanned outage notification
Use Desktop Alerts or a Scrolling Ticker to notify staff about outages and to update them on progress as you fix those outages. These tools will continue to work when your email is down. And, since they are quick and easy to update regularly, as you work your way through the issue, they mean staff no longer need to ring your help desk repeatedly, to find out when you will fix the outage.
Tip 2: Use Visual Communications to Help Messages 'Cut Through'
'Boring' but important?
Most staff in today's organizations suffer from 'information overload'. More and more, this means that they only notice communications they think are directly or clearly relevant to them. For non-IT staff, this rarely includes information about IT.
Digital signage on screensavers
can be a good way to 'cut through the clutter' and make sure staff notice important messages from IT. These are some examples of IT communications where digital signage on screensavers can work well:
Service changes and upgrades
Security policies
Compliance education
Virus announcements and safe computing policies
Disaster recovery/business continuity policies
Support channels available to staff
Training opportunities
Tip 3: Educate Employees and Raise the Profile of Important IT Policies
Communicate the basics well
Staff use of social media creates new risks for organizations
To manage these risks, IT teams need to communicate clearly. Helping users understand the changing regulations, technology, security and processes associated with social media is an increasingly important part of IT's role.
"We have already seen a much greater understanding and subsequent adoption of particular company/strategic notifications or policy changes." Brett Howard, Marketing & Communications Manager
Tip 4: Engage Staff in Technology Change
Technology is changing fast and organizations introduce new systems regularly
To support this change, the IT team needs to communicate early and often. Identify who is accountable for doing this, gather feedback from users, explain the benefits of the new systems and how they work and encourage staff to use them effectively.
Low risk pilots and proofs of concept are effective ways to deploy and test new technologies. Communicating effectively before, during and after these projects and gathering users' feedback regularly is critical to success.
Involve employees.
Where possible, involve staff and gather their views before you introduce new technology.
Build engagement with new technology
Use interactive screensaver messages to promote new technology visually. Use staff quizzes to engage staff and encourage them to use the new systems.
Tip 5: Make your IT Training More Effective
In 30 days people typically forget 80% of what they have learned on a training course unless it is reinforced in some way. SnapComms' Desktop Quiz can target staff who have attended training or are using new systems. It pops up on users' computers and can contain links to the intranet (or other resources) to let staff research questions before they answer them. Prompting staff who have not replied encourages as many as possible to take part.

"The SnapComms tools allow us to educate employees." Rella Stone, Senior Manager, Information Security

Tip 6: Target Messages to the People Who Need Them
The SnapComms tools let you target messages to specific groups of users, based on your existing Active Directory settings and/or machine based targeting. You can also set up extra or new rules in the message manager to target users as needed.
If your Active Directory set-up isn't quite as useful as it could be, use a Registration Desktop Alert to let users specify their settings and the messages they need. (This may also help you resolve existing AD issues.)

"The main selling point for us was the flexibility of content administration and ease of targeting messages."
Ray Thomas, Helpdesk Manager
Tip 7: Expire Out-of-Date Messages
SnapMag helps you archive old information. Every time a staff member submits an article to SnapMag for publishing, they (or your magazine's administrator) must assign it an expiry date. When this date arrives, SnapComm's automatically deletes the articles and data published in the magazine from the user's desktop, and archives them in a central place where staff can search for them if they wish. Emails don't expire in this way; they pile up in inboxes until users delete them.
In fact, all of SnapComms content can be expired and removed from local user message histories.
Tip 8: Promote the IT Function as well as Individual and Team Wins
Make staff aware of the services the IT team provides and promote the value to your internal customers. This can help counter the problem below.
Tendency to blame IT
When staff can't access the systems they need or the network is slow, they tend to blame the IT team, whatever the cause. This negative attitude often results because staff simply don't understand what IT teams do and the value they contribute.
Communicate your priorities and how IT supports the business
Effective IT communication needs a culture that seeks constant feedback and recognizes value. It encourages the IT business unit to learn and evolve.
"We're delighted with the way the tools have helped us improve our communications across the organization, break down silos and help create an all-important team atmosphere across the group". Diane Robinson, Head of Communications
Tip 9: Reduce the Volume of Internal Emails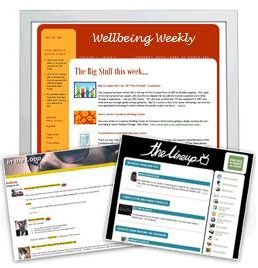 User Generated Internal Newsletter Examples
Use alternative channels to e-mail wherever possible
SnapMag is an innovative magazine format which reduces the need for 'mass internal emails'. Any member of staff can click to submit an 'article' into predefined categories, using the same time and effort they would to write an email. The result: 'a one-stop', engaging e-magazine that replaces the stream of separate emails and uncoordinated messages from different departments.
SnapMag is more effective than an intranet notice board because:
non- technical administrators can act as editors to approve, decline, edit and re-order submitted articles;
you can customize the design and format of articles to produce an attractive, engaging magazine;
you can send the final magazine to the people you want to reach (and only those people);
you can view a report which shows who has read specific items in the magazine.

"SnapMag enables us to effortlessly keep in touch with sub-divisions within our company in a medium that doesn't get 'lost' due to too many emails flooding our inboxes." Cosima Wagner, Marketing & Communications
Tip 10: Make your Intranet More Useful by Promoting Content
Promote new intranet resources
Use pop-up Desktop Alerts, Scrolling News Feeds and Interactive Screensaver Messages to promote new resources and information available on your intranet. Add hyperlinks to make it easy for users to navigate to the new intranet content. SnapComms' easy-to-use targeting feature lets you advise the staff who need to read that information (and those staff only).
Summarize intranet updates in a newsletter
SnapMag contains 'user-generated content'. Involving users makes the resulting newsletter more authentic and compelling than traditional electronic staff magazines. Staff can recommend intranet (and other) content they find helpful, using short updates followed by a hyperlink.
"Thanks to the use of SnapComms tools, we have increased use of our intranet by more than 40% in the first year."
Tip 11: Maximize the Value of RSS Feeds on your Intranet
RSS can be a fantastic way to let staff know about new developments or updates to the intranet. Unfortunately, if we rely on staff to opt in to specific feeds, we can be fairly certain many will not. This can make RSS an ineffective channel. SnapComms' RSS Ticker tool lets you 'push out' specific RSS feeds to target users groups in an on-screen scrolling news ticker. This means staff do not need to opt in to important feeds.
Tip 12: Make Time for IT Communication
The amount of data organizations generate is expected to continue to grow dramatically. However, the resources IT teams have available are unlikely to keep pace. One way to reduce this pressure on your IT team is to improve communication between your team and the people they support. For example, asking users what they need from IT will help the IT team understand where to focus efforts. Similarly, by improving communication with your users you can encourage them to meet some of their own IT needs.
Delegating activities IT traditionally performs
Delegating activities can be a good way to manage with limited resources. The SnapComms messaging tools let you do this. For example, your IT team can delegate administration rights that let non-IT users update screensavers across your organization.
Tip 13: Gather Feedback and Track What's Important
To set priorities, benchmark progress and improve performance, IT teams need to hear from their customers, both internal and external. But many IT teams make a common mistake: they assume they understand what their customers want. These are some ways to counter this problem.
Listen to the 'non-techies'
Great ideas and insight can come from the people who do the jobs IT supports. Gathering feedback from across your business is important if the IT team is able to respond quickly and effectively.
Increase survey response rates
When you survey staff for feedback, make sure you reach the people you want to hear from. Staff are more likely to notice a desktop survey which pops up on their computer screens than they are a survey that becomes buried in their email inbox. This is a good way to ensure your feedback covers as wide a range of views as possible – including those of the important 'silent majority'. This group typically lacks strong views or agendas and often needs prompting to take part in surveys.

"SnapComms' Desktop Staff Survey is a great benchmarking tool"
Annette Culpan, Internal Communications manager, Vodafone NZ