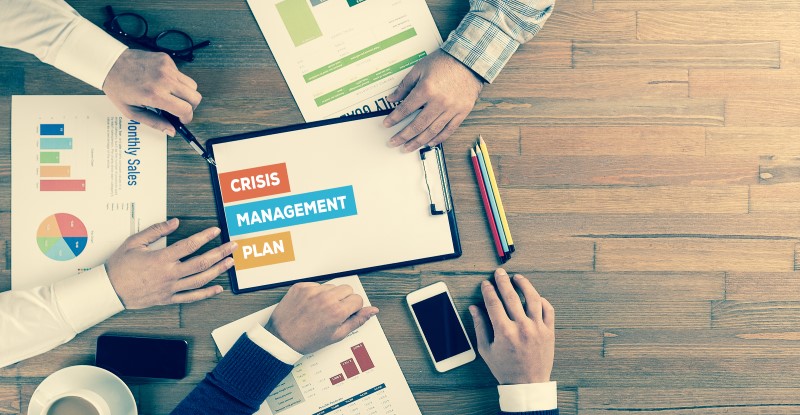 A global crisis like COVID-19 puts a lot of focus on the importance of effective business communication.
It's critical that employees understand the company approach to issues around COVID-19, the resolution strategy and the ongoing impact mitigation.
While any crisis is unpredictable, effective preparation goes a long way in making sure you're sharing the right information, at the right time, in the right way.
How to manage a crisis communications plan
The key to successfully addressing any unfolding crisis and minimizing fallout is to be as prepared as possible. This includes:
1. Identifying the groups you'll need to communicate with – including and outside of your own team.
2. Identifying who your spokesperson will be – ideally the CEO, but plan a back-up as well.
3. Confirming who will create and approve communications before they are sent – it should be very clear who in the crisis management team needs to review any content before it is released and secure their commitment up front.
A pre-crafted crisis response is a good idea. Messages should be easily customizable. Focus on the initial response to specific situations that can be signed off by required leadership ahead of time. While this may seem over the top, if you don't respond immediately, fear and rumor can fill the void.
Establishing your organization as a trusted source is important, even if your initial crisis message is largely conveying that you will share information as you have it. Having issued that first statement, you then have time to work on messaging that will reassure your employees that you are on top of whatever the situation may be.
How to create a crisis communication response
According to research on the importance of information in crisis management, a response is always required in a crisis management situation. Thinking you can leave employees to 'figure it out for themselves', or that not responding will in some way relieve the pressure, is totally misguided.
There are now multiple ways in which your audiences receive information from you. Ensuring you have effectively covered these is a big part of crisis management – whether your intranet, website, call centers, help desks and other channels. Using a single communications platform enables you to get key messaging out faster and more consistently.
As the COVID-19 situation unfolds around us, it's tempting to think we have days or even weeks to put a response together. But when something happens that directly disrupts your business, such as office closures, government-mandated shutdowns or supply chain disruptions, crisis impact research shows 53% of consumers expect brands to respond within an hour. Nearly 60% expect that response to come from the CEO.
The report also identified that many brands are unprepared for the damage these threats pose to their brand and the accelerated rate at which crises spread. It found that nearly 70% of brand crises spread internationally within 24 hours.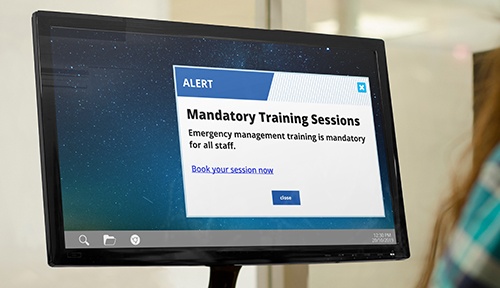 What to communicate to employees when a crisis occurs
Regular timely information to all your different audiences is critical in a time of crisis. There are generally three things your audiences want to know:
1. That you have identified the crisis and can articulate what it is,
2. What you are doing in response, and
3. How you will manage this on an ongoing basis.
Make sure all your internal teams are equipped to appropriately respond to inquiries, from employees, customers or the media. Your leadership team, and anyone else charged with responding, need to understand and tell a consistent and accurate story as situations continue to change and evolve.

Six crisis communication tips to improve your messaging
1. Be thoughtful. The natural reaction by people to a crisis includes anger, hurt, confusion and panic. Whether you agree with it or not, you need to respond to this reaction with compassion. Ensure your messaging reflects the sentiment you are hearing from the market. Think about how you would want someone else to respond to the situation – with sadness, compassion, outrage? Think carefully about the tone you want to set.
2. Be consistent. You'll be talking to a variety of audiences through multiple channels. While the messaging is likely to be different for each, your sentiment, tone and brand should be consistent across them all.
3. Be concise. No one wants a long-winded explanation when dealing with a crisis. Keep it brief and focused, without seeming cold and impersonal. Providing accurate information is essential but delivering it with compassion is equally important.
4. Be global. Even if you operate only in one country, you need to be aware your messaging could go global. Email can be shared, as can social posts and media stories. Your crisis could play into what is happening on the global stage and be escalated. Be conscious of cultural sensitivities and how your message could be interpreted by different audiences. If communicating across multiple countries, consider language translations to ensure there is no misinterpretation of what you're saying.
5. Be critical. Read your messaging out loud. Is this how you would talk to an employee if they were in the room? Are you leaving questions unanswered? Are you being explicit in what you want someone to do (or not do) having read your message? While being timely is critical, a little time spent reviewing your message is going to save you from potentially costly mistakes.
6. Be aware. Your pre-planned social messaging, advertising and other promotional activity may no longer be appropriate during a crisis. In an environment where a crisis is impacting entire communities, you may come across as insensitive. Take time to review and potentially postpone the activities you have scheduled.
Any crisis situation is going to be unpredictable. But having a clear plan for who, what, when and how you are going to manage your communications will help you successfully overcome the situation. Even as we are in the middle of the COVID-19 crisis, it isn't too late to pause and do some planning.
This helps puts you on the front foot, when many others will be standing still – and that can only benefit you and everyone you work with.