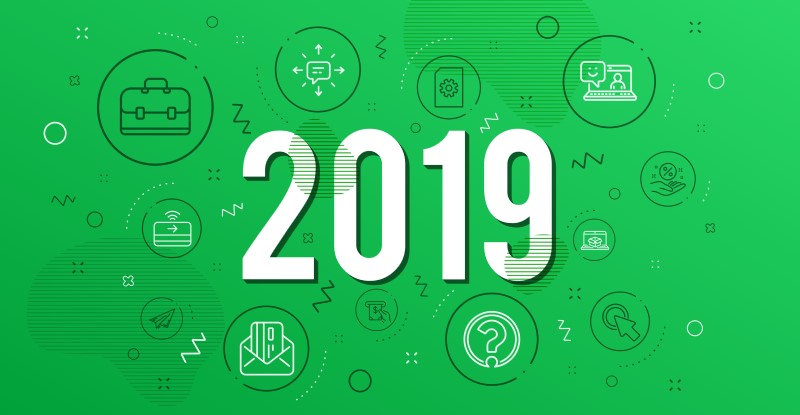 You've probably heard of phonebooth stuffing. It involves as many people as possible cramming themselves into a phone booth – with one of them usually then needing to answer the phone. Strange as it sounds, it was quite a fad for a while.
2019 has been a bit like that. There's been a lot crammed into it (and probably a lot of ringing phones too). But the end of the year (in fact, the end of the decade) is nearly upon us. It's the perfect time to reflect on what's been achieved – and what's left to do.
Last time we looked ahead at internal communication trends – now it's time to look back. What's been great, what's been surprising, what's set the world alight? This is our annual internal communications year in review of the hot trends and topics in 2019.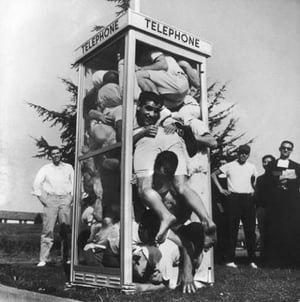 (Iconic image from LIFE magazine in 1959)
On our site
We've published 47 blogs so far this year. While we love them all, some have been particularly popular among readers. These are three of the most popular articles from our blog in 2019.
Cyber security is a hot button for every business today. Stats on the number of data breaches and costs involved are plentiful – and make for worrying reading. That probably explains why cyber security features so heavily in our top blogs this year.
There are so many channels available today that internal communicators almost need a map and compass to navigate through them all. That's part of the reason we wrote this article, and part of the reason it's been so popular. Plus we love a good list.
Mention the words "IT outage" or "system downtime" to an IT team and watch their faces go pale. These unplanned incidents are a huge handbrake on workplace productivity. Effective communication is essential, and it seems our IT templates hit the mark for a lot of readers.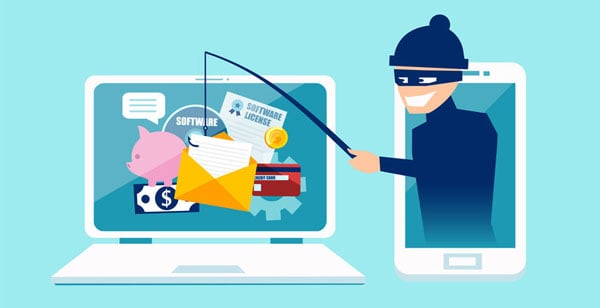 Around the web
What did we do without the internet? The web is such a wonderful repository of information it's hard to imagine life without it. More interesting articles and useful resources were published this year. These are some of our favorites from around the web in 2019.
Gatehouse - State of the Sector 2019
This report is a must-read for anyone in internal communications and employee engagement. A ton of insights gleaned from surveying thousands of professionals worldwide.
h&h comms - The Anatomy of an Engaged Employee
This internal comms agency produces lots of great infographics around the value of employee communication and engagement, but we especially like this one (see sample below).
All Things IC – How To Set Your Professional Goals
Rachel Miller is a modern guru of internal comms and a prolific blogger. This article was originally published in January for planning 2019, but it's so useful we thought it was worth highlighting for 2020 too.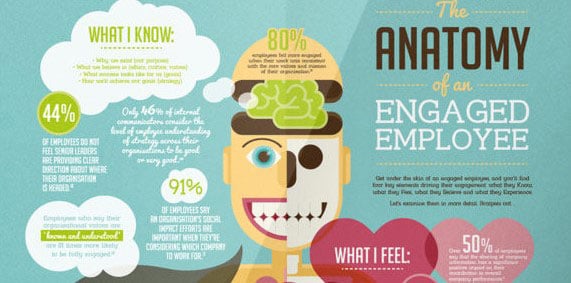 All over social
Every second, 6000 tweets are tweeted on Twitter. Sure, many of these are of animals, memes or meals. But there's also useful stuff to be found in between. These are some of the best internal communications experts we think are worth following on social media.
Ragan (@RaganComms)
News, expert advice and knowledgeable banter – Ragan are reliably useful and interesting.
Alive With Ideas (@alivewithideas)
This UK-based agency posts regular doses of creative inspiration and are especially strong around uses of visuals and video.
Institute of Internal Communication (@IoIC)
Very active on LinkedIn, IoIC are well worth following for their expertise and knowledge of emerging trends in the industry.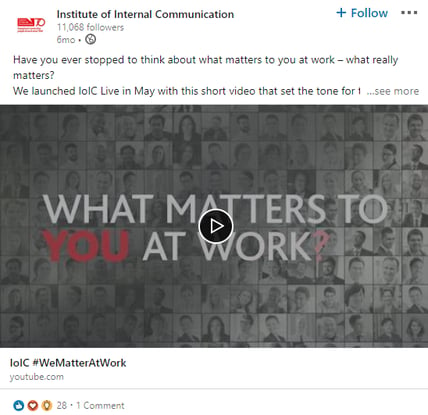 In the headlines
Like most years, 2019 hasn't been short of scandal and intrigue. But what were some of the top political and cultural topics affecting the world of internal communications?
Privacy
Not the sexiest of subjects, but consumer and data privacy are increasingly taking center stage. Legislation like GDPR and CCPA are forcing communicators to rethink their approach to personal information. And it's likely this is just the beginning as the rest of the world follows suit.
Consumers are more concerned about information privacy than ever. Over half of online users are more concerned about their online privacy than they were a year ago. What brands do to protect their data matters to them. They are already expecting the same protections in their workplace.
Climate change
The topic that's impossible to ignore, climate change will continue to influence HR and internal communications beyond 2019. Attention on this was heightened during the week of protests and global climate strike involving an estimated 6 million people.
For internal communicators, the challenge has been to sensitively build and promote the brand's green credentials – raising awareness of company policies, encouraging staff to embrace these, and fostering sustainability as a competitive advantage.
Technology
The promises and perils of new technology are never far from the headlines. But the number of companies undergoing digital transformation projects reflects how enticing the opportunities are.
The 'big three' of technology for 2019 were probably AI, IoT (Internet of Things), and 5G (cellular network technology which could deliver 10x faster processing speeds). The question is, will this new tech give communicators tools to better engage their staff – or just increase the distraction?
That's our wrap-up of 2019. Now that the end (of the year) is nigh, how do you feel? Contented or concerned? On top of it all – or behind the ball? Let us know!
Thanks for sharing 2019 with us. Let's do it again in 2020!