Why has it become so difficult to get employee attention for important matters? And is this connected to the worrying decline in employee engagement world-wide? Communication experts would argue it's not for lack of good intentions or effort.
I'm seeing a major shift from output-focused internal communications to outcome-focused. No longer will 'a quick all-staff email' cut it. There's a revolution building that's all about enhancing the employee experience. And holistic communications is at the very core.
As multiple reports highlight (such as ROI Communication Benchmark 2017; AON Employee Engagement report; and Willis Towers Watson Global Workforce), much of today's internal communications are missing the mark.
Employee engagement continues to fall. This is bad news for staff, and bad news for the bottom line. So what's fueling this detachment by staff? How can organizations reverse the trend, reunite their teams and embed a positive culture?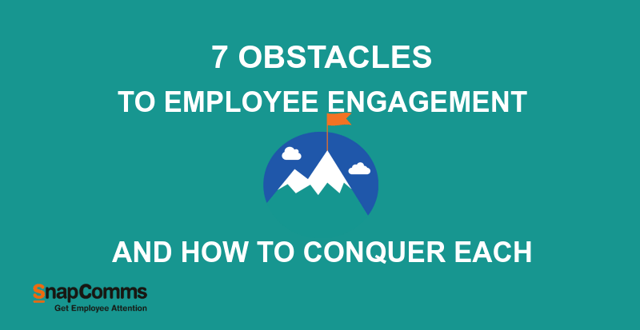 1. The trend for dispersed workers
According to a report by Global Workplace Analytics, 3.7 million U.S. workers now work from home at least half of the time. By 2020, two out of three UK businesses will have adopted flexible working (70 percent will embrace mobile working).
This new movement means those valuable "water cooler" chats are being lost, so too are the spontaneous team moments. Understandably, an employee's psychological investment in the organization—which is the foundation for engagement – is tenuous.
Managers are struggling to recreate a high performing 'in house rapport' if the static email is the inevitable method of reaching out to their team.
2. Email is a failing channel with out-of-date technology
Email has been the default channel of choice for almost three decades. Yet it's incredible to think that through the recent period of immense digital disruption, this tool's functionality is stagnant.
Think how far we've evolved in the way we consume information in our personal lives—videos, gifs, interactive visual content is streaming at us, anytime, anywhere, on any device. Why hasn't this been replicated to the same extent in our professional lives?
Staff today expect (and deserve) better than another dull, text-heavy 'all staff' email. Where's the zing in that?
3. Misleading metrics
One of the biggest drawbacks of email is its lack of measurement. The reporting options on how employees interact with email content is almost zero.
Email's 'read receipt' is a misnomer; it simply means the recipient opened the email for at least one second. It is not an indication of the content being read—the far more relevant metric.
Most email-based platforms use a transparent pixel – known as a 'beacon' - to measure open rates. Even if the recipient opened and immediately closed the email, the embedded beacon is activated. The report will show this as a successful email open. But be warned: this is a misleading metric. Most internal emails will be classified as being from a 'trusted source', therefore all images (including the beacon) download automatically, even if the email has been viewed in a preview window.
A more meaningful measure of readership is click rate. But even with claimed click rates of 25 to 35 percent, email readership appears to be low.
In today's world of data-based decision-making, organizations could revolutionize their internal communications strategy if they knew when an employee opened and read a message, whether they engaged with the content, and if so, when.
4. Email inboxes continue to bloat out of control
Email has become a victim of its own success. Ironically, more and more emails are sent internally in a failed attempt to improve low engagement.
The Radiati Group reports the average number of business emails sent and received is now a staggering 124 per day. Spam, marketing automation systems, and the lazy all-staff email have ballooned inboxes, devaluing this channel and its effectiveness.
Staff miss messages as their emails quickly descend into the inbox vortex, or are automatically filtered into subfolders, never to see the light of day.
Unsurprisingly, email overload is a major factor in today's broken communication, draining almost $1.5 trillion a year in the U.S. alone.
5. A society of skimmers and scanners
The newest generation entering the workforce, Generation Z. are digital natives. They've grown up using social media, instant messaging, and texting. Only 6 percent of this group send emails. Their media consumption habits do not stop once they're at work.
Bite-size content delivered via attention-grabbing formats gets the engagement needed, while gamification—a modern twist on good old-fashioned competitive rivalry—is another engagement technique that has high appeal, especially when used to reward employee participation.
6. Communication spectrum from hi-viz to low-profile messaging
There are many new and exciting ways for organizations to build engagement with employees outside of company email and intranet. These include high impact, readily seen formats, such as desktop alerts and chatty collaboration platforms, as well as more passive styles, such as screensavers and digital signage.
The skill lies in knowing which channel is right for the task. Building engagement can be a slow-burn using channels from across the communication spectrum. Remember that 77 percent of U.S. employees find images, such as infographics, easier to digest than text.
Communication tools that offer a richer, more engaging and interactive experience, that can help bring corporate culture and story-telling to life, is how to win hearts and minds.
7. Organizations slow to embrace a new approach to internal communication
Nobody likes change, but when "the pain of same is greater than the pain of change," it's time for action. Social channels, such as Slack and Workplace by Facebook promised to revolutionize communications, but the honeymoon is over. At the end of the day, these types of channels create noise and distract from what the core of your organization is really about.
Meanwhile, the inertia linked with communication change stems from a blurring of the lines between stakeholders. Who owns it - human resources, IT, internal communications or marketing?
As the C-suite feel the fallout from a disengaged workforce, employee engagement has become a priority. The directive to resolve it is coming from the top.
To summarize, a company's financial performance usually correlates with the quality of its employee communication and engagement.
Designated staff, correct internal communication channels that exceed email, and a robust measurement program to monitor effectiveness provides a framework to engage and inspire staff. A win-win for all.
This article has been published by HR People & Strategy