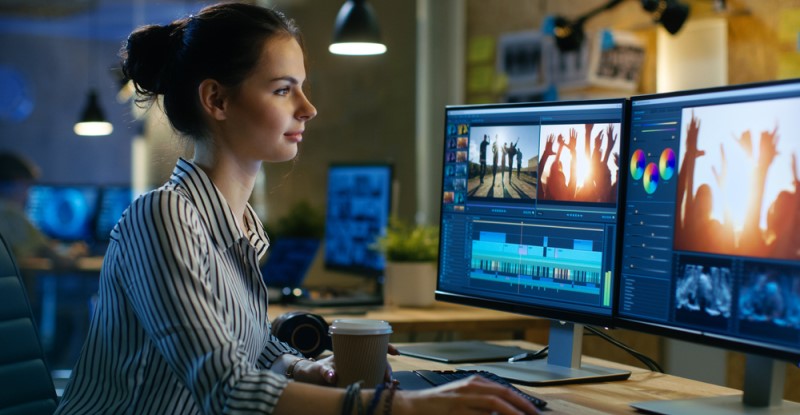 So you need to improve your organization's internal communications? Great! And you've got a plan for how to do it? Even better! And everyone is right behind it? Hallelujah!
Now you're going to need the right tools to bring all your ideas to life. But where to begin?
Search for "internal communication tools" on Google and you'll get about 136 million results. The solution to your needs is sure to be hidden somewhere in this haystack, but locating the needle is going to be hard work.
Depending on what your objectives are, you're likely to find hundreds of tools designed for creating, distributing, promoting, or planning your employee communications. Let us relieve your headache.
At SnapComms we know this area pretty well from working with internal communications professionals across the world every day.
So we're pleased to share with you our picks for the 21 best internal communication tools available. To make it even easier, we've sorted these into categories for every type of communication need: Inform, Promote, Engage, Interact and Manage.
Inspiration guaranteed!
Choose a category:

Inform tools - deliver important information
Promote tools - create a wow factor
Engage tools - raise interest and motivation
Interact tools - collaborate and get involved
Manage tools - organize and access information
Or select from 21 internal communication tools:

Inform
These communication tools are ideally suited for delivering important information to employees, whether it be time-critical or just important to read soon. The formats are designed to grab attention and get your message through.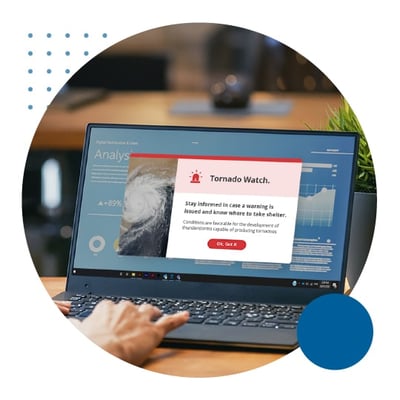 1. Desktop Alerts
A desktop alert is an electronic message sent to multiple employee computers. It displays a pop-up message window with text, images, and hyperlinks on the screen.
Desktop alerts are typically used for messages that have high strategic importance or need fast cut-through. Desktop alerts can initially display a small message notification window that the employee can click to display the full message. Or the full alert message can be pushed directly onto computer screens.
Desktop alerts can be used to deliver text, graphics, images, videos, and interactive RSVP invites. Message acknowledgment and reporting options allow you to ensure desktop alert messages have been read.

Things to consider:
⇒ As a general rule, use desktop alerts for messages that have high strategic importance or need fast cut-through.
⇒ Consider which types of messages should cut through full-screen applications such as PowerPoint and whether users can 'snooze ' some types of alerts at busy times.
⇒ Keep the frequency of alerts sufficiently low so that the tactic stays fresh. Around one to three alerts a week at most is recommended (apart from specific fast-changing situations).
⇒ Plan how many times and how often an unread alert should reappear, e.g. for less critical messages, set the pop-up to repeat just a few times.

Tool tips:
Design different alert window templates to provide a visual cue regarding the type of message. Include images in alerts to keep messages engaging. The key is relevancy. Make sure your target audience MUST know the information conveyed by a desktop alert.

Examples:
There are several options for desktop alerts depending on the criticality of your messages. Alerts with high urgency, where time is of the essence and lives could be at risk, include Everbridge or Alert Media. The SnapComms Desktop Alerts are suited to a range of notification needs, from threats to safety and system outages to extreme weather notices.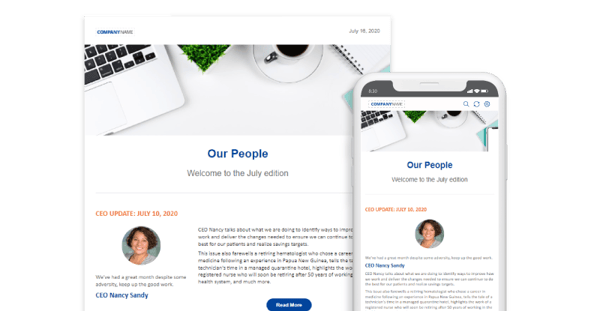 2. Digital Newsletters
Company newsletters are hardly a new tool in the internal communicator's toolkit, but they've come a long way from the bland paper-based version once pinned to noticeboards. Digital newsletters today are beautifully-branded pieces offering staff a richer reading experience.
And put that clip art away. Digital newsletters can feature a wealth of media types, including video, slideshows, and live web pages. Simple user interfaces and easy distribution to any desktop or mobile devices make newsletters a great option for building awareness of and engagement with the latest company news.
Regular features and sections, such as a leader's column, letters to the editor, and organizational calendar, help create and sustain employee interest. Distribution can be direct to employees or via managers who may wish to include relevant information before on-forwarding.

Things to consider:
⇒ Target and distribute relevant content to specific audience segments, e.g. by business units, hierarchical levels, sites or offices, states, or countries.
⇒ Keep articles short. Use simple words and short paragraphs with hyperlinks to more information.
⇒ Employ attention-getting subject headers to inform readers about must-read content in each issue.
⇒ Produce a content list as clickable (hyperlinked) headlines.

Tool tips:
Showcase other branches, teams, or employees to break down barriers and improve cross-company collaboration.

Examples:
You'll be spoiled for choice when looking for digital newsletter software. Tools like MailChimp are well known and used by many businesses from large to small. Tools like Bananatag offer a range of customizable templates, while the SnapComms Internal Newsletters allow you to include video, images, text, scrolling newsfeeds, slide shows, and even webpages.
3. Newsfeeds
A desktop newsfeed or 'ticker' is a narrow window of moving text displayed at the bottom of an employee's computer screen. Typically desktop tickers include short updates and the headlines of longer articles (available by a hyperlink). The text within the ticker moves at a moderate pace, allowing the reader to scan headlines while working on other things.
Ticker headlines can be clicked to direct employees to further information on the intranet or to open more comprehensive message windows. Desktop news feeds are a particularly useful communication tactic for contact center employees.

Things to consider:
⇒ Determine the running length and speed of the ticker.
⇒ Set the desktop ticker to publish for when most people will be available and able to view information.
⇒ Decide whether to let the ticker headlines reappear at intervals if the user has not clicked embedded links.
⇒ Decide which users, if any, should be able to set up 'snooze' options that defer messages when they are particularly busy.

Tool tips:
Craft effective and compelling headlines to tempt readers to click the link. Make use of simple words and color contrast within the ticker. Images and icons can be used within the ticker to classify information and attract attention.

Examples:
Microsoft offers a scrolling newsfeed app as part of its Windows 10 platform, but for a tool designed to deliver messages to employee desktop screens, the SnapComms Ticker achieves high cut-through and readership.
4. Podcasts
The consumer world has embraced podcasting in recent years – downloading or streaming syndicated content on a huge range of subjects. It's something that could be equally effective for the corporate world of internal comms.
Media-rich organizational information can be delivered in an impactful way and accessed by employees at their convenience. The format is so flexible that it supports deeper dives into subjects, improving the relevance and value of information to staff.
A good use of podcasts would be a monthly discussion of business performance and key marketplace insights. Another would be 'handing the mic' to a different department each month to talk about their achievements, what's in the pipeline, and just generally what's on their mind.

Things to consider:
⇒ Determine the desired outcome of using podcasts/vodcasts and how they will integrate with other complementary communication tactics.
⇒ Create a centralized platform, such as the intranet, to house all current and archived podcast/vodcast content.
⇒ Enable your audience to subscribe to your podcast/ vodcast via RSS so it will be automatically available to them whenever new content is distributed.

Tool tips:
Draw attention to when new podcasts are released by creating a dedicated RSS feed and spotlighting it in your other internal comms tools.

Examples:
Inspiration abounds in the cornucopia of internal communications podcasts in the market. A couple of good ones to get you started are Candid Comms with UK-based comms consultant Rachel Miller and the weekly business communications podcast with industry guru Shel Holtz.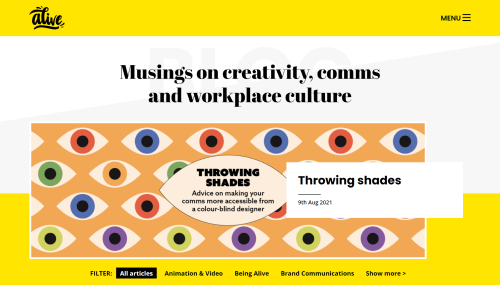 5. Blogs
Blogs are an incredibly effective tool for building your CEO or other senior manager's profile. They provide an insight into what they do, what their perspective is on current issues, and what their plans for the future are.
Internal blogs can also be written by other subject matter experts to share best practices and ideas within specific business units or across the wider organization. As with video, blogs also offer a great way to personalize key personnel.

Things to consider:
⇒ Decide if blog content needs to be moderated. If so, by whom?
⇒ Have a clear code of conduct just as you do with email and Internet use.
⇒ Encourage employee take-up of blogs by supporting their use and providing the resources to respond to blog comments.
⇒ Remember more people 'lurk' than comment on blogs so don't be discouraged by low comment levels.

Tool tips:
Content calendars are an internal communicator's best friend when it comes to blogs. If you're writing the blogs yourself, a content calendar will help plan and schedule, avoiding those moments of suddenly needing inspiration. If written by colleagues, this will enable you to keep track of when they need to provide material – and when they need a nudge in the ribs to get writing!

Examples:
A simple Google search will reveal a range of internal communication blogs (including our own SnapComms Blog). For a slightly quirky take on communications, creativity, and business in general, take a look at Alive With Ideas.
Promote
So you have a new campaign to launch, an achievement to celebrate, or a product release to announce? You'll need one of these promotional channels to create some wow factor and ensure your content makes a splash.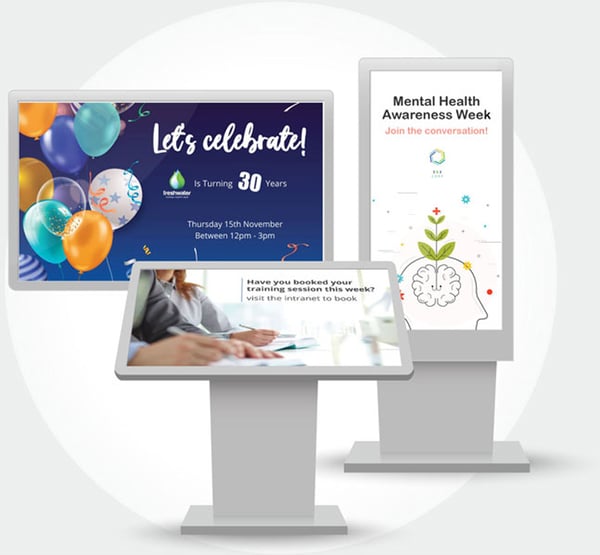 6. Digital signage
When some of your workforce operates in roles that aren't desk-based, it makes the job of internal comms harder. To get the attention of hospital staff attending to patients on wards, factory workers on the warehouse floor, salespeople on the road visiting clients, or a range of other workers not sitting behind a desk, it's worth considering digital signage.
Electronic screens displayed prominently in open spaces or common rooms are powerful channels to deliver messages in a combination of video, image, and audio formats.
Examples could include broadcasting the latest news headlines, presenting a new corporate video or TV ad, and summarizing progress on key performance indicators through a visual dashboard.

Things to consider:
⇒ Consider whether the target audience will be internal only or whether content is required for visitor areas too.
⇒ Include some information just to capture interest, e.g. weather and news updates.
⇒ Define governance – who will control, develop and change content? What are the processes?
⇒ Manage the complexities of digital signage networks carefully, from sourcing and briefing potential suppliers through to operation and maintenance.

Tool tips:
Experiment with message duration to see which messages have maximum impact. Put content on a loop so the viewers have a chance to see it at least three times. Think about the time of day for particular content e.g. morning, lunchtime, and end-of-day messages.

Examples:
Digital signage software can be expensive but there are a few good options out there. ScreenCloud offers a try before you buy option, as does the SnapComms Digital Signage, which can be used on displays from desktop screens to massive signage in lobbies or common areas.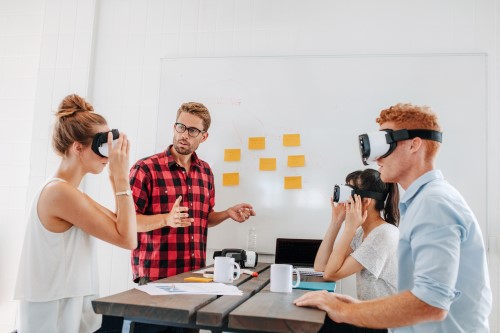 7. Virtual Reality (VR)
VR is a concept that's been around for decades, but the proof has never lived up to the promise. That's all about to change. Advances in technology and increased visibility through sports and movies mean 78% of Americans are now familiar with using VR technology.
While it doesn't come cheap, it's a tool with big potential for businesses. Virtual (or augmented) reality can help staff visualize the outcome of digital transformation concepts, increase proficiency from training programs, or understand the user experience of new products.
It's already being used successfully in environments as diverse as recruitment for automotive, training for manufacturing and project management for construction. If your business has grand designs and deep pockets, VR could take your communications to the next level.

Tool tips:
Start small. Try a simpler and cheaper 3D video first to showcase your concept before launching into full production. Ironing out wrinkles later will be costly.

Examples:
Projects or activities your business could use VR technology for include digital transformation, training and product marketing.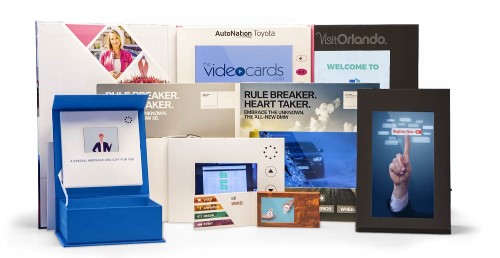 8. Video Brochures
Imagine a physical brochure… that you open up to find a video playing! Video brochures are a fusion of print and video-screen technology.
Video Brochures are completely customizable to fit your needs. All your information, in a single card, booklet, folder, box…and then your video, with various screen sizes and controls. It's a great alternative to just a plain brochure.

Things to consider:
⇒ Should filming and/or editing be undertaken in-house or outsourced?
⇒ Look at the cost per unit, this usually comes down considerably if your order is larger
⇒ Are you able to manually switch out the videos yourself if the need arises?

Tool tips:
Batteries in these devices are fairly low capacity, so if you leave them in storage for any length of time, make sure you charge them prior to handing them out – the last thing you want is the battery going dead halfway through the video playing!

Examples:
Most good promotional companies will offer video brochures as part of their corporate swag. There are also options for creating yours online through places like thevideocards.com, which offer a wide range of styles and templates.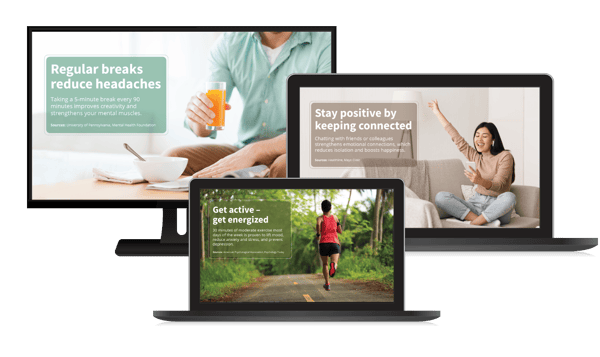 9. Screensavers and Wallpapers
Everyone notices screensavers and wallpapers. They're eye-catching and highly visual. Seems a waste of potential to just have them cycling through pictures of cats or mountains, doesn't it?
Corporate screensavers are a huge untapped channel for getting employee attention. Their flexibility in design means images, video, and other formats can be combined to create a powerful digital billboard. Plus, they are seen so often throughout the day that your internal comms will get cut-through and increase message recall so much faster.
Desktop wallpaper messages are the publication of messages to employees' computer desktops or wallpaper backgrounds.

Things to consider:
⇒ Use screensavers as 'teasers' for wider initiatives such as staff surveys, town hall meetings, etc.
⇒ To increase the window of communication, ask IT to reduce the default time before screensavers start and to increase the time before computers go into power-save mode.
⇒ Use a combination of images and simple text to avoid overwhelming the user.
⇒ Design wallpaper images to display messages away from the standard desktop icon locations (i.e. display messages in the top right-hand quadrant of the wallpaper).
⇒ Rotate desktop backgrounds regularly to keep messages fresh and ensure they continue to be noticed.

Tool tips:
Support your awareness campaigns through strong storytelling by incorporating live webpages and countdown clocks into your SnapComms screensavers. Your IT team can change desktop wallpaper backgrounds using network policy settings or you can use software tools to publish messages to targeted employees' desktops directly.

Examples:
One option for screensavers is NetPresenter, whose platform comes with some handy integrations with other tools. As well as both desktop wallpapers and screensavers, SnapComms offers Lock Screens to promote your messages to staff every time they log back into their computer.

Engage
Successful internal communications is about creating a buzz. Not just making staff aware of information, but encouraging them to immerse in it, participate in it and contribute to shared success. When you need employee engagement tools, this is the place to start.
10. Video
For creative, dynamic tools with a million uses it's impossible to go past video. It brings emotion and passion to messages and adds sizzle to promotional campaigns.
Video production and hosting is more affordable than ever. 'Homegrown' content produced with the assistance of staff is actively encouraged. Recording meetings or presentations and video conferencing are great ways to keep remote or dispersed workers connected and engaged.

Things to consider:
⇒ Should filming and/or editing be undertaken in-house or outsourced?
⇒ What video editing software will be used?
⇒ Consider how videos will be distributed and assess the possible impact on the network.
⇒ Host videos on the intranet in a format that staff are used to (e.g. YouTube)

Tool tips:
Bring the personality of your CEO or senior management to the fore through a regular video series. Not only does this make them appear more approachable, but it also softens the impact when bad news is being delivered. It doesn't have to be expensive either, you can use a variety of free video editing tools and film on a phone with a good camera.

Examples:
Video hosting sites such as Vimeo and Wistia make it relatively easy for employees to view videos.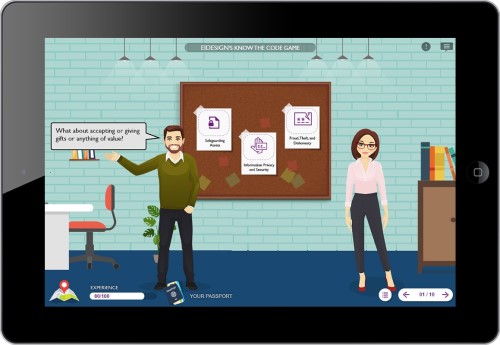 Image: eLearning Industry
11. Gamification
Enterprise gamification combines interactive tools like online quizzes and competitions to increase employee engagement and encourage positive behavior. Key elements of gamification include leader boards, achievement badges, points, and prizes.
As well as being an excellent motivational tool, gamification can also generate excitement around projects and new initiatives, plus enhance training. Just because you're delivering heavy compliance information doesn't mean it has to be boring! Press 'Start' to begin…

Things to consider:
⇒ Ensure the gamification rules are well defined for employees.
⇒ Should employees compete as individuals or as teams?
⇒ Participation is key. How will gamification programs be promoted before, during, and after the program?
⇒ How will winners be recognized? Which communication tactics will be used for this?

Tool tips:
Start small to ensure your efforts stay aligned to the wider internal communication strategy. Online quizzes are a great way to test the water, after which you can 'level up' to employee wellness platforms and more immersive contests.

Examples:
Categories of gamification tools provide options for different business needs, whether employee training, loyalty programs, or competitions. Compare the options on offer through places like Capterra or Technology Advice.
12. Mobile apps
Engaging employees through mobile apps is a huge opportunity (or is that apportunity?). Done right, it changes their entire employee experience. Employee apps can be a single portal for everyone in the organization to perform tasks and stay connected.
They're especially useful when a large proportion of your workplace are remote or field-based workers, where traditional communication channels aren't effective.
For internal communications, the sky's the limit with what you can do through a company mobile app but could include increasing the uptake of wellness or benefits programs and encouraging interaction with the latest news and events.

Things to consider:
⇒ Think about the type of information that employees need when they are mobile versus when they are on the organizational network.
⇒ Ensure information available to mobile devices is concise and formatted for the screen size.
⇒ Are mobile devices enterprise owned or owned by the individual? This will influence the uptake of an enterprise mobile app.
⇒ What provisions are there in the case of no network connectivity?

Tool tips:
Any web development company worth their salt will be able to build you a shiny new mobile app, but make sure to design it with usefulness in mind. If your app looks good but doesn't fulfill any useful purpose it will soon become one of the 21% of apps that are used only once before being ignored.

Examples:
Keep staff in the loop while on the move with tools like Staffbase or the SnapComms Employee Communication App.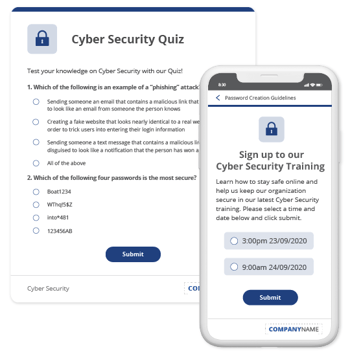 13. Online Quizzes
Electronic quizzes, which are similar to paper-based quizzes, are available on web pages or as interactive desktop alerts. They are useful for reinforcing messages, increasing employee knowledge, and keeping employees motivated and engaged.
Electronic quiz-maker software applications are available online for little or no cost (search for 'online quiz makers'). Quiz options are also available with some intranet platforms. Software is available to deliver targeted electronic quizzes to computer screens and mobile devices as visual, graphical pop-up notifications with recurrence options based on completion.

Things to consider:
⇒ Ensure the quiz rules are clear and communicated well.
⇒ Apply themes and logos to quizzes to keep them fresh and interesting.
⇒ After completion, publicize the winners in relevant media.

Tool tips:
Prizes do not need to be expensive. Movie or event tickets and gift vouchers are good options. Check whether company sponsorship's provide 'freebies' that you can use as prizes. Where appropriate, include humorous options in multi-choice questions to keep quizzes light-hearted and fun for staff.

Examples:
Whether your communication goals are fun or fundamental, an online quiz is a good option. Qzzr offer creative ideas and big visual templates, as well as foreign language translations. Or try the SnapComms Employee Quiz for pop-up formats and a full range of question and response types.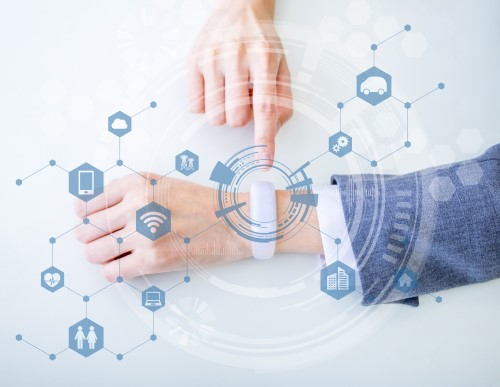 14. Internet of Things (IoT)
Multiple connected devices now enable highly-personalized communication anywhere. According to one survey, around 65% of enterprises are using IoT solutions for business purposes.
One application of this is in wearable communication. From watches to smart glasses, personal communication via the things we wear everyday are no longer the province of sci-fi. For internal communicators, there's the promise of highly-targeted messaging to drive maximum engagement.
As the number of staff with connected devices increases, businesses will find this an invaluable means of reaching them, for example with emergency communications.

Tool tips:
Include a record of employee-owned devices in your staff lists. This will be useful in testing how internal communications display on different devices.

Examples:
Using wearables as part of your communications mix is suitable for priority communications and personalized messaging.
Interact
Communication is a two-way street. Organizations are always better with more interaction from and collaboration with employees, so make some of these tools a must for your internal communications strategy.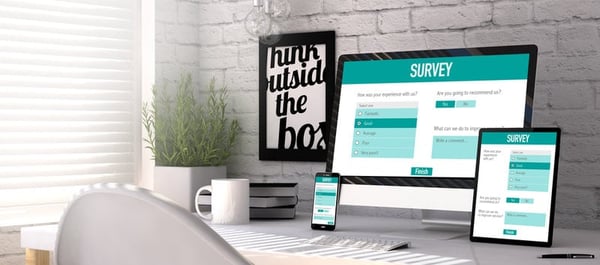 15. Surveys
Keeping a finger on the pulse can be difficult in larger, more dispersed organizations. Assessing staff satisfaction and understanding is often impractical face-to-face, especially if staff require anonymity to be forthcoming.
Online surveys provide managers with a gauge of the general mood of the workplace and can test the effectiveness of training programs. Focusing surveys on discreet topics and making appropriate use of question formats are effective in gathering meaningful data.
The built-in analysis and data exporting of surveys make it simple to extract insights, which can then be used to inform business decisions.

Things to consider:
⇒ Should survey entries be confidential/anonymous? If so, make this clear to employees.
⇒ Pre-test large surveys and adapt questions based on learning prior to full roll-out.
⇒ Include open-ended answer options to allow employees to provide additional insight.
⇒ Ensure long surveys have a 'save and continue later' feature.

Tool tips:
Set up regular survey systems to capture staff feedback at key times, such as following induction of new hires, after training sessions, and at the end of each quarter.

Examples:
Electronic survey software applications are available online at little or no cost, such as SurveyMonkey. SnapComms Surveys push directly onto employees' computer screens and mobile devices as pop-up notifications.

16. Chatbots
AI-powered chatbots can improve internal communications efficiency by providing instant responses to employee questions. They provide staff a seamless experience and save communicators time.
Chatbots can be programmed with anticipated staff questions and the best answers. Each time a question is asked, the chatbot responds – correct information every time, 24/7, with no manual intervention required.
It's about more than just text-based messaging though. Using Chatbots in this way will also leverage emerging voice-based systems, like Amazon's Alexa for Business. Staff can ask questions of Alexa, say on your new communication campaign, and receive spoken responses – without lifting a finger.
Chatbots can also be used to send short, simple messages out to staff, with 90% of messages read within 3 minutes, according to Chatbots Magazine.

Tool tips:
Use the same messaging style in your chatbot as you would in other channels. This maintains brand consistency and reduces any sense of recipients speaking with a machine.

Examples:
Chatbots have a range of uses, from communication campaigns and marketing promotions, to training and push notifications.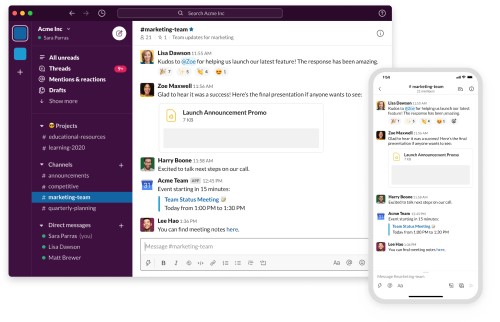 17. Collaboration Tools
Recognizing that internal comms is a two-way street, online collaboration tools have become a fast-growing area. The digital offspring of forums and social media, collaboration tools encourage active discussion where everyone's opinion is heard.
Their strength lies in encouraging dialogue between inter-departmental teams and smaller groups working together towards a common goal. Questions can be asked, responses posted, and agreements reached, all in real-time without the need to pick up a phone or meet in person.
Collaboration tools are particularly useful in modern workplaces where staff may operate in different locations – or even time zones – and need to liaise with contractors on certain projects.

Things to consider:
⇒ Collaboration tools are useful for employee-to-employee communications, they are not useful for important business-to-employee communication as that information is likely to be missed.
⇒ Establish some clear guidelines on the type of language to use, usually, collaboration tools tend to use less formal language so ensure that is right for your company.
⇒ Consider how you intend to roll out the collaboration software to staff, is it optional, required? If everyone is required to install it (or have it installed for them) make sure the application gets loaded into the start-up sequence of the computer so staff doesn't miss any notifications.

Tool tips:
When looking for a collaboration tool, make sure you look for one that integrates with the apps and software you currently use (or intend to use). The tool should also be compatible with all the file types your organization uses.

Examples:
There are a ton of options available, though some of the most popular are Slack and Microsoft Teams.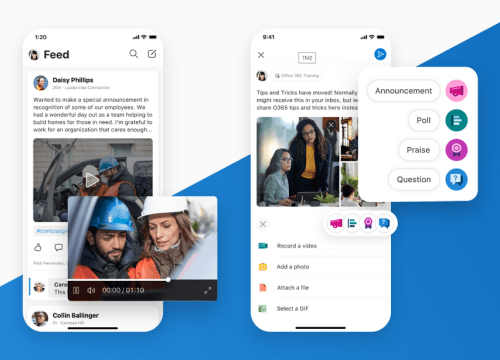 18. Social
Using social channels for internal communications often polarizes opinion. On one hand, it can facilitate vibrant, personalized communication on a many-to-many basis. On the other hand, the ease of anyone expressing their opinion demands close monitoring.
Those organizations who take the plunge can find social surprisingly useful for finding subject matter experts, accelerating information exchange, and increasing engagement with younger Millennial and Gen Z employees.
As media preferences and communication styles in the consumer world increasingly influence the corporate one, it can benefit organizations to take a leaf from social to improve the effectiveness of their other channels.

Things to consider:
⇒ Social media fit better where the culture is democratic and open.
⇒ Investigate ways that social media can increase collaboration, knowledge sharing, innovation, and productivity.
⇒ Set behavioral guidelines for acceptable usage. For example, stipulate that no anonymous communication is permitted.

Tool tips:
Internal social media is not a silver bullet. Have clear objectives, set realistic expectations, and be intentional about its use. Encourage social media uptake through culture change initiatives. Seed online discussions with interesting initial content. Create a hot spot that actively attracts viewers.

Examples:
There is no shortage of options for social channels to use, from the tried and true to the untested and new. Yammer and Facebook for Business are a couple of the more popular.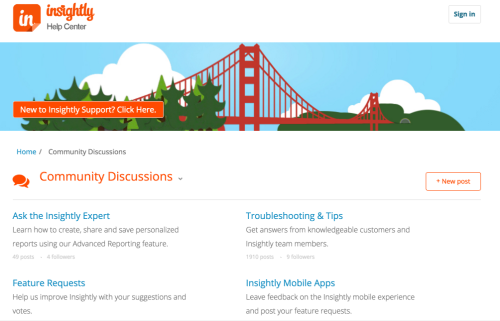 19. Forums
Every successful organization is more than the sum of its parts. Each employee has opinions and suggestions which have the potential to improve the business – it's just a matter of harnessing that potential.
The openness and accessibility of online forums make them ideal for canvassing opinions on a wide array of topics. Given they're often closer to the action than management, particularly in areas like customer service and sales, their insights are incredibly valuable.
Featuring a forum on your company intranet or mobile app can capture staff feedback and ideas, fostering a dialogue that sparks fresh thinking.

Things to consider:
⇒ Establish whether the open forum will be held as a stand-alone event or as part of a town hall meeting or conference.
⇒ Determine who will answer employees' questions.
⇒ Appoint a moderator to maintain momentum, keep track of time, invite those with raised hands to ask their questions, and keep speakers to the point.
⇒ Compile a list of the questions and answers and post them on the Frequently Asked Questions section of the intranet.

Tool tips:
To be most useful, forums need some structure, lest conversations go wildly off-piste and moments of inspiration get lost amidst the noise.

Examples:
The Zendesk platform offers a forum tool that can be used by staff and customers alike. Alternatively, some website management platforms like WordPress or Wix also offer forum capabilities.
Manage
With your content creation and channel selection sorted, the last piece of the puzzle is managing everything. Including one of the information management tools below will help keep your content up to date, organized and accessible.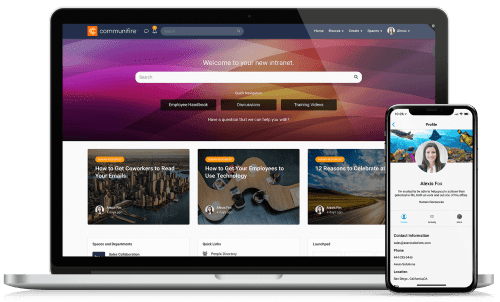 20. Intranet
There's so much information flying around in organizations today that it's difficult to manage it, keep it updated and make it accessible. It's a condition which has been coined infobesity, or the slightly more dangerous-sounding information explosion.
While perhaps not the sexiest of employee communication tools, a proper company intranet is worth its weight in gold. With categorized content and easy searchability, they're valuable repositories of essential information.
As the go-to knowledge base for reference material, how-to guides, forms, and so on, intranets foster information-sharing and are an effective centralized destination for comms information.

Things to consider:
⇒ Organize the site efficiently and effectively for easy navigation from employees' points of view.
⇒ Determine processes for managing content volume and quality, and for measuring the intranet's effectiveness and value.
⇒ Promote new information and tools available on the intranet using other communication tactics.
⇒ Keep content regularly updated through ongoing review.

Tool tips:
Work with your IT team to create dedicated sections on your intranet for specific areas of concern or focus, such as cyber security or health and well-being.

Examples:
Poppulo and Axero are good examples of modern intranet platforms which are easy to set up and maintain for communicators, and easy to use for staff.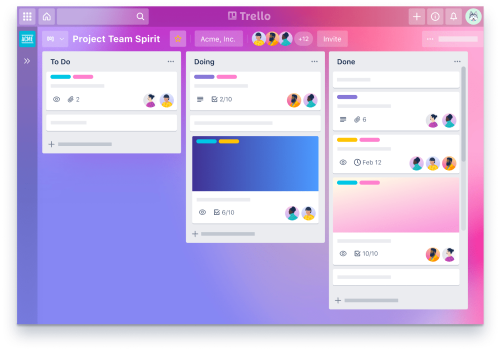 21. Communications management
Even when you've got all your tools and supplies sorted, you still need a map and compass to guide your way. Having a plan – and sticking to it – is essential for internal communications.
Once the excitement of brainstorming tactical activity to support your objectives has passed, you're into the nitty-gritty of making it happen. Implementing all the various activities can take a lot of plate-spinning and taking your eye off any part is liable to find yourself covered in broken crockery.
Your internal communication plan will likely include a lot of moving parts – tools to create and broadcast your messages, stakeholders to engage, time frames to work within, and objectives to hit.
That's where a good management tool can do a lot of the heavy lifting for you. It keeps the status of each task and all their dependencies clear, ensuring nothing is overlooked and you stay in control.

Things to consider:
⇒ Use the daily activity summaries which distill key outputs each day, providing a handy reminder of what's been accomplished and spurring follow-up work
⇒ Keep activities updated continually, so current status and progress is available at a glance in real-time

Tool tips:
Take the pressure out of managing different internal computer systems by using a planning tool that integrates with your existing IT systems, and where changes made in one are synced to reflect in the other.

Examples:
There are some great internal communication management tools available, including popular options Basecamp and Trello.
Internal Communication Tool FAQs
What are employee communication tools?
Communication tools are software that allows organizations to manage their employee communications. From top-down messages from leadership to two-way communications for employee surveys, businesses utilize a range of tools to communicate and collaborate.
Why are internal communication tools important?
The primary function of internal communication tools is to inform employees of important information. Internal communication tools can provide a positive employee experience while increasing employee engagement and productivity.
What are the most common internal communication tools businesses use?
Email, Intranet, Collaboration Tools (e.g. Slack), Video Calling, and Employee Surveys.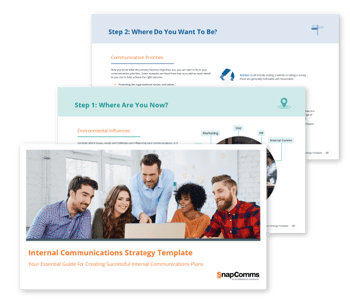 Download Internal Communications Strategy Template
Now that you know the tools, incorporate them into your internal communications strategy with this great free resource.
The Internal Communications Strategy Bundle includes a Strategy Guide (pdf), plus an editable Strategy Template (Word) and Plan Template (Excel). Download the bundle now.